Sinclair Intimacy Institute® Onyx - Prostate massager from Sinclair Intimacy Institute®

Product Details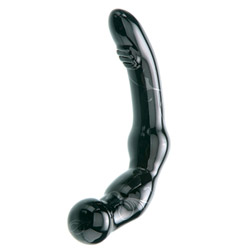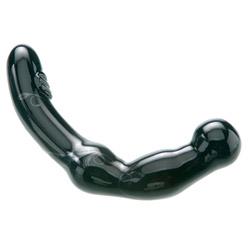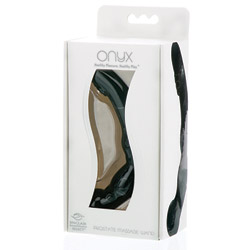 Summary:
If you are a beginner to glass toys, or if you are just looking for a new every day, every circumstance massager, this is the toy for you. Using this toy was pleasurable, and it reached all the right places. I have used this toy 5 out of the last 7 days because it is just that good. The ridges don't make sense to me, and the size could be a tad small for some advanced users.
Pros:
Size and shape, easy to clean, etching.
Cons:
The ridges make no sense, may be too small for advanced users.
Best use:
The Onyx, by Sinclair Intimacy Institute, is a prostate massager. The intended use for this toy is for those who have a prostate; however, I am certain that anyone who enjoys anal play would enjoy the use of this little gem. Some may even find g-spot play to be interesting with the Onyx. Being made of glass there is little give, so lube is needed; if you are overly tight, you may need to apply a little force to gain access inside. The material safety rating here on Eden honors this toy with a 10, which is the highest a toy's material can receive. Pun intended.

The only warning I would like to offer is that this toy is glass. Glass tends to be very firm, and has no give when in use. If you are unable to handle silicone toys comfortably, you may not find glass to be comfortable. When thrusting glass inside you, you may also want to be careful to not puncture anything.
Material / Texture:

When I first opened the box and saw the beautiful etching, I was amazed at the detail. The material is borosilicate glass. There was no smell, and the texture of the entire body was smooth, except for the little notches towards the tip of the massager. When in use, I really didn't feel any direct pleasure from those.

It's extremely firm, smooth and nonporous, and care is easy, but the use of the material is much more for moderate to advanced users. I rather enjoyed the firm feeling inside my anus, because there was no give. I could tighten up and really feel the massager inside me. The shape isn't too small, and isn't too big.

Glass is usually never realistic, in my opinion.

I do not generally try temperature play but, being glass, Onyx is highly conductive of temperature, so if you enjoy temperature play or if you are interested in trying something new, I would recommend trying it with this toy.

Material:

Borosilicate glass

Material safety

Texture:

Bulged / Noduled / Smooth

Safety features:

Food-grade material / Hypo-allergenic / Latex free / Non-porous / Phthalates free

Design / Shape / Size:

I did like the design. After trying a few different prostate massagers, I find that the shape is generally pretty standard, or at least it feels that way to me. That being said, I definitely enjoyed the shape. There were a few curves and "humps" in the massager that took that seemingly standard shape and elevated the sensation to the next level.

The shape is designed to reach all the right places inside the anus, and provide the user with pleasure that sends vibrations all throughout their body. It works. The size is perfect for the average user, and I think perfect for the beginner prostate massager.

While glass is heavier than most other materials, the Onyx is not that heavy at all. After I inserted the Onyx, to test the weight and the feel of it I decided to make myself some lunch with it in. It wasn't heavy at all. I didn't need to worry about it falling out, either, which was a great plus. I would definitely travel with this toy.

Color:

Black

Length:

8 1/2"

Insertable length:

7 1/2"

Circumference:

3 3/4"

Diameter:

1 1/4"

Weight:

1.9 oz

Performance:

I think the size is perfect for me, and that is the best feature. I can insert just the right amount; I don't have to work up to the girth, I don't have to stretch anything - it just fits perfectly. I also really enjoy the shape. The curves aren't too curved or not curved enough, and they reach the right spot. The smoothness of the material just makes sliding the Onyx so comfortable and pleasurable.

There wasn't anything I didn't like about the Onyx. I just didn't understand the little ridges that were at the tip. In my opinion, I think the pleasure would have been the same with or without them, so they are just odd.

Care and Maintenance:

The borosilicate glass that the Onyx is made of is extremely easy to care for. It is compatible with all lubricants, and cleaning/disinfecting is easy. To clean the massager, you just need soap and warm water, but if you really want to disinfect this bad boy you can boil it in hot water for a few seconds.

I store this with my other glass products because I don't like to mix materials, period, but if you decided to store this with other materials there would be no issue. I just make sure to wash it well and dry it off before I put it in the drawer.

Care and cleaning:

Boilable / Dishwasher safe / Soap and water