Aneros Progasm ice - Prostate massager from Aneros

Product Details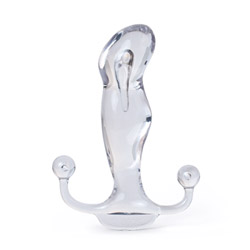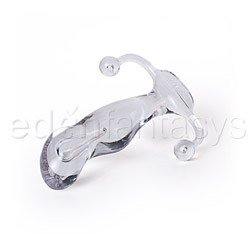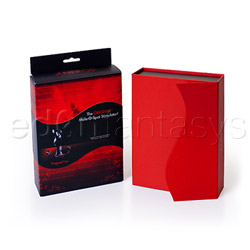 Summary:
As far as anal toys go, this is a great purchase and a great alternative to glass toys - but obviously it doesn't deliver EXACTLY the same performance. The size and shape is perfect for an ambitious beginner or intermediate anal aficionado.
Pros:
Looks beautiful, is a good size and shape, easy to clean.
Cons:
Doesn't quite deliver the same performance as glass, if that's what you're looking for.
Best use:
As the name alludes to, the Aneros is an anal toy, specifically for men. Designed to stimulate the prostate, it's made from an advanced glass-substitute and designed with smooth, bulbous shapes to give you a full feeling, and to stimulate on the way in, the way out, and while it's in place.

The toy is on the chubbier side, but certainly not intimidating - and the smoothness makes it perfect for beginner or intermediate anal explorers. Two prongs at the end ensure that it won't "pop in" (always a risk with anal toys) although the shape of the prongs is, in my opinion, upside down. They prevent the toy being inserted all the way "to the hilt."

The shape makes this a great toy for anal stimulation during sex - as it's perfectly designed not to fall out of place- and the movement of your hips helps it vividly stimulate the prostate. The only drawback is that you can't sit or lie down with it in place, as the base doesn't sit flush between your butt cheeks.
Material / Texture:

I'm not going to lie to you - the idea of sticking a glass sex toy in my backside has never inspired me with confidence. I know THEORETICALLY they're safe - but in that respect, so too were the Titanic and the Hindenburg! This is why I was impressed to hear that the Aneros was made out of an FDA approved glass-substitute that was unbreakable and didn't contain phthalates.



Material:

Plastic

Material safety

Texture:

Smooth

Safety features:

Food-grade material / Hypo-allergenic / Latex free / Phthalates free

Design / Shape / Size:

The shape is smooth, curvy and bulbous - very aesthetically pleasing, especially with the clear glass-like color and the signature bubble trapped inside the bulging head. Of course, that bubble doesn't really DO anything - but it looks cool.

Again, the size is definitely "chubby" but not overly challenging. It's a good bet for an ambitious beginner or somebody moving to step it up a notch. Personally, I find the bigger bulges provide a more filling, stimulating sensation, and that's worth the gasp when it goes in.



Color:

Clear

Length:

5 1/2"

Insertable length:

4 1/2"

Circumference:

4"

Diameter:

1 1/4"

Weight:

0.75 lb

Performance:

As far as performance goes, the Aneros is much like glass - just without quite the same delicious rigidity. That means you don't get to experience exactly what makes glass toys so lovely - the ability to go hot or cold with them, or the way they perfectly transmit vibrations.

Care and Maintenance:

The Aneros is very easy to care for - you can wash and clean it with soap and water, much like you would glass. It doesn't have a perfect 10 safety rating - but it's up there, which makes it one of the better non-glass or silicone options to go for, and a lot, lot better than lower-cost materials.

Care and cleaning:

Soap and water

Other