Best use:
The Verve is a relatively low-cost vibrating prostate massager designed to give men a pleasurable journey into the realm of anal play. Its unique design features three bumps on a curved shaft, that aim to stimulate a man's inner regions as they seek to find the prostate, a small gland between the bladder and the penis that secrets the milky white fluid that helps keep sperm healthy. When stimulated, the prostate can help men achieve a hands-free orgasm. This massager is intended for this purpose and can certainly provide guys with a lot of fun.
The Verve is made from ABS plastic and is very smooth. Even so, plenty of lube should be applied before inserting. As it is also rigid, it will not bend. Interestingly, the first bulb (see photo provided below) appears to be the largest in diameter. Visually, this is a bit intimidating at first; however, it is not overwhelming. To insert, it is perhaps easiest to draw your legs up towards your chest, as this makes the process a bit easier. It also helps to take your time and not rush.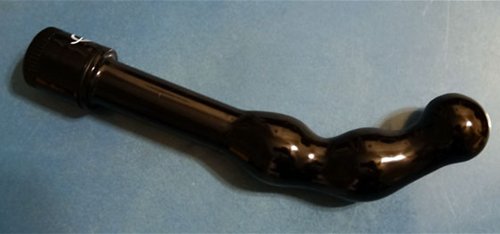 Once inside, the fun begins. The back-end of the Verve contains a rotating dial, that serves as both the on-off switch and is used to increase the intensity of the vibrating action. Turning the switch clockwise increases the strength of the vibrations, while turning it counterclockwise decreases them and, ultimately, shuts off the vibrator. A bit of experimentation is required to find the setting that works best. It's also good to slowly find exactly the right place to stimulate. Although I haven't yet achieved that hands-free orgasm that some men experience, I'm looking forward to the experience!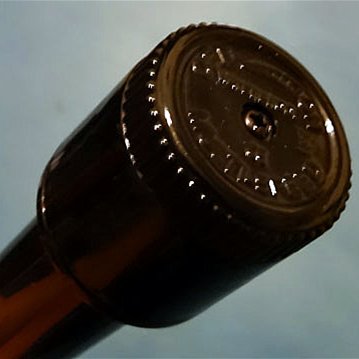 When your session is over, it's a simple process to slowly remove the Verve. That, too, is pleasurable. As this prostate massager is made from plastic, cleanup is a breeze.
Material / Texture:

The Verve Prostate Massager is made from hard, food-grade, black ABS plastic. It is hypoallergenic, as well as latex- and phthalates-free. The massager is completely smooth and has a nice, luxurious feel. The Verve seems to be a quality product and does not have the brittle feeling that cheaper products may have.

In addition to its elegant and very manly appearance, there is no detectable seam on the plastic, except for a very subtle one that is located only on the handle, near the switch. Had I not looked specifically for a seam, I probably would not have found it; I only detected it by running a fingernail over the area. There are no seams to be found anywhere on the insertable portion. In addition, there are no perceptible smells that plastic toys can often have.

Material:

Plastic

Material safety

Texture:

Smooth

Safety features:

Food-grade material / Hypo-allergenic / Latex free / Phthalates free

Design / Shape / Size:

As previously mentioned, the shape of this prostate massager is perhaps the most intimidating aspect. I was afraid that it might be too large, especially since the end that is inserted appears to be the largest portion. Although I don't have calipers to provide a precise measurement, closer inspection reveals that the second and/or third bulbs (the ones closest to the switch) may be slightly larger. The total length (including the handle and the switch) is 8 inches, and the diameter is 1 1/4 inches at the widest point(s). It has an insertable length of approximately 6 1/2 inches.

The curved shape was a bit of a concern. However, upon first use, it is evident that the shape is fine. Although the Verve is silky smooth, plenty of lube will help with insertion; as each bulb enters it can be felt, and sufficient lube will make things much easier.

One area of concern is that the end with the switch is a bit small. Some men may wish to have the non-insertable end larger so that there is no need to worry about losing the entire massager up their South Pole. Just the same, I have not yet had any issues with this while using the Verve.

Although no instructions are provided, the Verve requires two AA batteries. It is simple enough to realize that the batteries are inserted into the massager by unscrewing the end cap that contains the switch. In addition, there is a rubber gasket between the end cap and the massager that allows the Verve to be water-resistant (but not waterproof). Care should be taken so as to not break the gasket.


Color:

Black

Length:

8"

Insertable length:

6 1/2"

Circumference:

4"

Diameter:

1 1/4"

Weight:

0.75 oz

Performance:

Other than the knob that is used to turn on the vibrator, there are no other external moving parts. The vibrations aren't exceptionally strong, but they do the job, although some men may prefer a bit more. The knob also has ridges around the outside in order to assist in adjusting the strength of the vibrations during use. These ridges provide enough friction that I can adjust the settings even when I have lube on my hands. I have also found that the knob keeps its setting during use. Overall, this is a very utilitarian feature.

One issue is that the Verve does make a buzzing sound during use. While this is to be expected, care should be taken to use it in an appropriate location to ensure privacy. Although the sound is not loud, it may be possible to hear it through a closed door.

Control type:

Dial-base

Powered By:

Aa-2

Care and Maintenance:

Although both water- and silicone-based lubes can be used with plastic, the manufacturer recommends that only water-based should be used. This may be due to the material that the gasket is made from (the composition of the gasket is not specified). Cleanup cannot be any easier, as antibacterial soap and hot water can be used with plastic. In addition, it may also be cleaned with isopropyl alcohol.

The Verve should be simple to store. It's best to place it in an area that is clean and away from prying eyes. Fortunately, ABS plastic does not attract dust or lint and is simple to maintain.

Care and cleaning:

Soap and water

Packaging:

The packaging is minimal. Other than a brief product description and cleanup suggestions (in English and French), there is very little on the cardboard box. Hidden on the interior of one of the flaps, a 30-day warranty is discussed in very small print. The name of the toy manufacturer, the Sinclair Institute, is also prominently displayed. The box is too big and flimsy for storage, so another place to store the Verve is probably best.

Other

Neck diameter:

3/4"

Special features:

Functions:

Vibrating