California Exotic Big bust babe doll - Female love doll from California Exotic

Big bust babe doll videos
Product Details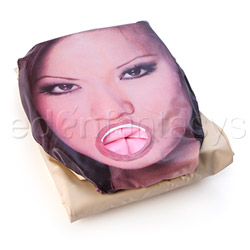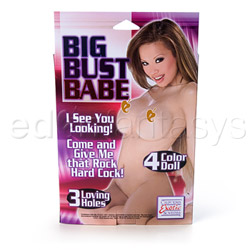 Summary:
The Big Bust Babe doll is a well made and sturdy blow up doll. It has a more realistic face than most dolls and is modeled after a real porn star. She is easy to blow up and deflate for storage. Her bust even has bite-able nipples and for those who love large breasts, she totally has them!
Pros:
$, real image face, easy to blow up, bite-able nipples, three holes.
Cons:
VERY small holes, can be abrasive.
Best use:
She's got the tits and you've got the cock! The Big Bust Babe doll from California Exotics is a blow up doll made of four colored PVC material. She has three lovely holes to penetrate and has an actual printed picture face. The name of the porn star that this doll is resembled after isn't given but she is a petite Asian with very large melons! If blowup dolls are your thing and you like Asians with large fake tits, then the Big Bust Babe might be for you. It can be used solo or with a partner to play out three some or lesbian fantasies.
Material / Texture:

The entire blow up doll is made of PVC (polyvinyl chloride) which is a 2 on the safety scale and feels like plastic. It feels just like a blow up pool or floaties. The PVC is smooth but has many seams due to the blow up design. The PVC makes it waterproof so you can literally take the Big Bust Babe to the pool, shower, or tub if you so desire. PVC is porous and so a condom is a good idea for use. Because of the design of the holes, using a condom is also an added convenience. The material does have a smell of plastic that increases as the doll is blown up but decreases with time.

Material:

Pvc

Material safety

Shape / Design / Size / Fit:

Big Bust Babe is a lusty brunette Asian with DDD or larger breasts. The blow up doll is petite in size. Everything about her is small except her breasts and head. She is 5" tall and has a 26" waist.

Blowup dolls are not the most realistic things out there, but the Big Bust Babe does have something many don't. Her face is actually the models face printed into the PVC instead of a painted doll looking face. The back of her head also has the printed brunette hair. Her breasts are ginormous. Her nipples are hard and pink and are made durable to be able to suck and bite without puncturing the PVC they are attached to. The arms are bent at a 90 degree angle and the hands and feet have no digits. She can hold up to a safely estimated 200 pounds.

The face has the first of three of her lovely orifices. Her facial expression is just waiting for a cock to enter her mouth. This is ~4" deep and 1 3/4" in diameter. The second is the vagina. There is no pubic hair, lips, or clitoris, just a slit that after the safety seal is removed (see care for more information), will reveal a nice cavity to be penetrated. It is deeper at about 4 3/4" but is 1 1/2" wide which make it not able to penetrated by the majority of men, while the mouth can't be penetrated by thick men. The same goes for her anal cavity, it has a seal that must be removed prior to penetration and will reveal a cavity for penetration. It has the same dimensions as the vaginal. They are connected in the middle of the body but do not go through. All of the holes have no added stimulation or texture; they are smooth.

She looks great with clothes on!


Color:

Ivory

Hair color:

Brunette

Weight:

14.5 oz

Functions / Performance / Controls:

The Big Bust Babe doll is very hard to penetrate if you are 5" or more in circumference. You might find that even at that thickness you can only comfortably penetrate her mouth and not her vaginal or anal holes. There are small pieces of PVC that line the vaginal and anal holes form where the seal gets ripped out from. These can cause irritation. Using a condom can cut down on this, but doesn't make it go away. The mouth is much more easy to penetrate, however it is more shallow. So any way you do it, you might not get all that much stimulation especially since she doesn't have any extra features like ribbing or vibration. She could make a nice flotation device though.

Care and Maintenance:

When you get the doll it is folded up and needs to be blown up. It only took a few minutes to blow her up by the one plug she has in her back. Then both the vaginal and anal seals need to be peeled off. Then...go at it!

It is best to wear a condom when penetrating to Big Bust Babe not just because of the porous material, but also because the holes are really hard to clean. When choosing a lubricant, and you will need one, you can use water or silicone based. Thick silicone is the best choice. You can clean the doll with warm water and a cloth or a sex to cleaner. To store, the doll could hide in a closet or it can be deflated. It takes a considerable more amount of time to deflate than blow up though.

Packaging:

Big Bust Babe comes in a cardboard box with pictures of the real porn star on the front and back. There is little information on the outside of the box. Inside she comes neatly folded up and wrapped in plastic. There is a small instructional pamphlet for inflating her. There are also two patches and glue if she springs an leak and needs to be prepared.

Personal comments:

While my partner and I had not experienced a blow up doll before, we had seen plenty of them and the Big Bust Asian doll is more realistic than the others we have seen. You can only get so realistic with a blow up doll. Our experience was more funny than pleasurable. my partner could not fit further than an inch or two into the mouth and could not fit into the vaginal or anal cavity at all. The sides of the cavities are abrasive and hurt his penis so he did not want to force it. Using a condom was just as uncomfortable. We also attempted to place a pocket pussy in the hole, but that just tore up the sides of that too. I can only recommend this for guys who have less than average thickness. 5" in circumference might even be pushing it. Because of this I am giving this blow up doll 3 stars. The quality seems high for what it is and the more real aspects are good for those who like to use these, however it can be used by the majority of guys and even if it can be, it isn't very stimulating.