NMC Ltd Deep secret wild sleeve - Cock ring from NMC Ltd

Product Details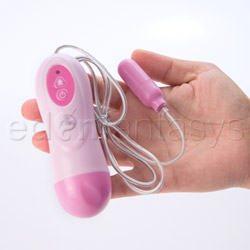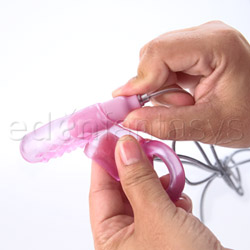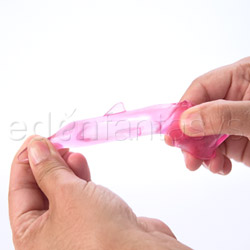 Summary:
This sleeve, cock ring, and bullet kit is an excellent way for couples to experiment with mutual or solo stimulation. With two sleeves to choose from, you can pick what you like best. The cock rings are comfortable and will fit many sizes. The clitoral bullet is good at reaching the right spots and can help you an your partner achieve orgasm at the same time.
Pros:
Two interchangeable sleeves, comfortable, mutual stimulation, 10 mode bullet, fits many sizes
Cons:
TPR quality isn't high, not strong enough for everyone
Best use:
The Deep Secret Wild Sleeve and cock ring set is a great kit for couples or even the solo women. The 10 option multi-speed and patterned bullet is super quiet and pretty strong. It comes with two sleeve attachments. Both can be worn on the male to make a vibrating cock ring. They can also be held or worn on a finger for guiding around the body. The material is super stretchy and comfortable making the rings a decent fit for males of any size. While this kit may not last eons due to material quality of the sleeves, it is a lot of fun to use with a partner, during sex, or for solo masturbation. It is friendly for beginners since it is easy to use, but will also entertain the more seasoned users.
Material / Texture:

There are two materials comprising the Deep Secret Wild Sleeve and Cock Ring. Both sleeves are made of TPR and the bullet and control pack are made of plastic. These materials are safer than many for the body because they are phthalates and latex free, hypo-allergenic, and food-grade. They are not completely non-porous so sharing should be done by use of a condom. Both have no or very low smell. The TPR is very stretchy and for the most part returns to its original form. It isn't seamless however and has many imperfections, lines, and divots. Fortunately, the arterial is so pliable that none of these imperfections can be felt. The material does collect a lot of small debris and can cloud easily if not taken care of. There is also considerable drag which means that the material can easily catch body hair. Be careful.

One of the sleeves, the cock and ball one has a raised diamond texture on the underside of the bullet housing. This is designed for clitoral stimulation. The rest of the pieces in this kit have smooth surfaces.

Material:

Plastic

/

TPR

Material safety

Texture:

Nubbed / Smooth

Safety features:

Food-grade material / Hypo-allergenic / Latex free / Phthalates free

Shape / Design / Size / Fit:

The bullet is pretty standard and is 2" long. The power cord it is connected to is nice and thick. It is 31" long which is an adequate length for most sexual positions. The control pad is also waterproof and has a streamlined design that is easy to hold in the palm of your hand. It is not cumbersome in any way.

The bullet slips into which ever sleeve you choose. One is the diamond textured cock and ball ring. The bullet slides into the diamond textured casing which sits on top of the one inch sleeve type band of cock ring. Below this is another thick ring that goes around the balls. All of this is very stretchy and will likely fit any size male comfortably. The cock ring will have greater functionality on girthier men. The ball portion is thicker and so this part might be tighter on males with larger testis. However, if it is uncomfortable it can hang lose or even be cut off. Because everything is flexible, the bullet will "lean back" as it is lowered onto and will make contact with the clitoris. The cord that comes out the back may cause irritation for the male if not properly moved out of the way.

The other sleeve is a dolphin shape with a clitoral teasing beak. The bullet enters the back of the dolphin in a very small hole. Inserting the bullet here is much harder than the other sleeve and requires an extra pair of hands. The TPR is thicker on this sleeve and so when it is lowered onto the vibrations are not as strong, however the clitoral teaser can be felt if the clit is hovered on top of it. The cock ring portion is just as flexible as the other sleeve, but is a little less functional at restricting blood flow. This sleeve is a good size to be worn on a finger. The dolphins beak can then be glided over the clit or other sensitive areas like the nipples.

Color:

Pink

Cock ring style:

Stretchy ring

Max stretched diam.:

3 1/2"

Unstretched diameter:

5/8"

The set includes:

Two rings
One removable bullet with control pack

Weight:

6.5 oz

Functions / Performance / Controls:

The bullet has 10 different settings! The controls are easy to use and only have two buttons accompanied by a multicolored and blinking indicator light. There is a power on and off button, and a button that goes up the different modes.

1., 2., 3.: the first three are steady vibration modes in low, medium, and medium high. All of these levels are low on sound.
4. Pulsing
5. Long pulse then short pulse
6. Long pulse then two short pulses
7. Starts low pulsing and goes higher before repeating
8. This pattern is very interesting. It also goes higher in intensity than any of the others. It starts with a low flutter which increases in intensity and speed. Then it goes to pulsing, and finishes with a steady escalation to a high intensity.
9. Slow increase from a low flutter to a high one. Then is pulses shortly before fluttering on high and decreasing to low.
10. Pulsing then low flutter which escalates and increases to high level.

The noise level on the patterns is higher and can be heard when not touching the body or in the sleeve.

Functions:

Multifunction / Multispeed / Pulsating

Special features:

Removable bullet
Waterproof

Powered By:

Aa-2

Control type:

Control pack

Care and Maintenance:

The control pack requires two AA batteries which are not included. They easily get inserted into the base after the cap is screwed off. To care for the material remove the sleeves and wash them in warm water and soap. You can use silicone and water based lubricants with this.

Packaging:
The packaging is a large plastic molded case. It helps to keep the sleeves separate (they can stick to each other or other materials). The package has a lot of information on it although the small type might be hard for some to read.

Personal comments:

Here are pictures of fit and placement:




Experience:

This is great to use during sex and is comfortable for both parties. The male will find that having his balls taught and raised feels great and so does the cock ring. The female will enjoy the vibrations and because of this, the kit might help couples have orgasms at the same time. What's more intimate that that? I recommend it to any couple looking to experiment with vibrations, bullets, cock rings, clitoral stimulation, and or mutual stimulation. The vibrations are strong, on the highest levels, but might not be enough for everyone. I am objectively giving this kit 4 stars.

Subjectively, I did not have high hopes for this kit. It just didn't look like it would work. But I was pleasantly surprised! With a few minor adjustments of making sure the cord was out of the way, this felt great for both my partner and I. I am concerned that the material won't hold up very long because it already looks cloudy and has weak spots, but even using this a handful of times would be worth purchasing for a decent price. I love that it can also be used solo and even when or if the material fails, the bullet is pretty awesome by itself. Subjectively I am also giving this 4 stars.