LoveHoney Double decker twin bullet ring - Cock ring from LoveHoney

Double decker twin bullet ring videos
Product Details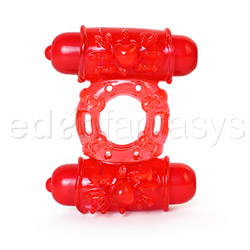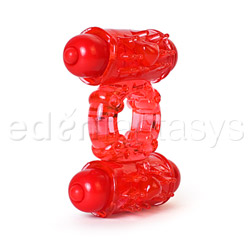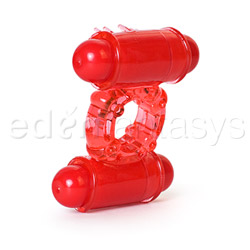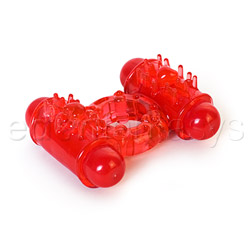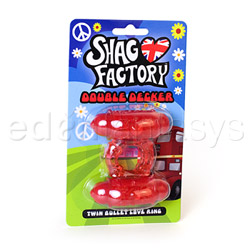 Summary:
This cock ring was a lot of fun to review. It has three speeds and two bullets. The design is pretty and textured for extra stimulation. I think it is worth the small investment for beginners and advanced users, since there is much to love about it.
Pros:
Stretchy and comfortable, easy to use, good materials, batteries included, nice squishy texture.
Cons:
No storage container, doesn't give direct clitoral pressure.
Best use:
This cock ring is meant to be used on a man, but the vibes are shared by both partners. The Double Decker has dual vibes for both clitoral and perineum stimulation. It can be used on a man or on a dildo. We used this vibe over the cock only, but it is stretchy enough to fit over the cock and the balls. It is stretchy without losing its effectiveness as a cock ring. My lover said it felt wonderful. Turning it on, I got the eyes closed seal of approval that tells me he loved it!
Since this cock ring is so stretchy, it will work for beginners. I think they will find this cock ring easy to use and enjoy the vibrations. Advanced users will appreciate the three settings for each vibe and the fact that it is made of TPR silicone. Both beginners and advanced users will love the simplicity of this cock ring. This vibe is not just easy to use, it comes in a very cute package! I love the design and the color of this cock ring.
Material / Texture:

This cock ring had no smell or taste what-so-ever out of the packaging. It is very stretchy and will accommodate the well endowed and the smaller sized male. The material is squishy with lots of bumpy texture on the "front". This part is meant to face the female genitalia...it felt wonderful without being pokey or snagging. The front actually has a cool design! The bumps are all made of the same TPR silicone and bend easily. TPR is a rubber/silicone compound so it has the safety of silicone with the stretchiness of rubber. This makes the vibrations carry a bit more than they would in a pure silicone material.

The material is a bit tacky so you will want to wash it before and after each use. TPR silicone is compatible with water-based lubrication. Silicone or oil based lubrication is not recommended with this material.

Material:

TPR Silicone

Material safety

Texture:

Noduled

Safety features:

Hypo-allergenic / Latex free / Phthalates free

Shape / Design / Size / Fit:

My lover had no complaints about the feel of this vibe. He said it fit snugly without feeling too tight. I was worried that the bullet would hurt him during thrusting, but he said it felt fine. During sex I could feel the vibrators but the bullets didn't hurt at all. My lover agreed that this is a pretty effective cock ring. The bonus vibrations are nice and the design is really tasteful.



The design goes with the whole shag-a-delic theme that is on the package. I thought it was really cute.

Color:

Red

Cock ring style:

Stretchy ring

Max stretched diam.:

3 1/2"

Unstretched diameter:

3/4"

Weight:

2.2 oz

Functions / Performance / Controls:

The vibrators did fall a bit short of hitting my clitoris in most positions. I was able to feel the vibrations on both the top and bottom vibe. On the highest setting, I could feel vibrations on my clitoris, but it did not give direct pressure. The bullets each have three speeds,(low, medium and high), which are controlled by a push button on one side of each bullet. I liked that they are separately controlled. The buttons are a bit sensitive but were not in the way during sex. I think it would be difficult to find a position that would enable the buttons to be pressed accidentally during play. The bullets each take 3 watch batteries, which are included. The watch batteries give about 90 minutes of play time. The bullets give a buzzy sensation which on the highest setting is pretty strong. The vibes are also pretty quiet. I hate to hear a toy buzzing away during play time. The sound of this toy did not distract me during sex, which is always a good thing. It will be heard across a quiet room but not through a closed door. During sex the sound was quite muffled.

Functions:

Multispeed

Special features:

Batteries included
Double bullets
Removable bullet
Waterproof

Powered By:

6 watch batteries

Control type:

Push button

Care and Maintenance:

TPR silicone can be cleaned with soap and water or a sex toy cleaner. I had to be extra careful to clean between the bumps. They are very squishy so cleaning was pretty easy, even with the bumps. I only mention it because between the bumps can harbor bacteria. I use a spray on toy cleaner. Make sure this toy is completely dry before storing as well, since moisture can collect on the textured surface. I try to take the batteries out of my toys before storage as well. Watch batteries give me a bit of trouble, since they can be a pain to insert. The bullets can be removed for cleaning, or not. They are waterproof as long as the caps are on tight.

Packaging:

I loved the minimal packaging for this cock ring! The packaging was really fun, but once it was open it was trash. Too bad this didn't come with a storage container.





I think this packaging is fun and not intimidating at all. It is kinda corny, but the cock ring is really effective. I think it is brilliant.