LELO Insignia Oden - Cock ring from LELO

Product Details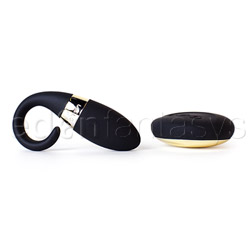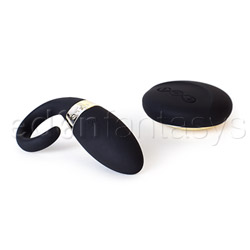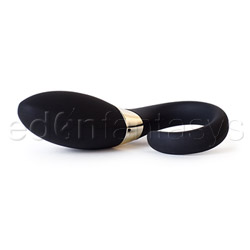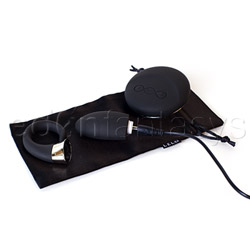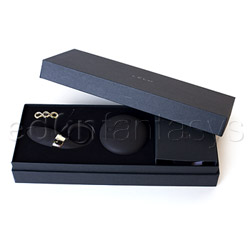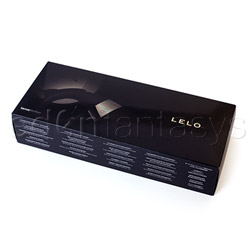 Summary:
With SenseMotion technology and a vibrating wireless remote, the Lelo Insignia Oden is one amazing couple's ring. It is like getting 2 toys in one. It has great range, is waterproof, and has some really neat features that everyone is sure to love.
Pros:
Really neat SenseMotion technology, silicone, 2 vibration pieces, wireless.
Cons:
Can get noisy, buzzy vibrations.
Best use:
Oden is part of the Lelo Insignia line's new wireless toys. He is a couple's ring. He is used not so much to restrict blood flow and maintain erection like a cock ring, but more so to heighten your sexual encounter. He works best when used in the missionary position, wrapped around the base of the penis on the belly side. This allows Oden to not only stimulate the wearer but hit the partner's clit with ease.

He comes with a wireless remote that uses SenseMotion technology. This means that this little remote (that also works as a vibrator as well) has some pretty neat features, more on those below. The remote works up to 39 feet away, travel locks to save power, and runs off 2 AAA batteries. The entire thing is waterproof so this means that shower and tub fun are just fine for Oden.

In the lovely, sturdy box, you will find Oden, his remote, 2 AAA batteries, a gold Insignia brooch, a 5ml sample packet of Lelo's Personal Moisturizer (water based lube), a satin storage pouch, a plastic key for the remote, a pamphlet on the 10 year quality guarantee, one on the 1 year warranty and finally, a user manual.
Material / Texture:

Oden is made with Lelo's buttery soft, premium silicone. I cannot put into words how luxurious this silicone feels. I just want to keep petting it. It is seamless: there is no texture but it is matted which is always nice to help hold lube on better. At the meeting point where you unscrew Oden to insert the charger there is a ring of goldish plastic. This same plastic is on the back of the remote. There was no smell or taste to Oden coming out of the box.

Material:

Plastic

/

Silicone

Material safety

Texture:

Smooth

Safety features:

Food-grade material / Hypo-allergenic / Latex free / Non-porous / Phthalates free

Shape / Design / Size / Fit:

Now for the fun. Oden looks like a sperm. He has a fat head and a long, curled tail. His tail is sturdy and in a C shape. You pull it open to secure to the base of an erect penis or toy. It can fit many shapes and sizes from a 1 inch diameter to a 2 inch (comfortably). Oden can point downward to the testicles or upward to hit the clitoris during intercourse. His tail is flexible enough that it does not pinch or hurt and it is comfortable enough for just about anyone to use.

The vibrating remote is circular, flat and smooth. It easily fits in the palm of the hand for massage or masturbation.

Both pieces are fairly loud. They both have a very high-pitched whine to them - but Oden himself more than the remote. The vibrations also get very buzzy - my fingers have gone numb just sitting here playing with it to write this review. However, no matter how buzzy they get, when in use on the delicate areas the vibrations do not seem that strong - certainly not strong enough for me to get off using them alone. Paired up with penetration though, they do help add extra stimulation to both the wearer and the recipient.

Color:

Black

Cock ring style:

Stretchy ring

Max stretched diam.:

2 1/2"

Unstretched diameter:

1 1/4"

Diameter:

1"

Length:

3 3/4"

The set includes:

Oden ring
remote control
2 (AAA) batteries
instruction manual
charger
sample lubricant

Weight:

1 lb

Functions / Performance / Controls:

The first thing you have to do (after charging and inserting batteries into the remote) is to synchronize your toy. You do this by first hitting the + button once on the remote - this allows the remote to seek for the toy. Now that it is seeking, you can hit the wee button on Oden that looks sort of like this ((.)). The sync can take up to 10 seconds to kick in but once it does, the small LED light on the toy will flash indicating that it is synced. It can be turned off at anytime by clicking the same ((.)) button but Oden will also hibernate and turn himself off after one hour without use. If you were to purchase the other toys in the SenseMotion line, they could all be synced to the same remote at once.

That is all done, so now we can play. There are 3 function buttons on the remote: +, -, and a middle function button that is supposed to be 2 arrows going around (it looks like an eye to me). The first thing you should know is that not only will Oden vibrate, but the remote will as well. So don't think this crazy toy is going berserk on you. It is supposed to do that. You can turn off the remote's vibrations at any time, during most of the modes, by holding the middle button on it for 3 seconds.

The + and - buttons control the intensity of the vibrations. There are 10 vibration levels that I counted from a very low hum to a high pitched, buzzy, whine that will numb out your fingers. To turn everything on, hold down the + button for a few seconds.

We are now in SenseMotion mode 1. Holding the remote flat, parallel to a table makes it give off a barely there vibration. Turning it upwards slowly increases the vibration until you get to a 90° angle and there you are at full throttle (This could make for a pretty cool party trick I am thinking.). Let's try Sensemotion 2. (To get to the next mode you click the middle button on the remote.) Now shaking the remote activates the vibrations. The faster you shake the more intense the vibrations. In these 2 modes you cannot deactivate the remote from vibrating.

After these 2 really interesting modes, there are 6 push button modes you can flip through. They are varied from steady vibrations to different pulses and patterns. They all can be increased or decreased in speed by clicking the + or - button. In these modes, you can deactivate the remote's vibrations by holding the middle button for 3 seconds. To turn it off at any point, just hold down the - for a few seconds. You can also travel lock the remote by pushing and holding the + and - at the same time for about 5 seconds.

Functions:

Pulsating / Vibrating / Multifunction / Multispeed / Escalating / Pulsating

Powered By:

Aaa-2 / Rechargeable

Control type:

Remote control

Care and Maintenance:

Oden and his remote are both waterproof. This means that you can wash them with warm water and soap without fear of anything going wrong (so long as everything is closed up tight), or use your favorite toy cleaner or a 10% bleach solution. Lelo warns against using harsh abrasives or boiling your toy.

Although this silicone is amazing, it is a dust and hair magnet so you will want to make sure to store all the bits and pieces in the storage bag provided.

Oden charges by unscrewing his tail from his head to reveal the charging port. Plug the port in here and it will flash while it charges. It takes about 2 hours for a full charge and it lets you know it is done when you see the steady light.

The remote runs off 2 AAA batteries that are inserted by using a key. Yes, a key. There is a bit of a line in the goldish, back part of the remote. You stick the small plastic key in this and use it as a turn handle to open up the battery compartment. Once opened, you pop your batteries in and close it the same way, with the key. It opens and closes with only a quarter turn so it is rather easy to do.

Care and cleaning:

Soap and water

Personal comments:

Confession time. This is my first Lelo product. No really, it is. I had really high hopes for it. The material and use of some really cool technology wowed me, the buzzy vibrations, not so much. Granted, for its intended use, Oden did the job - as a couples ring it works great.

Other

Insertable length:

3 1/4"

Circumference:

3 1/4"

Special Features:

Batteries included
Gifts
Lubricant included
Multifunction
Powerful
Quiet
Waterproof
Wireless