California Exotic Jessica's love dome - Cock ring from California Exotic

Product Details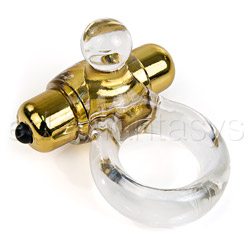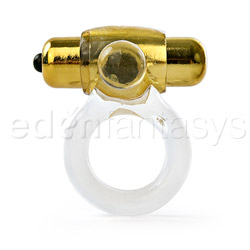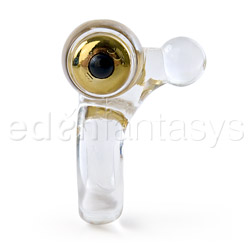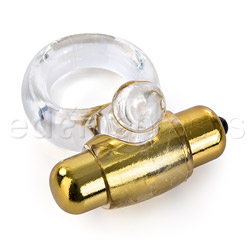 Summary:
This is a classy-looking penis ring that provides more than the average level of stimulating vibration for the male partner and performs well for the female too. It's waterproof status not only means you can use it anywhere, but also makes it very easy to clean.
Pros:
Waterproof. Lots of vibrations for him. Stays in place well.
Cons:
Pressure lessens the vibrations on the clitoral ball.
Best use:
Jessica's Love Dome, made by California Exotics, is a vibrating penis ring designed to enhance lovemaking for couples. It provides strong vibrations for him along with a firm grip to help maintain the erection, while the protruding ball gives direct clitoral stimulation for her. If put on backwards, it can also be used as an arousing add-on to male masturbation sessions, and the vibrating bullet is removable so you can use it to stimulate any other erogenous zones on the body of either partner. As an added bonus, this unit performs just as well under water as on dry land!
Material / Texture:

This penis ring is made of smooth thermoplastic rubber with a thick gold-tone ABS plastic vibrator. And finally, here is a company who has produced TPR that isn't unpleasant! Unlike some other toys of the same material, the Love Dome does not have a strong smell nor is it impossibly sticky to the touch. The scent is very light, and there is only a slight drag against the skin compared to that of say, a silicone toy, so we have to give California Exotics two thumbs up for this.

It's also a bit firmer than most TPR, with enough rubbery "give" to make the ring easy to put on and suitable for men of varying girths, but also enough stiffness to hold the clitoral stimulator in place well and provide a rather firm grip on the penis.

Material:

Plastic

/

TPR

Material safety

Texture:

Smooth

Safety features:

Food-grade material / Hypo-allergenic / Latex free / Phthalates free

Shape / Design / Size / Fit:

With its clear crystal and gold color scheme, the Love Dome does look classy, but there's more to this ring than just looks. It's very well constructed, with a durable design featuring a completely rounded cock ring that's very comfortable to wear. The ring is fairly thick, and the un-stretched opening is only 1" across, so it squeezes firmly enough on the penis that it does help maintain an erection.

The clitoral ball is positioned far enough above and in front of the ring that it easily hits the tip of the clitoris and, though it is firm, the ball does flex enough that even hard core grinding doesn't get uncomfortable.

The vibrating bullet is positioned perfectly to not only stimulate both partners but also to provide enough support to ensure that the toy maintains its shape when in use. Indeed there will be no limp flopping with this little gem... from the toy or the man!

Color:

Clear / Gold

Cock ring style:

Stretchy ring

Max stretched diam.:

1 1/2"

Unstretched diameter:

1"

Weight:

0.2 lb

Functions / Performance / Controls:

The removable vibrating bullet requires 3 LR44 watch batteries, and the toy comes with two sets so you're ready to go (and keep going!). It has a push button controller with only one speed, which is high, and it's quiet enough that it's unlikely that anyone who isn't in bed with you will hear it. The vibrations are easily felt on all areas of the body, and might even be too intense for some very sensitive areas when the bullet is used on its own.

The vibrator's performance when inserted in the cock ring changes a bit because the TPR material does diffuse it some. For the male, the vibrations are still rather strong and can be felt evenly all around the entire ring, which is very stimulating. For the female, the vibrations of the clitoral ball are medium strength, but if you grind down hard on it then they can barely be felt through the ball. However, if you do grind like that you will notice that it puts the bullet in contact with your labia, and this combined with the massaging that the ball gives to your clitoris creates a whole different kind of good sensation.

Underwater, this cock ring is outstanding, because the vibes seem to travel more and can be felt in a wider area for both him and her. Don't be afraid to submerge this lovely little toy for long periods of time either, because even after an extended session of vigorous tub play the battery compartment remains tight and dry.

Special features:

Removable bullet
Waterproof

Powered By:

3 watch batteries

Control type:

Push button

Care and Maintenance:

The fact that the vibrator is waterproof makes this cock ring a breeze to clean. Just remove the bullet from the ring and wash everything with soap and water or with a toy cleaner. Do keep in mind that TPR can't be boiled or otherwise sterilized though, so it's best not to use the Love Dome with multiple partners.

Both silicone and water-based lubes are safe for this toy, and a little dab of lube on the bullet does make inserting it into its holder much easier.

Experience:

Alan says:
The Love Dome fits tighter than similar rings that we have, and I was surprised at how much I could feel the vibrations because the majority of couple's cock rings seem to concentrate more on the female's enjoyment than the male's. This one felt great, stayed where I put it, and did keep the old hard-on going for quite some time.

After we'd used it a few times together, I put it on backwards so that the bullet and nubby thing were facing my balls and it proved to be an extremely arousing addition to a masturbation session. I think it's well worth the money since it seems like something that will last awhile and feels good in more than one way for both of us.

Michele says:
It took me a few minutes to get used to the idea of *not* grinding like crazy to achieve a decent buzz to the clit, but once I'd figured that out I liked the toy better. With deep thrusting I got more of a massaging sensation than vibrations to my clit, but I could feel a pretty nice buzz all around it, which set me off nicely. Riding cowgirl with shallow grinding gave enough vibes to just the tip of my clit that I got one of those slow build-ups to the "O". It works for me either way!