Dorcel Power clit - Cock ring from Dorcel

Product Details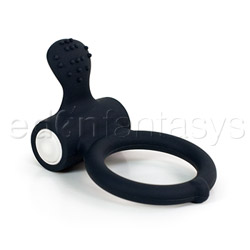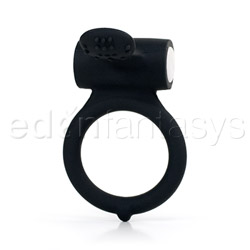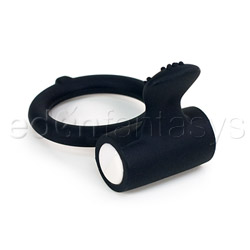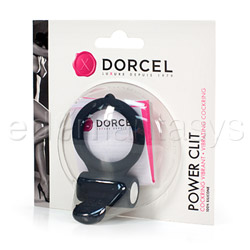 Summary:
A vibrating cock ring with an added stimulator for her pleasure, this is a unique and entertaining addition to your toy box. For clitoral or testicular stimulation, this one hits the target. Occasionally too many times, but as a rule it is a very fun and unique toy for couple or solo play. This is one item that is going in our travel kit....want to know why?
Pros:
Silicone, clitoral stimulator, soft and stretchy.
Cons:
Small diameter ring band, one function bullet.
Best use:
The Power Clit is a teaser....A fun, daring, exciting teaser. One you will not want to leave home without, not even to go to town. Why is that? Ohhh, you will read--and learn about the best use ever for this little cock ring!!

This is a perfect equivalent to....vibrating panties!! About half an hour before you want to really play, put this on and go about your road trip, clubbing, or current activity. See what happens as this little bullet makes his presence known, have a bit of fun with public play--for him!! My husband and I were so excited when I figured this out--finally, my turn to get him all hot and bothered when he can do nothing about it.

This is a great addition to couple time; it does help to stimulate the clitoris during penetration, but you have to be a bit creative to get the right amount of stimulus for your body. Intermittent does not work so well for me, so I ended up grinding to full pleasure.
Material / Texture:

The ring and bullet casing are made of silicone. This is non-porous, rates a 10 on the safety scale, and can be sanitized. It is a bit of a lint catcher, but careful wiping will keep it clean and ready to go for that special time.

The silicone is soft and velvety. There is a bit of stretch to the ring for a good fit for him, and the clitoral stimulator has some small bumps for added excitement. These bumps take away some of the drag, but you still need lube to prevent soreness form friction.

There is a bit of drag for her; for him, the ring is kept in place and is not irritating to the skin of the shaft. Do NOT try to use this around the testicles as well. You can flip it and have the flap stimulate them.

The bullet is plastic and is fully encased inside the sleeve. There is no odor or taste to the bullet or penis ring.

Material:

Silicone

Material safety

Texture:

Smooth

Safety features:

Food-grade material / Hypo-allergenic / Latex free / Non-porous / Phthalates free

Shape / Design / Size / Fit:

Unstretched, the ring band is 1 1/2" diameter. It stretches to about 2 1/2" to 2 3/4" diameter. The sleeve is 1" long, and the clitoral flap is 3/4" long by 3/4" wide. This slips over the head of the penis and down the shaft. The slide is fairly easy, but is smoother with a bit of lube. The amount of stretch will allow this to fit almost any size girth.

The clitoral flap is flexible and vibrates with the speed of the bullet. Its length makes this a good fit for many different anatomies. The flap is fun for some sensory play, nipple teasing, testicle teaser and stimulation during a solo session.

Color:

Black

Cock ring style:

Stretchy ring

Max stretched diam.:

3"

Unstretched diameter:

1 1/4"

Weight:

0.2 lb

Functions / Performance / Controls:

The control for the bullet is a soft button that pushes in on one side. There is only one vibration and it is fast, buzzy, and light. On the plus side, this bullet takes one watch battery and can be reused. It also works well for public play since it is whisper quiet. On the negative side, this is not enough vibration to really get me going, much less off. We had to switch the bullet out for a more powerful model.

My husband could only wear this for about 20 minutes before the ring are felt too tight and irritating. If the band would have been made a bit wider, it would have added greatly to his comfort.

**The flap can be used to stimulate the testicles if you flip the ring around.
**Fun addition to oral sex for him.
**Teases nipples amazingly well.
**Works great on a dildo.

Special features:

Batteries included
Clitoral stimulator

Powered By:

2 watch batteries

Control type:

Push button

Care and Maintenance:

Remove the bullet. Wash the ring in warm, soapy water and rinse thoroughly. Go back over it with toy cleaner to sanitize. Let this air dry since it does attract lint.

You may boil the ring for 15 minutes or let it soak in a 10% bleach water solution for 15 minutes as well. This disinfects the silicone for sharing and hygiene.

Wipe the bullet down with a cloth dipped in rubbing alcohol. Do not get it wet!

Store this in a plastic bag, separate from all other items. Silicone does degrade due to chemical reactions with other silicone products or softer materials. You may also want to use only water based lube due to the chemical reactions caused by oil and silicone lubes.