California Exotic Stormy's double trouble - Cock ring from California Exotic

Product Details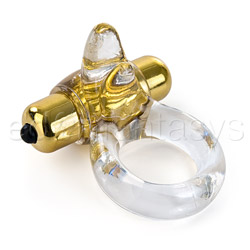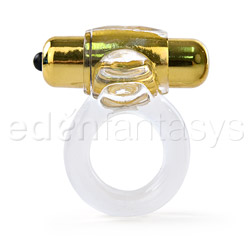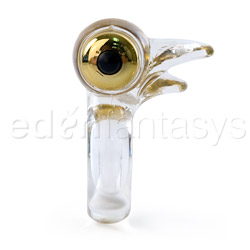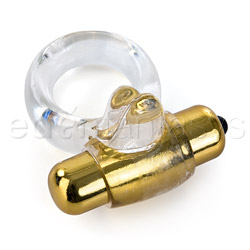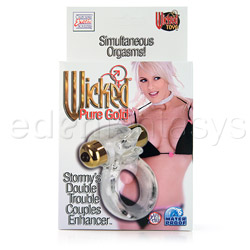 Summary:
As far as cock rings go, the Double Trouble hits the rights spots and delivers durability along with a unique design that transmits vibrations to the clitoris. The clear TPR construction has a cool look and although the battery life is short the power of the bullet vibe is excellent. Push button operation is easy and the noise level is very low.
Pros:
Unique and functional design combined with decent durability.
Cons:
Won't stretch easily over testicles. Battery life is low.
Best use:
Stormy's Double Trouble Cock Ring by California Exotic Novelties is truly a toy designed with everyone in mind. For the man wearing this stretchy little gem the vibrations can be felt along the length of his shaft and there is the added bonus of erection enhancement. Arguably both of these points sound much like benefits for the women out there and, well yes, they no doubt are. However the ladies also have the pleasure of having a lovely vibrating 'birds beak' rubbing up against the clitoris. Who could ask for anything more! The box does indeed say 'couples enhancer' which to me also says something for everyone.

We have owned two separate jelly material cock rings in the past that had the same style of bullet attachment and they didn't hold up past 3 or 4 uses. We had made a classic newbie mistake and went with the cheap material only to find it tears way too easily. The Double Trouble cock ring is certainly a notch up in quality and should last for much longer than our previous money wasters.
Material / Texture:

The TPR (thermoplastic rubber) construction of this penis ring provides tons of durability while still possessing a silky smooth and soft finish. There is absolutely no smell to this toy and hygienically it's superior to standard rubber or jelly materials. It can't compare to silicone which can be bleached and boiled but it's still a reasonable choice of fabrication for this application.

We have noticed a very small seam line on the bottom of the ring and the thickness of the band is just a tad bit thinner in this area. We're hoping that this toy won't catastrophically fail at this point snapping into our nether regions like a thick rubber band! So far so good but it does seem to be a weakness.

The bullet style vibrator is the standard rig found in tons of smaller type applications and is nothing fancy. The packaging says that it is made from ABS with gold plating....and the moon is made from green cheese! The vibe does pack a wallop though and has great intensity for its small stature.

Material:

Plastic

/

TPR

Material safety

Texture:

Smooth

Safety features:

Food-grade material / Hypo-allergenic / Latex free / Phthalates free

Shape / Design / Size / Fit:

As far as the size goes, this ring fit my husband perfectly. He is of average size and it's almost as if he was used for the mold for this toy. Seriously the fit is excellent, not too tight and not too loose....just right! We have easily stretched the cock ring to about double it's size (up to 2" in diameter) and have contemplated wearing it around the base of his testicles as well like a conventional cock ring. He is leery on this use though and we're both quite happy with him strutting around with it at the base of his shaft. The TPR material is fairly firm and could prove too tight for the jewels to be crammed up into it as well.

Probably the strangest design feature of the Double Trouble ring is the odd 'birds beak' protruding at the top directly in front of the bullet vibe. Personally I think the side view looks like Princess Leia with a huge overbite but whatever the case it does transmit the vibrations nicely to the clitoris. Who says looks mean anything? Functionality over form!

Donning this toy isn't a problem either. We've easily slide it onto hubby's cock with water-based lube and spit works in a pinch as well.

Color:

Clear / Gold

Cock ring style:

Stretchy ring

Max stretched diam.:

1 1/2"

Unstretched diameter:

1"

Weight:

0.2 lb

Functions / Performance / Controls:

The intensity of the bullet vibrator is excellent for it's size. The three watch batteries that provide power pack plenty of punch but only last about 15 minutes at full steam before they noticeably fade. Two sets of batteries are included and are packed in bunches of three for the remedial students out there. Our local dollar store sells packs of three batteries so replacement power is cheap and if we go through one set each use then the price is well worth the fun. Control is provided via one on/off push-button and is not variable... nothing or OMG are the only options. I'm a big fan of simple button type operation because slippery fingers usually fumble with anything requiring much dexterity.

The power transmits nicely through the ring and can be felt by both the wearer and the partner well especially during a nice slow, deep screwing which gives the 'birds beak' more contact time against the clitoris. I've also used the bullet separately on my clit for a solo session and had no trouble reaching orgasm so a big thumbs up for it's power and versatility.

Special features:

Removable bullet
Waterproof

Powered By:

3 watch batteries

Control type:

Push button

Care and Maintenance:

Soap and water cleanup is our recommendation for the Double Trouble ring. It shouldn't dissolve other toys if it comes in contact like jelly material will but we always keep our private collection from coming in contact with each other.

The bullet can be cleaned the same way and is waterproof as proven by the silicone ring inside the threading of the two piece casing.

Packaging:

California Exotics packages this cock ring in a standard box with the standard buxom blonde image staring longingly for some lovin'... you get the idea. While no instructions are included there is, however, a lovely warning about the ill effects of wearing a cock ring too long. I'll save you the details but trust me, I wouldn't want to see bruising at the base of a penis!

Experience:

We've had this cock ring for two weeks now and can only say good things about it. My partner can feel the vibrations along his cock and finds the fit just right. He has also always had a thing for Princess Leia so he may be a little jaded. As for me I've also enjoyed it and find it feels excellent when he grinds into me pushing the vibrations up hard against my clitoris. Solo use with the bullet has produced positive results (ie. easy orgasms) and the dollar store has made some money on replacement batteries from us. My husband's erections seem to be good and hard but that isn't usually a problem anyway. As far as delaying/prolonging his orgasms this cock ring hasn't helped and that's due to it being worn around his shaft and not at the base of the testicles. We have other good quality metal rings for that!