Bushman Products The Screaming O vibrating ring - Cock ring from Bushman Products

Product Details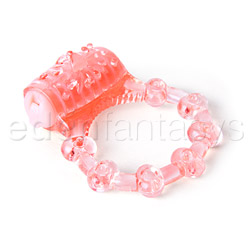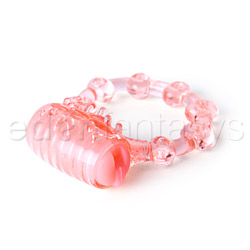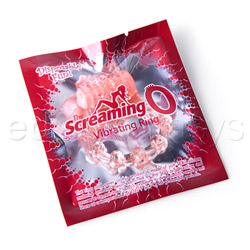 Summary:
When looking for a first time cock ring, look to the Screaming O. Small, stretchy, non-intimidating and nice vibrations all come together to provide a cock ring that all can enjoy. The beginner will enjoy the ease of use and the veteran cock ring user will enjoy the thumpy vibrations that travel all the way up your shaft.
Pros:
Thumpy vibes transmit to the penis nicely, super comfy, great for beginners, can replace bullet.
Cons:
Does not provide restriction, 30 min battery life.
Best use:
Ah the ever popular cock ring. For many couples new to toys, this is the gateway toy. Simple, easy to use and disposable, the Screaming O vibrating ring is one of those toys that make you come back for more.

Apply some water based lube, stretch it over your shaft and/or scrotum, turn it on and let the fun begin. He will like the way it pulls the testicles out away from the body while providing vibrating stimulation to the shaft. She will love having a throbbing vibrator attached to her partner and possibly some added stimulation to the clitoris.
Material / Texture:

The folks over at Bushman Products have made this C-ring out of soft TPR Silicone. Much like jelly, but much safer, the ring is soft and flexible. It has a slight odor but nothing you can smell unless you put it up to your nose. There is a slight taste like plastic but this will not really be in your mouth so there is no problems there. The TPR has a bit of drag to it and may pull some hairs during use so use a good water based lube.

The ring portion has six beads molded in to provide some stimulation and to help keep it from turning. Under the bullet section are teeth, much like a gear, to help hold it in place. On top of the ring is a tube of material to hold the micro bullet. On the front of the tube you will find a series of small soft nubs to provide stimulation to the clitoris or urethra.

The micro bullet is made from plastic, powered by watch batteries, and has an on/off switch. It has ribs along the length to help keep it in place. You can not replace the batteries, but you can always use another micro bullet if you like. The bullet measures at 1 1/8" long by 7/16' diameter.

Material:

TPR Silicone

Material safety

Texture:

Beaded / Nubbed

Safety features:

Food-grade material / Hypo-allergenic / Latex free / Non-porous / Phthalates free

Shape / Design / Size / Fit:

The inside diameter comes in at 1 1/4" diameter unstretched, it will easily stretch to fit on a pop can. This means it will fit all users but it may not provide a whole lot of restriction. The beads are about 3/8" wide and the ring itself is 3/16" thick. From the top of the ring to the center line of the bullet is about 1/2". So it may not reach the clitoris, but it does allow the vibes to transfer to the shaft with ease. And transfer they do!

Typically a cock ring should not be worn for more that 30 minutes, since the batteries only last that long it works out perfectly. Should you have a micro bullet that fits, I see no problem wearing it longer if needed. Just remember that if you experience any pain or loss of feeling in you penis, take it off and wait at least an hour or two before using it again.

Color:

Nude

Cock ring style:

Stretchy ring

Max stretched diam.:

2 1/2"

Unstretched diameter:

1 3/4"

Functions / Performance / Controls:

The Screaming O only has one vibration setting - this is best described as thumpy. The vibes can be felt all the way up the shaft of the penis but lose strength along the ring. A simple switch on one end turns them on/off. Even though the vibes are on the stronger side, it is very quiet and can not be heard though the blankets.

Special features:

Wireless
Batteries included

Powered By:

Not replaceable

Control type:

Power switch

Care and Maintenance:

Since this is a one time use type of toy, simply toss it in the trash after use. If you decide to reuse it with a new micro bullet, take the old bullet out and wash the ring with anti-bacterial soap & water and dry off before storing in plastic bag. Due to the slightly porous nature of TPR Silicone, it is not recommended to share between partners. For the price, you could buy one for each if you needed to.

Packaging:

Bushman Products packages this ring in a hermetically sealed pouch. The front is clear so you can see the ring. It has "Screaming O" across the front, so it's not very discreet. On the back there are some use instructions and a warning about use with swollen or inflamed areas and broken skin. This package is not recyclable.

Experience:

For the wife and I, this style of C-ring was the first vibrating ring we tried. It was one of those drug store cheap rings that lasted for 10 min and broke when I was taking it off. I am happy to say that the Screaming O was a much better experience. It does not provide the typical restriction and thus larger penis but it did hold my balls out and did not move during vigorous use.

The vibes, holy hell, the vibes. Maybe it was the fact the the bullet sits so close to the shaft or maybe the batteries were just that powerful but this is one of the strongest vibrating rings I have tried. During use I could feel the vibes all the way at the tip and was able to tease the wife's clitoris to orgasm with a light touch and gentle stroking. During PIV she said she could really feel the vibes and she enjoyed the stimulation to her G and A spots. The small height of the vibe did not hit her clit during normal positioning but I was able to angle my penis to provide some stimulation. Doggie style was the best feeling for me. I think this was due to the angle of my shaft pulling the bullet tighter. She was very happy the was no 'nose' or 'elephant trunk' to tickle her anus.

For the price and power of the vibes, I would say you can not go wrong with the Screaming O. Perfect for the newbie and advanced alike, I highly recommend giving this ring a try.

Other