Bushman Products Tri-O triple pleasure - Vibrating Cock Ring from Bushman Products

Product Details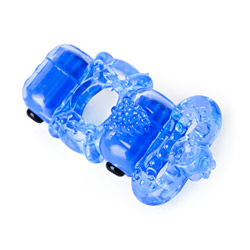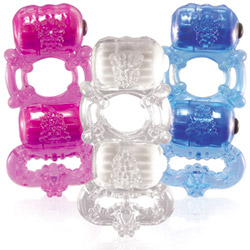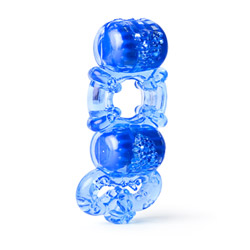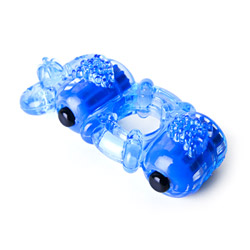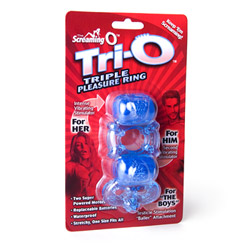 Summary:
The Screaming O's Tri-O triple pleasure ring is a stretchy cock ring that may just have it all. A ring for your cock and one for your testicles plus a vibrator each for you and your partner. The vibes are small, wireless, and use two watch batteries as their power source. They are relatively powerful, given their size, and the upper one lines up with and stimulates the clitoris well. It is really one of the most complete stretchy cock rings available and at a reasonable price.
Pros:
Two rings, two vibrators, stretchy, wireless, batteries can be replaced.
Cons:
Can be difficult to get on, water based lube only.
Best use:
The Screaming O's Tri-O Triple Pleasure Ring may just have it all. It has a ring for your cock, one for your balls, and a vibrator each for you and your partner. It may take a little effort to get on just right, but once in place with both vibrators fired up it can provide quite a bit of pleasure for both of you. The main ring is pretty simple, it's the testicular ring that proves a little more difficult. It's all worth it though as it really seems to help everything stay just where it works best.

As with most other stretchy cock rings, the sustaining aspect of the Tri-O isn't as good as a well fitted rigid cock ring, but it definitely helps out.
Material / Texture:

The Tri-O is made of TPR silicone so it is stretchy. Mine came in a decent looking blue instead of the pink of most of The Screaming O's products. I suppose the pink might be more camouflaged than blue for most of us (unless you are Na'vi) but I don't necessarily expect my sex toys to blend in and I think the blue is pretty cool looking. There is a photo showing three different colors, but I don't see the means to make that selection anywhere. The outside of the vibrating sections each have nubs that look like a bunch of grapes and there is a diamond shaped nub on the testicular ring, but neither of these really adds much to the experience.

Material:

TPR Silicone

Material safety

Texture:

Beaded / Nubbed / Ribbed

Safety features:

Hypo-allergenic / Latex free / Non-porous / Phthalates free

Shape / Design / Size / Fit:

The cock ring of the Tri-O is a double ring that is stretchy enough that it should fit just about any cock out there. The testicle ring is oval in shape which I suppose might help it stay in place once it is put on. The two vibrators are small and identical, being powered by two watch batteries each. They can be removed from their TPR silicone sleeves and re-inserted without much trouble. While I usually like the clit vibrator to be mounted vertically, these are small enough that they don't get in the way as much as larger vibes so it all works well.

Color:

Assorted

Cock ring style:

Stretchy ring

Max stretched diam.:

2 1/2"

Unstretched diameter:

1 3/4"

Functions / Performance / Controls:

The dual vibrators on the Tri-O are wireless and operated via a push button on one end. It is a simple on/off function with no variation in vibration pattern or level. The vibration is decent considering the size and power source. It was definitely more than I expected. Not earth shaking, mind you, but not bad.

Special features:

Double bullets
Double looped
Waterproof
Wireless

Powered By:

6 watch batteries

Control type:

Push button

Care and Maintenance:

Care for the Tri-O is pretty simple. Wash it with soap and warm water or your favorite toy cleaner, and you're good to go. Since the material is TPR silicone, it limits lubricants to only water based as any other lube types could cause material degradation. TPR silicone is porous and cannot be sterilized, so sharing the toy with others, including multiple partners, is a bad idea. Given the price of the Tri-O this shouldn't represent a great financial difficulty, though.

Packaging:

As is common with the Screaming O products, the Tri-O comes housed in a molded, clear, thin plastic casing attached to a cardboard backing meant for hanging. For the most part, it is pretty discreet. There isn't any nudity really, although there are some silhouettes of the female form. Gets the job done well, really.

Experience:

All in all, our experience with the Tri-O was very favorable. It took some effort to get in place, but once there everything worked better than I expected. The material is soft, stretchy, and comfortable. The ring is easy to care for and holds everything in place well. It offers some measure of erection sustaining function which is nice, but that may be offset by the additional stimulation provided by the vibrators, so it's probably all a wash from that perspective. Definitely one that we'll use again.

Other