California Exotic Vibrating support plus wireless - Cock ring from California Exotic

Product Details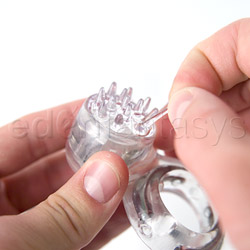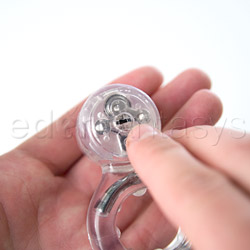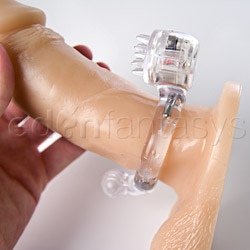 Summary:
The Vibrating Support Plus is a great addition to our toy chest because it added waves of pleasure in a new and exciting way for both of us.
Pros:
Large head for clitoral stimulation, contact turn on for vibrator, comfortable fit.
Cons:
Batteries bit difficult to change.
Best use:
This cock ring is a great addition to our toy collection. It adds that extra spice to our play which is the biggest benefit! The two stainless steel supports in the cock ring would make this a good choice for someone who was looking for extra staying power or to extend their session. It is very stretchy and accommodating so this product would be good for beginners. However, since this ring has some great features it would be good for advanced users looking for something a bit different.
Material / Texture:

The Vibrating Support Plus is made out of TPR so it is very stretchy and soft. It is easy to feel the vibrator inside the top of the toy and the two steel pieces inside the ring itself. There was a bit of "new plastic" smell that quickly went away when I washed the toy with warm water and soap prior to use.

The top of the Vibrating Support Plus is round and has tickler ends that hit the spot quite nicely when the vibrator is on. The inside of the ring is smooth and did not cause any discomfort to my partner while he wore it.

Material:

TPR

Material safety

Texture:

Nubbed / Smooth / Studded

Safety features:

Hypo-allergenic / Latex free / Phthalates free

Shape / Design / Size / Fit:

This cock ring is designed with a clitoral stimulator at the top that is round and 1 inch in diameter. The great thing about the stimulator is the tickler nubs that add waves of pleasure with each vibration. The other end of the ring has a pleasure nub attached that is 1 inch long and curved. I am not sure if this is meant for anal stimulation, because it didn't make it there for me. It ended up pushing into that sensitive skin between my vagina and anal area and was not always pleasant when things got going.

The Vibrating Support Plus is 4 inches long from top to bottom and the stretched out diameter of the cock ring is about 2 inches. It makes it accommodating for most sizes of men, however for some the stainless steel supports on the top and the bottom of the ring, that may limit comfort for someone of a larger size. My partner is larger, and he found that once he got it in the proper position it was comfortable to wear. He also did not have any difficulty in sliding it on or adjusting it.

Color:

Clear

Cock ring style:

Stretchy ring

Max stretched diam.:

2 1/2"

Unstretched diameter:

1"

Length:

3 3/4"

Width:

1 3/4"

Weight:

1.5 oz

Functions / Performance / Controls:

The vibrator on this toy is pleasantly surprising. In other cock rings we have tried, it is often difficult to turn the vibrator on and off or they often are not powerful enough. This was not the case with the Vibrating Support Plus. There is only one speed to the vibrator, but between its movements and the ticklers on the tip it provided more than enough stimulation on my clitoris to get to that wow moment. The other great thing about the vibrator is that it turns on by contact. With each thrust the vibrator turns on as it comes in contact with me. This made this toy interesting and breathtaking at the same time. Also, if we wanted to, there is a small switch on the bottom of the vibrator to turn on constant vibrations. A great option for anyone who needs it or finds the on and off of the vibrator distracting.

Special features:

Wireless
Clitoral stimulator

Powered By:

2 watch batteries

Control type:

Power switch

Care and Maintenance:

This toy is not waterproof so it takes a bit extra to care for it. I removed the batteries and then cleaned it with warm water and soap. I was extra careful to clean the individual ticklers and the grooves on the pleasure nub. I stored this toy away from other toys in a plastic bag to keep away dust and lint.

Packaging:

This toy comes packaged in a cardboard box that describes its special features and how flexible it is. The toy itself is inside in a plastic bag. The first set of batteries are already inside the toy and a second set is included in the bag. This toy takes button sized batteries so it is always nice to have that second set available.

The box itself has limited instructions about the toy not being waterproof and to make sure that a water based lubricant is used when choosing to use lubricant since this product is made out of TPR. It also contains a warning not to wear this product for more than 30 minutes at a time because of the restriction on the penis.

Experience:

This toy was pleasurable for both of us. I was happy with the vibrations and the little tickler nubs got me to orgasm quite quickly. The additional surprise of the vibrator turning on with contact was fun and kept me going through our the rest of our session. My partner was very pleased with the fit of the toy and he felt that he was able to maintain his erection longer and he felt very little sensation loss from the toy. When he did orgasm, he was confident the toy made it much more intense than normal. Overall, it was a great addition to our time together and it added a new dimension to our play.