Clitoral vibrators come in many shapes and sizes, though they are usually fairly compact and either rounded or pointed. There are exceptions, however. You want to first decide whether you like broad stimulation or pinpoint stimulation so you can narrow down your choices. If you're not sure, invest in both an inexpensive rounded toy and an inexpensive pointed toy so you can find out easily.

Next you'll want to know whether or not you like texture. If you are very sensitive, texture may be uncomfortable or painful to you. Many people enjoy it, however. There are many types of texture, such as nubbed or ribbed. If texture doesn't appeal to you, go with smooth.

Material is important. The safest materials cost more, but they last longer and are better for the body. Pay attention to the safety ratings on the toys. One is the least safe, and 10 is the most safe. Decide how low you are willing to go, because as the safety rating goes down, so does the price. Most people prefer to use non-porous materials, such as plastic, glass, silicone, wood, or steel. Non-porous means that there are no holes for bacteria to get into and it can be cleaned properly.

As far as price goes, go with one that makes you comfortable. I recommend sticking with cheaper toys at first, because you don't want to spend $100 on a toy before you know what you like. It would be a waste if it didn't work for you!


Sqweel 2 by LoveHoney



Duet by Crave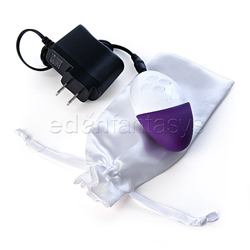 Siri by LELO]You can narrow down the search by deciding how strong you want the toy to be, with 1 vroom being "very mild, extremely low level vibration, great for newbies, foreplay, and sensitive areas," and 5 vrooms being "extremely strong, highly intense powerful vibration, probably too intense for most." You may not need much power for your first clitoral toy, but you also don't want to get one so weak it doesn't work for you. Assess your sensitivity level, and go from there.

If noise is an issue, you will be relieved to know that the toy's noise level can be rated, with 1 bee being very quiet and 5 bees being extremely loud. Do you live with a roommate, or your parents? Or maybe in an apartment with thin walls? Go for a toy that has fewer bees.

Are there any special features you desire? Should it be waterproof, bendy, multispeed, dual motor, scented, or multifunction? Decide what features are important to you. If there is a specific function you like, you can find it on EdenFantasys. You can choose from roller coaster, pulsating, escalating, rotating, surging, and plain old vibrating. Or even some combination of those!

Control type may be important to some. You can control clitoral vibes with a built in control pad, wired control pack, remote control, dial base, power switch, push button and more. Think about which would be easiest for you to control.

Power source is important to many people, but in the beginning you may want to stick to battery-operated toys. This is mainly because rechargeable toys are costly. You can find toys powered with AA batteries, AAA batteries, or watch batteries. Some people choose toys with batteries that are cheaper or more readily available.

Once you know what you are looking for in a toy, you can go to EdenFantasys and look at the clitoral vibrators page and use the filters to search for the perfect toy. Good luck!