You said that there came a point in your life that you made a conscious choice to be happy, regardless of numbers on a scale. So, you were "plus sized," happy and modeling, which led to meeting your husband and a new career?

Yes. I always loved to be in front of the camera. Always. And then I met Carlos. It sounds so cliché, but it was at a gallery opening! [laughs].

Let me also say that at this point, I was single and being a real slut! I was having a lot of sex and a lot of fun—not irresponsibly—but I was coming into my own, living alone, and so forth… And I saw him and I was like, I'm gonna fuck that guy. We gave each other "the look," the sex look. But, he swears he gave me a look like I was a potential subject. "Oh, I want to photograph her…" So he approached me with the line: "Have you done any modeling?" I thought it was a pick-up line.

I was thinking, Whatever this guy says, I don't care, I want to have sex with him. But he was serious. He really did only want to photograph me! [laughs]

Were you bummed?

I was a little disappointed, but also excited because he was the first professional photographer I'd be working with. Everyone before was either a hobbyist or a student or barely getting started, and he already had a huge body of work and was very serious.

And now, you're married. The chemistry must have been good.

There was chemistry, but it all started off pretty slow… I think the first shoot we did I might have gotten topless, but that's it.

So, your mom thought he was going to post your pictures all over the Internet?

[Laughs] Everything was still new to me. I wasn't sure. Maybe mom was right! We didn't go right into pussy shots or even nude. The photos came gradually, as our relationship progressed. We didn't date for two or three months. We kept it friendly and professional, and then we went full-speed with a real relationship. And the camera has always been a part of that.






Was it difficult to bring your family around to your career choice?

I was really scared to tell my mom [that I had started doing adult films], but by the time I did my third, I knew I had to because I was afraid she was going to hear it from someone else. She was quiet for a little bit and said, "Well, you're an adult and you make your own decisions. You know how I feel about it."

She didn't shun me, but it's kind of frustrating, because a lot of really cool things have happened and I'll try to share with her … I feel like I've been really blessed. I'll show her the AVN cover or Bizarre—even the sex toy. She just gives a half-smile and says, "That's good," and changes the subject. It's uncomfortable for her, but our relationship is totally good. She just doesn't want the gory details.

Do you have a favorite picture that Carlos has taken of you?

My favorite one was taken pretty early in our relationship. It was right after we had sex—and I kind of look like I'm sleeping—but I feel like it radiates sexual energy. There's also another one, it's from my neck to maybe my stomach area, and it's just kind of cleavage, and rolls and leg in black-and-white. It's really pretty.

Tell us about the first time you had sex on film. It had to be nerve wracking.

The first time was with Belladonna and I was very nervous. I had a whole bottle of wine before and that helped greatly! But to prepare for a shoot I start a week ahead. I try to do Pilates here and there. I get kind of lazy, but leading up to it I do it because it helps me get loosened up physically. I get my roots done like two days before, I freshen up my red [hair]. I shave the night before.

You're a shaver, not a waxer?

For years I was a waxer, and it got really expensive. Now I shave, but after all those years of waxing I destroyed my hair follicles, so it's so patchy! I shot with Jiz Lee three months ago, and I wanted to grow out my bush in sort of a tribute to her, and I can't! [laughs] It's so sad! It's like a deforested rainforest! Hair here, hair there, my once-lush bush—I've destroyed it. I'll have to get a merkin!

Outside the porn, life's pretty normal?

It's totally normal! I love to cook and try new recipes. I have a dog, I have a husband, I love spending time with my family and my niece, who is 5. I'm so in love with her. I love to travel and go to museums and restaurants. I like going to the beach. The only thing that I think is a little bit different is that sexually, my husband and I are open—but there are a lot of people like that. Not just in porn.

In our marriage we've decided not to follow the norms of monogamy. We do [all our extramarital play] together. We use it to enhance our marriage and our sexual relationship together. But that's the only thing that's out of the ordinary. Other than that, we're boring. [laughs]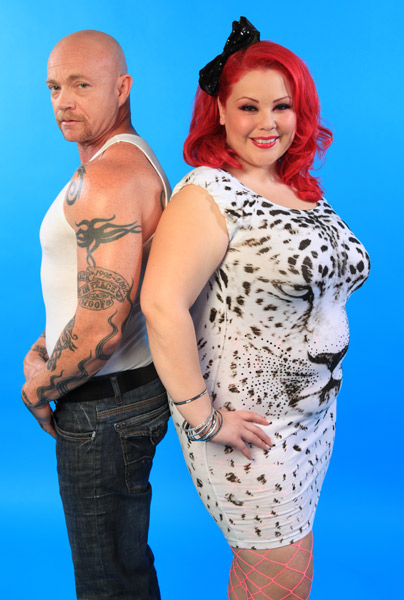 (April Flores with Buck Angel. Photos by Carlos Batts)