One of the porn industry's hottest commodities, Bailey Jay knows she has got to be a tough cookie to survive in a rough-and-tumble business. Even in a business that prides itself on a respectable measure of tolerance and acceptance, she knows that certain doors are closed to her. "Most mainstream porn actresses won't work with TS models for fear of being stigmatized as a higher HIV risk, even though we all take the same industry standard test. The world is changing, but never fast enough for me."

Bailey Jay has always known she was different from the rest of the boys. "When I was four years old, I told my mom: 'I'm mad at God,'" she says. "She asked why are you mad at God? I answered because He made me a boy instead of a girl. Needless to say, my mother was concerned. I imagine that is why I was on the soccer team for five years after that incident, against my will."

Her voice carries a sparkle when she speaks of her mother's love today. "My mother is my biggest supporter now," she adds. "She gets it, and tells me how beautiful I am every day."
Shrinks and those who study the phenomena of transgendered youth constantly point to childhood trauma or some such thing. They view the transgendered as "the other." American culture is suspicious and deathly afraid of those who are transgendered among us.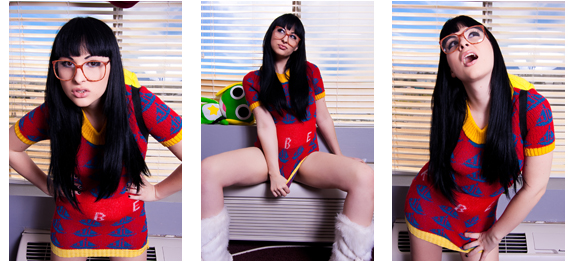 Matthew Terhune ©2010

Being transgendered is not a choice. "My father died when I was young, but my mother was worried that his absence warped my perception on gender," she says. I guess in her mind, it seemed realistic that if a boy is raised by women he may identify as a woman one day. I'd like to think it's more complicated than that."

Surrounded by her new fame, Bailey Jay ponders that essential question. "Why is it that I have the strong urge to be a woman and naturally look so much like one? Some people say luck, I think I manifested it."

She started to transition around age 15, but the sensual persona of Bailey Jay emerged at Otakon in 2007, when she flashed her chest for the first time. Afterwards, she kept a low profile until she experienced an eureka moment about how she could support herself in the adult film industry.
"Well, my rent was due at this shitty apartment where I was living with four college guys," Bailey Jay notes. "I needed $300 that next week or my ass was out on the street. A she-male porn company contacted me about doing a solo for $500. I said no at first, but ultimately gave in. I'm glad I took my career by the balls and made it work for me."
]

The Rocket anal plug is still blasting me off to orgasmic outer space. Those earth shaking vibe patterns rock our world. – Di's Guy | https://www.edenfantasys.com/vibrators/anal-vibrators/rocket-backend | Rocket – vibrating probe]
Called "America's Sweetheart," the pony-tailed transsexual is delighted how fast her star has risen in the industry. "I turned that $500 into an entire website and I'm now one of the biggest names in the game. I'm very proud of that fact."

The fans of the she-male videos adore Bailey Jay's porcelain skin, pixie pigtails, cheerleaders, and girlish giggles. They can't get enough of the girl's Gidget-like antics, buying the two earlier flicks such as Transsexual Superstars – Bailey Jay and Bailey Jay Is Line Trap and the seriously hardcore later items on Evil Angel including She Male Idol: Auditions 2, The Next She Male Idol 2, the Next She Male Idol 3, and She Male Police.

Working with veteran porn director Joey Silvera at Evil Angel is a dream come true for her. "He's my world," she says. "That man is everything making porn should be. He's from a different time in porn before it was mass-produced and all over all over tube sites, before everyone 'accidentally' leaked a sex tape. That man is a legend. I was not a true star until I met him. I owe him my career."

Also, Bailey Jay got a chance to work with Belladonna, one of the true outlaw goddesses of porn, and leaped at the opportunity to appear in Cvrbongirl. "What an honor! I don't really like genetic girls in a sexy way, but when she looks at me I just melt like a popsicle on the 4th of July. I use to jerk off to her videos when I was a little boy. And now she thinks I'm hot enough to be in her film. I will never forget that. Life is so funny sometimes."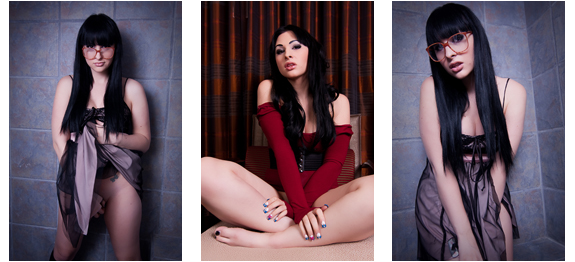 Matthew Terhune ©2010

The transformation from male to female is not an easy one, wrapping the mind around an image of the proper gender and then complementing that inner image with an external one which often involves saline implants and various hormonal treatments.

For a while now, Bailey Jay has been taking hormone treatments, often waking to new, unexpected developments. "My areolas!" she exclaims about her perky breasts. "They're so much bigger than I'd imagined. They're one of the most feminine features I have. It's all thanks to the hormone pellet implants I get inserted in my skin every four months."

What insights has she gained into the feminine mystique? "Relationships make some women insane. When I use the women's restroom at strip clubs and overhear girls talking about their boyfriends, it's like the guys are an accessory rather than a person. It's no wonder girls need a fashion magazine quiz to communicate with their significant other. Women and men are just so different from each other."

"I've always had guys figured out," she says. "That's why I feel safer around them. Most of my friends are guys. I'm very male-minded although I feel female. I don't need a lot of attention and I hate others that do."

Talking about the gender differences, she speaks about the male perspective like a sleeper spy. "Guys are easy," she notes. "I've never been in trouble with a boyfriend like I have with past girlfriends. Men are my people. I get them and they get me. I have simple needs: I enjoy giving oral, getting anal, making food and watching Netflix. I have no need for drama and most men don't either."

Some transsexuals get sex realignment surgery and later regret it. "I don't believe that would make me totally female," she says. "If you can ever say the phrase 'when I was a guy,' you're transgendered. That surgery wouldn't make me any more of a woman than a nose job would. However, I respect every TS who decides to get SRS. It's just not for me at this point in my life. I'm not keeping my penis for porn; I'm keeping my penis for my personal comfort."