So, how could I buy Red's wide-eyed naïveté?

Come on, Sister. Granny's gown has gone transparent in a deluge of dribble. You can hear the beastly panting, feel his breath. You can see his nose twitching, scenting you as his instincts tell him, pounce, tear, devour. He's not fooling anyone, least of all you. And yet, you stay. You play the game. You offer him your little basket of jam-slathered muffins….

Come to think of it, perhaps my fondness for double entendre was unwittingly kindled by Warner Bros. cartoons.

Oh, don't be so vulgar, Cherry, you say. That's a children's story.

True. But you know, it didn't used to be. |The lady had been endowed with two very large conical objects that she wore proudly upon her chest, and the maid was required to employ both hands in their simultaneous laving, kneading the soft doughy sections with her palms and tweaking the stiff mahogany tips between thumb and forefinger — tips the overworked domestic was instructed to pinch with such severity that the mournful sounds soughing upward from her employer's throat could only have been those of agony.

However, it would be those unseen parts that lay far beneath the warm sudsy water that always seemed to demand the most care. Krasomila could not for the life of her fathom how such a fine lady could possibly get so dirty. She often spent upwards of an hour rubbing at the soiled areas with her fingers, reaching her hand deep into the bathwater until even the crinkles of her elbow had disappeared. No matter how thoroughly she scrubbed at the wriggly little knurl she found and the two furry puffs encasing it, her mistress refused to be satisfied. "Do not stop just yet," the lady commanded in a strangled whisper, "for I am certain that there are many more particles
of dirt in need of unearthing." Hence the new maid continued to scour the region with fatigue-numbed fingertips, applying them with a palpable lack of gentleness in hopes that the infernal woman might see fit to release her from her toils. Why, not even her husband when in her father's service as gardener had been in need of so aggressive a wash!
To Krasomila's dismay, this intentional roughness only made matters worse. Within minutes her other hand had been drafted into reluctant service, the soapy middle digit of which would find itself sluicing in and out of a snug trough located at the terminus of a graceful slope of back—a trough so fiery hot it scorched the flesh of her finger. Just when the poor, forsaken daughter of the Kaiser feared her cramped
hands were in danger of being permanently crippled, her mistress suffered a fit, gasping and moaning and hurling herself about in the tub, heedless to the sudsy water splashing over the rim and onto the serviceable surface of her attendant's shoes. "Yes, yes!" howled the aggrieved bather. "Oh, yes-s-s!"

The startled maid nearly called out for assistance, concerned that her hysterical employer might drown—and that she would be blamed for the mishap. Then, as suddenly as the fit had arrived, the woman returned to normal, stepping out from the tub as if these extraordinary events had never occurred.

Excerpt from In Sleeping Beauty's Bed: Erotic Fairy Tales by Mitzi Szereto
(story excerpt: "Punished Pride")]

Most of the fairy tales we first heard in the nursery – stories made ubiquitous in the collections of Charles Perrault and the Brothers Grimm and later translated to animated film and television versions – were born as folk tales spun over campfires and tavern bars after the children had already gone to sleep. Bawdy and beyond, they were stories in which sleeping princesses fell unwitting victim to lustful suitors and often awoke with children to tend; in which fitting into that celebrated slipper meant so much that women mutilated themselves to win the prince's hand; in which the violence, gore and cannibalism (that later authors somehow felt was okay to leave in for the youngsters) were matched equally with all manner of licentious and erotic imagery.
Someday, My Prince Will Come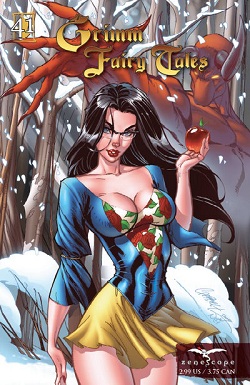 Sela - Zenescope's Grimm's Fairy Tale series. Artist: J. Scott Campbell

Author Mitzi Szereto never liked fairy tales. "I was a very precocious child," she says, "so it's not surprising that their pedantic and moralistic tone put me off in a big way." Her distaste for the sanitized narratives was, in part, a force behind In Sleeping Beauty's Bed (Cleis Press, 2009), a twisted, amusing and exceedingly erotic retelling of classics both familiar and obscure. "Little did I realize I was in effect returning to these stories their original integrity – namely the sexual content."

Indeed, the stories most of us see as "originals" are hardly that, but rather, "bastardized versions that have had a long and checkered history," Szereto points out, adding that she wanted readers to be able to recognize the tales that served as each fable's building blocks. Not only does she manage to retain their essence, but offers an edification, as each is presented to the reader on a silky cushion of its own fascinating, sexy origins.

"Our ideas about relationships and sex are formed at an early age," offers writer Kristina Wright, editor of Fairy Tale Lust (Cleis Press, 2010), a collection of fairy-tale inspired erotica to which she also contributed a piece very loosely based on "Rumplestilskin." "While our attitudes certainly mature and shift as we reach adulthood, there's something to say about the strong influence a Cinderella story can have on the psyche."

Twisting the classics, she says, taking the familiar and turning it upside-down opens doors to the imagination. "Doors that present new ideas about what is romantic, what is sexual, what is love, what is human nature."

Both Wright and Szereto acknowledge the resurgence in the fairy tale's popularity. Wright attributes some of that to its fantastical properties. "There's a reason why genre fiction – including erotica – is so popular, especially during economic downturns," she explains. "We all need an escape from the day-to-day grind and worries about the future. Erotica is the most personal of escapes."

Szereto, for whom the nursery stories held little appeal, welcomes the new twists. "This whole young adult market is far more sophisticated than [what] was available to young people a generation ago… vampires, werewolves, romance, desire, good versus evil." In fact, her forthcoming book, Red Velvet and Absinthe: Paranormal Erotic Romance, due out this fall, takes its inspiration from Gothic fiction. "Think the Brontë sisters on up to Anne Rice – this new wave of fantasy is an area I very much revel in."

In the pages of Wright's and Szereto's tomes, you'll find women both demure and aggressive, but don't mistake the latter as the naturally lustier of the two. There's exhibitionism. Bestial cravings. Foot worship. Same-sex play. Bondage. Domination. Polyamory. And more, of course. In one of my personal favorites, a recast of "Sleeping Beauty," a hapless princess becomes the dormant vessel for a fête of freaky phytophilia.

But then, I've often been accused of being a tree hugger.

(tune in for Part 2 tomorrow….)