It was early in the millennium that I first heard about "furries" and their sometimes-sexual fetishizing of anthropomorphized animals, but it wasn't until a year ago that I realized it didn't necessarily mean having a moving experience with a plush paramour.

"It's about being in cat consciousness," a girl at a furry event told me; In six words, she conveyed what six years of squinting at it hadn't brought across. It wasn't necessarily about a threesome with Hello Kitty and Pokémon. It was about leaving your human stress … traffic, bills, family, work, body issues … and becoming a something else, in her case a kitteh, a creature born to cuddle. It was about fantasy.

We all give reality the heave-ho almost every chance we get via TV, drugs, sports, shopping or whatever our version of "cat consciousness" is. Sexual role-play can do the same by providing a creative adventure that liberates couples from real-world stress and gives their real sex lives a boost. Plus, it has the word "play" in it. Between trying to look perfect and "achieve" orgasm, as though there's a sales quota, people sometimes forget that sex is supposed to be fun.
you punch the sex ride ticket.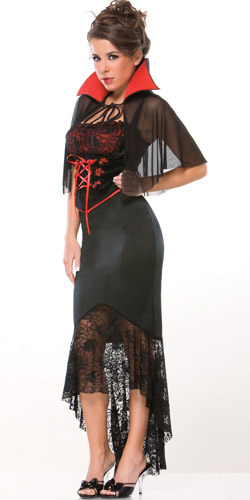 (Click image for information)

While vampires are erotic and elegant no matter which side of the fangs you're on, you may be wondering how do you get your role-play on? If you're not a born Laurence Olivier—or Jenna Jameson—maybe the idea of acting is more than a little daunting, or perhaps you're worried that your partner may not be willing to play along, or worse, greet your little scenario with that enthusiasm-crushing, erection-withering junior high response: "You're weird."

An article in Men's Health by Dr. Ian Kerner offers sage tips on introducing the role-play, including coming to it slowly and letting it sit awhile, not being insistent.

A few more tips for nascent role-players
• Technology is your friend. If you're shy, find some pictures online—or a story like this one—and send it to your partner with a note that says: "What do you think about trying this?"
• Write your fantasy up and read it to your amour. There's a good chance that you'll ignite a few sparks before spending a nickel on fake fangs or body glitter.
• The more elaborate the costuming and theatrics, the more believable the scene will be, and your partner may be enthralled by your efforts. As part of your play, however, send your lover a romantic invitation. Just popping out of a coffin may not elicit the response you're looking for. Remember the golden rule: Forewarned is foreplay.
• Pay attention to feedback. A vampire fantasy can start with just a little nuzzle to the neck—a high-powered erogenous zone for either sex—and it's easy enough to try out a playful bite. You can stop right there if you sense resistance, and take it up again later with, "Remember the other night when we were fooling around watching The Hunger? Well, I have an idea …" But if your lover isn't into it at all? Let it go.]
Love at First Bite
Take the vogue of vampirism. It's popular to be a bloodsucker right now (actually it has been for about 30 years) and part of the reason is that the creatures' ancient allure makes them perfect stars for a sexual fantasy.

"We all love those moments when we can feel larger than we are, more expansive, and the vampire image invites this, because it appears to be an extension of what human beings can be," explains Dr. Katherine Ramsland, associate professor of forensic psychology and criminal justice at DeSales University, and the author several vampire books, including The Vampire Companion: The Official Guide to Anne Rice's The Vampire Chronicles, (written with Anne Rice).

"Vampires are mysterious, sexy, dominating, transcendent, powerful," she says, "yet seem to have knowledge about things that mere mortals cannot yet know. In a role-play, we can give ourselves up to this in total surrender and absorption; we can hunt it down and conquer it with human weapons; or we can step into the vampire's skin and see through its eyes, creating reality in whatever way we see fit."

"Role-playing today's vampire enables people to express outrageous and exaggerated behavior, from sex to power to manipulation to control," says Rosemary Ellen Guiley, paranormal investigator and author of three books on vampires, who sees vampire role playing as improving on the skills of our ancestors. "[It's] a more direct way to experience life through the 'skin' of another personality. It is the ultimate escapism," she says. "Vampires rule. They have it all. In a world where people feel increasingly oppressed from all directions, vampire role-playing can provide an adrenalin rush of freedom and excitement."
Your Second Life
There's a difference, of course, between a little light game playing and setting up a more elaborate scenario with characters, costumes and motives—aside from having great sex—and even locations. Online role-playing, whether it's adult or general audience, can be another way to get into the spirit of the thing.

"Krsna" is a Guardian of Darkrose, a time-traveling island in Second Life with an underlying vampire theme (The Kingdom of Darkrose blog will give you an idea of their fine literary sensibilities). Darkrose is not a sex "sim" (simulation), so don't come in bringing your custom-designed demon wang and expect a warm reception. (No kidding, you can buy custom genitals in Second Life, human or otherwise, at a shop like Xcite). If you were looking for some atmosphere and role-play practice, though, a vampire narrative sim could help.

Of course there are also numerous adult fantasy areas in this user-created world that you can explore for scenes (and fun), like the popular Gorean communities full of the slave girls of Conan-type men, or the all-lesbian sim, Isle of Lesbos.

In a sim you can explore your dominant side, your furry side, your intersexed side—without doing it for real. Sims are also great, Krsna says, for people who can't get out, who are handicapped or confined to their homes physically, but still want to explore new things sexually.

One big difference between the sim world and the real world: The Rules. Krsna used to work at a Second Life escort service for women where she played both male and female characters, and there, she says, the limits that people want respected are listed on their profiles.

"You'll see things like 'no mutilation' or 'no forced rape' or 'no permanent scarification' … and those will be their limits and in an escort situation they may drop a note card on you and say "This is what I'm looking for, but I won't do this or this, this and this."

Krsna does understand exactly why so many are drawn to the eternal sensuality of the vampire fantasy.

"There's something just inherently erotic about vampires, and that's why adults are drawn to them. Some of the most erotic things we have posted are about vampire feeding, as opposed to sex, and I think it's part of the ultimate sexual experience to be completely consumed or completely consume your partner, to become one with somebody in such a physical way.

"I think that for people who fantasize about being controlled…the ultimate control of the vampire—that they can read your mind, they can 'glamour' you, they can make you do things you wouldn't normally do, they can enthrall you—those are all really desirable. Maybe S&M isn't your thing, but you are really turned on by those ideas. Vampire role-play would be a place you could experience that."


The Naked Reader Book Club
Selections for October 2010
Fairy Tale Lust
edited by Kristina Wright
In Sleeping Beauty's Bed
by Mitzi Szereto
The Sweetest Kiss by D.L. King