When I think of bondage, I think of severely tailored, shiny, tight, black, corseted, pointy, spiky clothing not soft, flowing, dreamy, colorful abundance. Tormented Sugar is an up-and-coming artist whose paintings combine those qualities for a compelling view of the special intimacies of BDSM.

After a new lover (who was quite a bit older and more experienced in the art of bondage) suggested they try it, she was taken aback. "I was so sheltered and basically he had a backpack full of bondage equipment. I was like, 'Whoa, that's a lot to take in!'"

But instead of backing off, Sugar did some research. "I Googled everything I could and watched videos and looked at the advice columns, and I thought, Okay, it's normal. I know, that's sad, it's so naïve."

"The first time I experienced it," the 30-year-old painter says, "it was so emotional. It wasn't scary; it wasn't all those horrible things I thought it was going to be. Even though everyone thinks stereotypical bondage is tight fitting, constrictive, it was actually a delicate thing. It was a very special moment for me."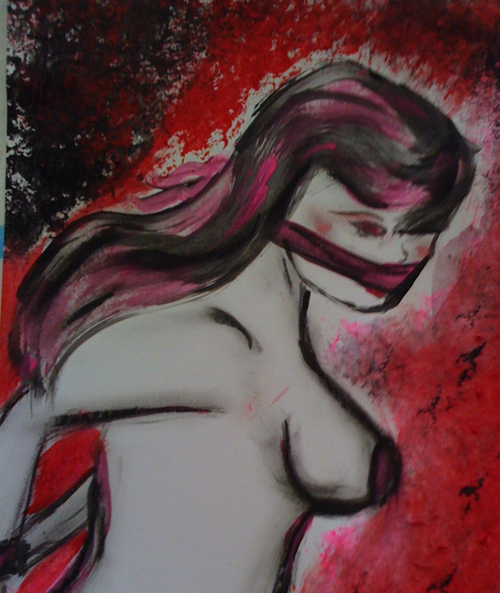 One of the artist's early bondage-inspired works

The artist credits her newfound interest in BDSM as the inspiration for her first painting, "Trust." It's a sensuous piece with a vulnerable quality that seems to ripple across the canvas, that she created only a year ago. "There was a lot going on in my mind as far as considering trying bondage," she explains. "It turned out to be such a sexual awakening, as well as an artistic one."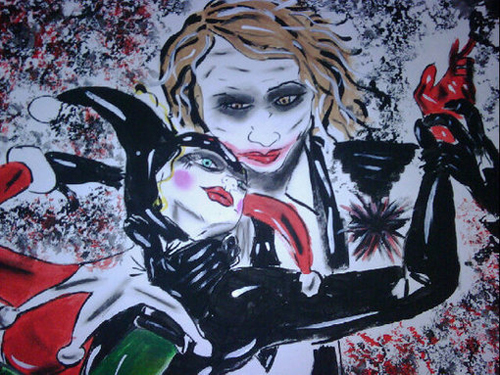 This non-erotic piece is reminiscent of the works of Marc Chagall

Not an originally and artist by trade, Sugar took up the brush after a back injury sidelined her from work. What began as a painful inconvenience turned into a joy: "I didn't even now I had it in me!" she laughs.

These days, her artistic endeavors are garnering her some serious notoriety. After she did a painting of Courtney Love and sent it to the rock star via Twitter, Love retweeted the pic so her fans could see it. "I've been a fan of hers since I was a pre-teen," Sugar says. "I felt like I was 15 again. I was like, Oh, my gosh! She saw it?"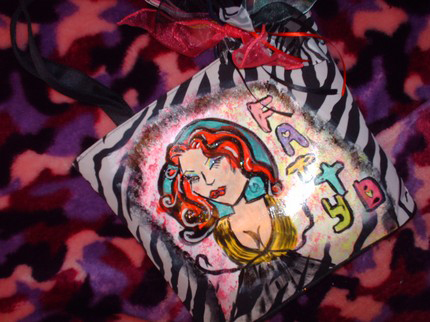 The "Fatty D. Tote"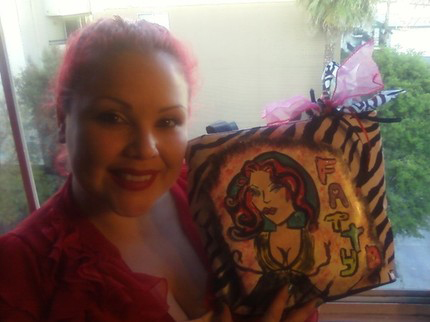 April Flores tweets Sugar's art.

Sugar also hand-painted a bag for April Flores with the nickname, Fatty D, on it and mailed it to the adult star with a birthday card. "I'd seen her on Nina Hartley's webshow SexWise and she was so sweet," Sugar recalls. "Then we just got to conversing back and forth on Twitter…and I remembered it was her birthday." Flores snapped a picture of it and put it on her Twitter.

Nina Hartley thought so much of the portrait Sugar had done of her, she put it up as her Facebook avatar. Sugar didn't even know until she happened to see it. She was blown away. "What isn't there to like about Nina Hartley? She's awesome!" Sugar gushes. "Her instructional videos, her taking the time to be personal with her fans … the general sex questions on her blog and webshow gives it that personal touch that makes it extra special in my book."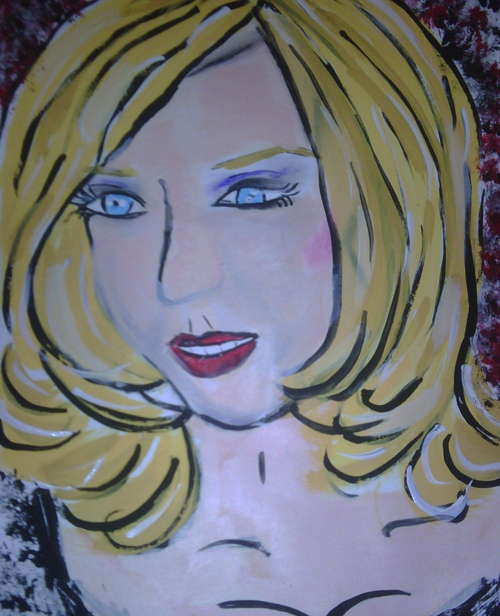 Sugar's Nina Hartley Portrait

Another reason Sugar is so pro-Nina is that she considers her a stereotype-busting role model. "She sets a good example for blonde women in general," says Sugar, a natural blonde. "I grew up hearing every blonde joke in the book. People thought I should be 'stupid.' Nina is the quintessential smart blonde."

In addition to erotica, Sugar also creates celebrity-inspired paintings (she's done portraits of Marilyn Manson and Lady Gaga). This work, she says, has a different energy. "When I do the erotic paintings," she explains, "there's more of myself in it. My own feelings toward eroticism definitely come out … It's the differences between doing something that represents you, versus representing somebody else."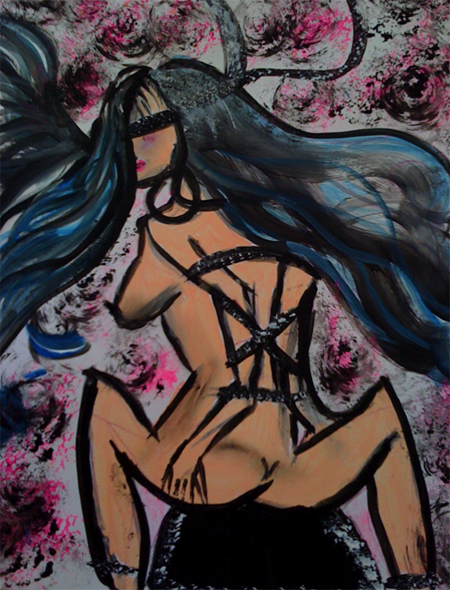 Tormented Sugar: "Woman on Sybian"

One of her most intriguing pieces is "Woman On Sybian." (For those of you who haven't met the Sybian, it's a sex toy that's more like furniture. They're a little on the pricey side.) I asked Sugar if the painting was from a personal experience.

"That's still a personal dream," she admits. "The best thing I've tried so far is the Hitachi Magic Wand. I think every woman on earth should have one of those. That would probably save marriages across the universe."

Sugar wouldn't tell us too much about her upcoming work—a girl's gotta keep a little mystery—but she did hint that she'd likely be tied up with more bondage erotica in the days to come. Sweet!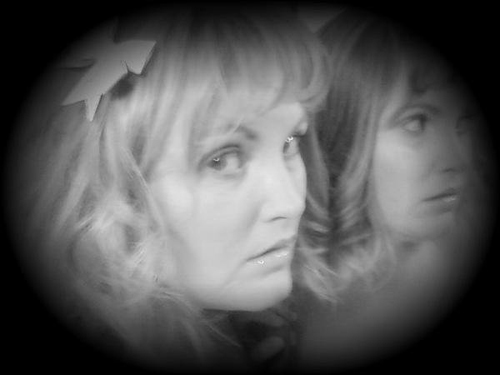 Tormented Sugar: Self Portrait "Mirror"

(Editor's Note: To see more of Tormented Sugar's art or to contact her, check out her website.)


Recommended by Tormented Sugar