Designed by architects Rachely Rotem and Phu Hoang, the festival's central gathering point, inspired by the bioluminescent effect that occurs naturally in algal blooms in the ocean, featured seven miles of rope draped over 25,000 square feet of outdoor space, and served as the perfect backdrop for the evening's programs, which included video and performance pieces and an impressive DJ lineup.

Throughout Miami, more than 250 galleries from around the world presented modern art, and by far the best party of the week was Tommy Hilfiger's event with a performance by N*E*R*D and attendees like Shepard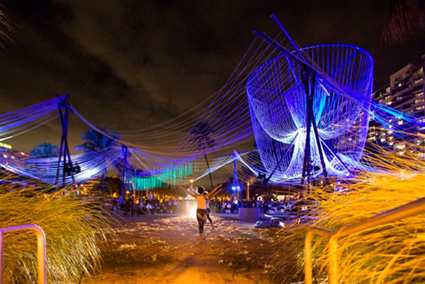 The Exhale Pavilion at Art Basel Miami Beach set the stage for performance art last week.
Photo by Robin Hill

Fairey, the artist made famous most recently for his Barack Obama "Hope" poster, but nothing was more provocative than the ArtUndressed performance. (ArtUndressed first debuted in November; its run was extended to this high-volume weekend to offer more exposure in the arts community.)

Part burlesque, part performance art—but always a whole lot of sexy—from body paint, to

Jean Paul Gaultier channels Blond Ambition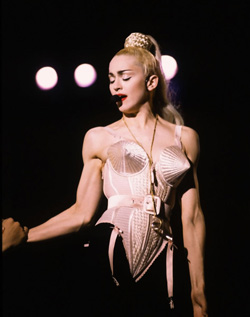 Madge circa 1990] bondage and haute sensual exhibitionism, the show featured something for nearly every taste and level of kink. The performers showcased their talents, stimulating the audience—mentally and physically, while encouraging participation from all. (If you missed the show in Miami, it will be touring in the upcoming months. Check for the tour schedule at www.artundressed.com.)


Back in New York, there's nothing that speaks to cold weather like hot lingerie.

Thursday night, Jean Paul Gaultier introduced a collection of extremely sexy bras and panties for La Perla at the company's Madison Avenue store. Half a dozen beautiful women modeled the lingerie amid the crowd of nearly 100 fashion insiders. "Lingerie is part of my DNA and of my heritage," the French designer says.

The collection features waist-cinching corsets, extra high briefs and bustiers, and pieces reminiscent of his designs for Madonna—most famously her pointed bra cups from the 1990 Blond Ambition tour. "In my latest prêt-à-porter collection," the designer confirms, "I revisited the conical bras and corsets worn as outerwear."

All together now…

Strike a pose.
Strike a pose.
Vogue, vogue, vogue
Vogue, vogue, vogue.