Our first experiment with the OhMiBod Club Vibe 2.OH played out during a tailgate party for our local professional football team. (Hey, when you've got kids, any type of date night is a great night for new toys).

I tucked the remote control into my pocket, Susan slipped the wireless vibrator into the panties (which are included, and "really cute," she says), and we joined a group of fellow fans for pre-game snacks and beverages. Susan mingled one way, I drifted the other … and when it looked as though she was fully involved with the conversation, I buzzed her britches.

"When it came on that first time, it was definitely a surprise," Susan says. "I'm sure I had a sudden look of shock."

Actually, she didn't. I was watching her expressions to determine whether it was working and I couldn't tell. There are three buttons on the remote. One cycles through five pre-programmed massage patterns; another activates "sound responsive vibration," known as club mode; and the third simply shuts everything down.

I pushed the program button again, but still couldn't detect any reaction from Susan. I stepped a little closer and pushed again. This process continued until we met at the beer cooler and she whispered, "turn it off."

"It had been on the entire time," Susan explains. "Ten or 15 minutes going through each mode – low, medium, high, quick pulse, slow pulse, and back to the beginning. I was trying to act normal, talk normal, but my clit was buzzing non-stop. It felt good, but I needed a break – and Rydell needed to figure out the controller."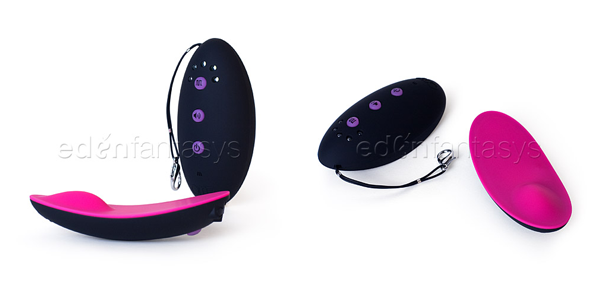 Want A Turn?
Overall, our trial-by-tailgate was a success. There were a couple times when the unit was unresponsive. "I was wearing tight jeans and I think when I sat down the seam pushed the vibrator's on/off button long enough to turn it off altogether," Susan says. Distance – don't wander more than 20 feet or so away from your partner – and object interference also hindered the signal. But I loved having remote "access" to Susan's pussy, and she was keen on being treated to some clandestine in-public foreplay.

"There is no question that I get off on beneath-the-surface naughtiness," she says. "That's one of the reasons I have the piercings and wear sexy lingerie. I have an if-you-only-knew-what-was-going-on-under-the-business-attire attitude, and these vibrating panties are like the ultimate in that. It was a delightful little secret."

Until it wasn't a secret at all. For our second Club Vibe 2.OH outing, we headed to a popular dance spot, but then detoured to pick up some good friends and ended up never leaving their house. It wasn't long before everybody knew Susan was wearing the 2.OH panties and that we had planned on some thorough experimentation and assessment that night.


Get 15% off The Club Vibe 2.OH CODE:SexIsToys]]"Are they going right now?" Vanessa asked. "How do you turn them on?"

"I have the remote," I replied.

"Let me see it," Thomas said. I handed it over and he started pushing buttons. After Thomas, Vanessa took a turn, and then Scott.

"I had no intention of passing around the remote," Susan says. "But looking back on it – and I feel a little funny saying this – it was fucking hot to have all of them try it. I mean, we were just sitting around a kitchen table – it was perfectly harmless and innocent, even scientific – but basically I had four people taking turns on me with a vibrator. I guess it was your average vibro-panty gangbang," she laughs.
Boomin' System
Tailgates and kitchen gatherings aside, OhMiBod's vibrating panties are designed for use at your favorite dancehall, and, if you're like Susan and the thought of introducing some direct – and discreet – clitoral stimulation to your dirty dancing is intriguing, they're an ideal investment.

"Nightclubs are very sensual environments anyway," Susan says. "The 2.OH panties enhance it exponentially. It seemed like every time I made eye contact with Rydell – or a stranger smiled at me – there was a buzz between my legs. It was incredibly erotic. My only complaint is that it cut our date short because I was wet from the very first song and eventually just had to get Rydell out of there so he could finish the job."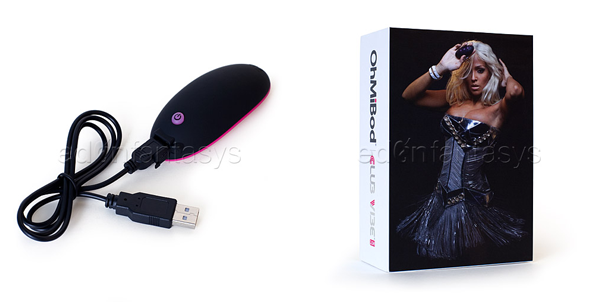 Let's backtrack a bit. The evening we took the Club Vibe out for its third test drive, we arrived at our favorite nightspot about 10:45 p.m. on a Saturday, when the DJ plays current hip-hop tunes mixed with classic rock hits. That proved to be a good combination for the 2.OH because in club mode it reacts to the music and vibrates in harmony with the heavy beats.

"We turned it on before we went in," Susan says, "and I started feeling little vibrations on the way to the bar. It was very subtle, little tingles that I wasn't completely sure were even coming from the massager."

There are five levels of music sensitivity so I cranked it up to the most responsive. That got things going better, but then I made an end-of-the-rainbow discovery: It's not the actual massager that "hears" the music, it's the remote control, which then automatically sends a vibrate signal to the panty-embedded device.

Before we went out to the dance floor, I placed the remote on our table instead of in my pocket so the sounds wouldn't be muffled by denim. "That was it," Susan says. "Jackpot. I can't explain how aroused I was by the whole scene and I finally just got to the point where I was like, 'there's no way that all of these people can't tell I'm about to have an orgasm right in the middle of the dance floor.' That's when I had to grab Rydell and go."