Whatever you do, don't wait until you're in the midst of foreplay to get them ready. There just isn't much eroticism in stringing the straps through the sides of the FixSation only to find out that you put it on backwards or upside down and that you'll have to start all over. Trust me. Also, it's damn near impossible to do it while maintaining some sort of meaningful contact – kissing, pinching, licking, whatever – with your partner.

"The first time we tried, we were giggling so much about the fact that we couldn't get it right that we had to take a break and come back later," Susan says. "So we crawled out of bed and figured it out without the pressure of trying to stay turned on. That was much better, and paid off in the end."

Yes, despite all the initial engineering distractions, the FixSation proved to be a pretty effective little apparatus. Operationally speaking, my favorite thing about it is the simplicity. I know, that sounds ridiculous after those first couple paragraphs, but I'm talking about how the vibrator actually functions.

A single button turns it on; cycles it through low, medium, and high modes; and turns it off. That's it. "Some toys have a bunch of different pulse patterns," Susan explains, "buzz, buzz, buuuuuuuzzz or buzz, buzz, BUZZ, buzz, buzz, BUZZ. They're fun to fool around with, but I always end up using one of the constant settings anyway."


Location, Location, Location
Once we got everything attached appropriately and positioned properly, our efforts were substantially rewarded. The shape of the FixSation vibrator reminds me of a smallish, unopened clamshell. The front side is curved very slightly downward and the back has a subtly raised contour that nestles against the clitoris. At first, I thought it might be somewhat cumbersome or "in the way" during sex, but I was wrong. It sort of magically melds right into the pubic bone and all we felt was that constant buzzing Susan enjoys so much.

Another minor concern was whether it would truly stay in place. Susan and I are all for intensifying our intercourse, but we'd prefer to keep our hands free while doing it. "The panties don't seem like much – just the lace waistband and these two garter belt-like straps that run from front to back," Susan says. "But it didn't move. We went through a few different positions and I really never had to adjust it. The only time I felt like messing with it was during doggie style when I reached down to push it harder against my clit. I suppose gravity was working against me a little there."
Round Two Revelation
Afterward, I removed the FixSation from the panties and cleaned it with soap and water – you know, being a good, responsible toy owner – and then put it away in the designated nightstand drawer.
Anybody notice what I
didn't
do? Exactly. I failed to re-string the panties so it would all be ready for the next time. Which came up a few days later at the end of a date night.
The fondling started on the way home from seeing
Wicked
, a little heavy petting through the family room and up the stairs, and once we shut the door to our room, it was go time.
"Get that new toy out," Susan said.
My heart sank – and that's not the only thing that started to go down. "It's not strapped together," I replied.
"Forget the panties then, just grab the vibrating piece."
So I did. I turned it on and handed it to Susan.
"I figured it fit so good the first time that it was worth a try, and even if I had to hold it in place, I knew it would feel great," she says.
She didn't, though. I was on top and Susan situated the FixSation right where she wanted it and then we commenced coital relations.
"It was really pretty great," she says. "It sort of forced us to maintain a very intimate body contact. He was moving in and out, but we managed to keep pressure on the vibrator, too. It was pretty intense. I came really quick, and with Rydell's arms wrapped all the way around me. It was quite romantic … in a naughty, use-a-vibrator-on-me sort of way!"
The FixSation is billed as a couple's device, and it definitely provided me with some extra sensations during sex. The only way I can think to describe it is that each time I pushed inside Susan, it felt like her pussy was grabbing me and holding on. I'm not sure if that was the result of her muscles reacting to the vibrator or if it was the vibrator hitting the base of my cock at just the right angle, but I can tell you this: It felt damn good.
So now, I always make sure the FixSation is ready to go when we are.


Everybody loves coupons!
We bet you do, too! So as our thanks for reading us, we've got one just for you!

Purchase the Fixsation Couple's Vibe from EdenFantasys, and take 15% off the toy's price with coupon code SEXISTOYS.

Click to enlarge: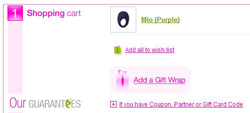 At check out, click on "If you have Coupon, Partner or Gift Card Code" in pink. It's right there below "Add a Gift Wrap". Paste SexIsToys in the box that opens under "Enter your Coupon or Partner Code," click submit and watch the price drop. It's that easy.