The Wild Ones Undone
Stubborn Hollywood stereotypes depict motorcycle enthusiasts as apelike hooligans, wiling away their aimless lives playing psycho knife games, drinking themselves senseless and, on occasional Sundays, hiding behind old billboards on lonely desert roads waiting to ambush the next church-going family in a wood-paneled station wagon, going Mad Max on their sweater-vest wearing, smiley asses—or otherwise marauding, pillaging and spreading general mischief and mayhem. Nothing could be farther from the truth

Although some enthusiasts embrace the bad-boy image, wearing it on weekends like a familiar coat, most cringe when we're portrayed as furry, raw-meat-eating Neanderthals. When Peter Fonda says to the local police chief in the pre-Easy Rider biker flick The Wild Angels: "We want the right to get loaded, ride our 'cycles and not get hassled by 'The Man,' " it was a nice sentiment, but it made real motorcyclists guffaw.

We hardly ever plunder, and I personally haven't had a good maraud in months. Contrary to colorful fictions, motorcyclists are more prone to be math teachers than pelt-clad, Huns. Well, yes, we do wear leather, but in a good way. There's a primal sensuality to animal hides pressing against naked flesh.

Motorcyclists are romantic as hell. They ride, not to fulfill a death wish, but to feel more alive. Flying through the wind is wild fun, and fun is a turn-on. Often expressive, sometimes poetic, motorcyclists see life differently. There is a rapture to the road, a street spirituality that makes bikers feel more connected to their surroundings, and each other. Sex is our copilot; it rides with us, pushing us to the next intense, sensuous, pleasurable moment.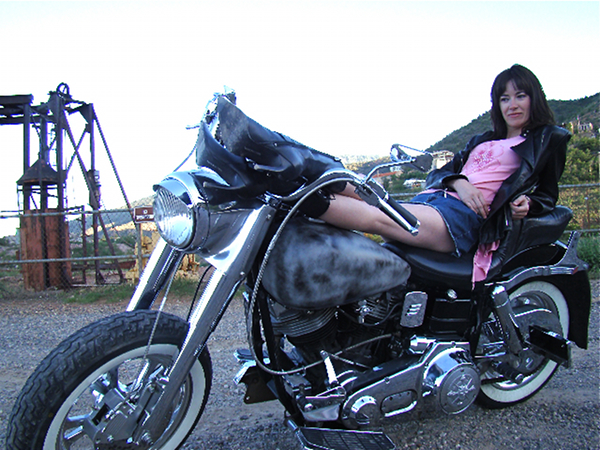 Girls on Wheels
Once almost exclusively the domain of men, the motorcycle world is now mostly populated by college-educated professionals and a quickly growing number of women, women with a pent-up passion for virile adventure and release.

Rolling into the wind, worries seem to blow off, filling riders with unfettered joy. Taj, 40, a former international fashion model and relative newcomer, has embraced motorcycling. "I enjoy a heightened and constant state of arousal," she says. "Biking is a very sexy experience, rolling down the road with all that power between your legs and each other's pheromones wafting through your hair, looking for a colder beer, a hotter dance floor, a spot on the river to skinny dip. It's really all about sexual freedom. Frankly, it makes you want to get laid."

She's not alone. Women now comprise the largest segment of new bike owners, accounting for about 25 percent of sales. Add a fresh new riding season and the naturally amorous thoughts of springtime, and motorcycling turns irrepressibly seductive.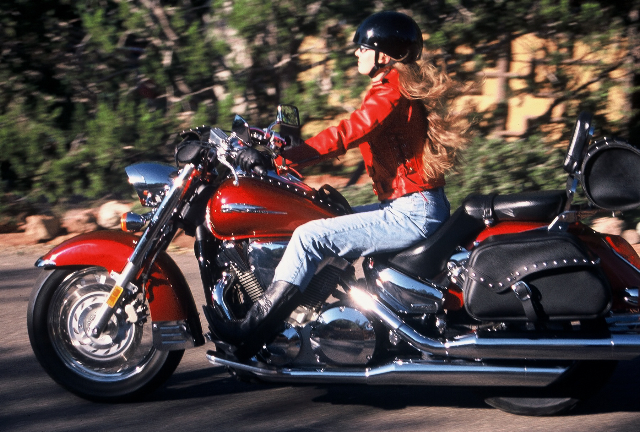 Two for the Road
But motorcycles can do more than fire up spirited lust; they have inspired new romance and helped long-time partners reconnect, allowing struggling couples to scrub off petty differences, uncovering what they love and respect in one another. Biking can even save your marriage.

Tom, 42, credits a long bike trip for salvaging his relationship with his wife, Linda. Their 12-year marriage was on the rocks until they rediscovered the road, and each other. "I hadn't owned a bike in years," Tom recalls," but a smoking deal fell into my lap I couldn't ignore. Only thing, I live in Pennsylvania and the bike was on the West Coast … I thought this could be exactly what we need, a road trip together, a chance to get to know each other in a way we never have."

So, the couple flew out and rode home, encountering pelting rain, high winds and some "damn miserable freezing cold" weather along the way. "I have to give Linda credit," Tom admits. "She really hung in there. What a trooper. You can know someone for years and still not know their mettle. We worked a lot out on that trip; it was a breakthrough. That bike has brought us closer together, it changed us."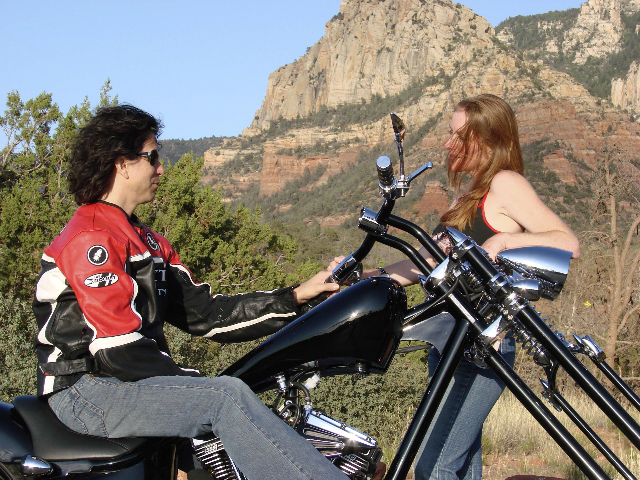 The Sexual Zen of Horsepower
Sandy, 47, said since taking up the sport only a year ago, she gets a lot more attention—which led to a dating surge, which led to several spontaneous marriage proposals. "Funny things happen when you're not looking," she says. "Suddenly, I was more popular than ever. It was a very pleasant surprise, and I'm just rolling with it, having a blast."

Bob, 54 and looking more like 34, has been riding since he was 16. "I thought the zing had left, I think because I pretty much stopped riding for a long time. When I got back into it about six months ago, I wondered why the hell I wasted so much of my life off two wheels. It gave me a better attitude and more self-confidence; otherwise, I don't know if things would have gone so well with my new wife, Jeanne. She loves the lifestyle."

Says Phoenix, Arizona based relationship therapist, Felice Goff, MSW/LCSW, "One of the essential tasks of creating a healthy relationship is building togetherness and autonomy. This means putting together a shared vision of how the couple wants to spend their lives together, constructing the psychological identity of the marriage as an entity in itself. There needs to a sense of 'we-ness' and also room for autonomy of the 'I.' Struggling couples often are missing the intimacy of the 'we.' Motorcycling is one shared vision that can help the couple strengthen the marital identity."

Goff suggests that motorcycling can improve a couple's sense of identity by providing a feeling of belonging. "Belonging is necessary for self-esteem," she explains, "and the partnership will fare better with high self-esteem.

"Motorcyclists have their own subculture, including language, history, traditions, social behavior and skills," she continues. "While in our society there are many social groups for singles, there are few for couples. If you join a motorcycle club you have an immediate sense of belonging … Biking provides a common focus. It's something the couple can talk about, plan and do together that is pleasurable, reasonable in cost and readily available. It takes [them] away from daily stressors, work and chores. Motorcycling together is what therapists term 'quality time—an activity that requires interaction, as opposed to something passive."

Being on a bike together requires "trust, communication, cooperation and negotiation whether the couple rides together or separately," Goff notes. "Hopefully, these skills will transfer in other settings. While riding together and physically touching might be more sensual, riding separately might support sometimes-needed separateness."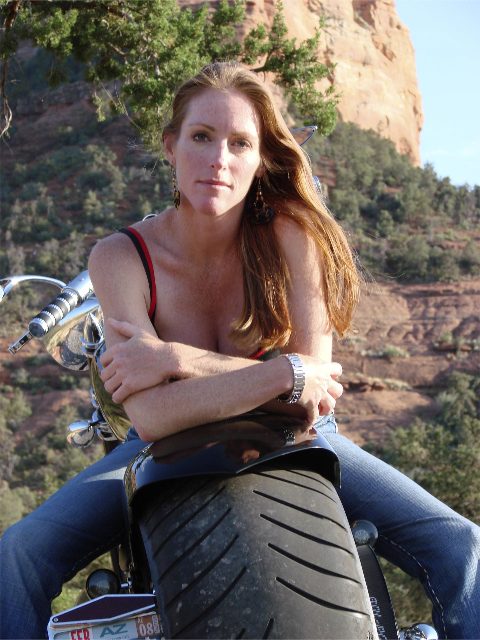 But what does sex have to do with it?

"What could be more exciting and sensual than the freedom of the road, an outdoor environment or travel to unexplored places?" Goff posits. "Roles are more fluid while traveling than at home, and the couple can be who they want to be."

For couples, the ride represents a special partnership, a bond that often brings them closer in ways nothing else can. It's facing death and sharing adventure together, finding fun places, prevailing over the elements, exploring the wide-open road, and sharing something that goes far above and beyond quiet little dinners and watching DVDs.

"Give a couple a bike and it becomes a power threesome," says Nita, 36. "I don't think it's any secret that they're phallic. Really, why do you think I ride? The sun, the wind on my bare skin, the adrenalin rush and that sweet engine vibration—it gets me off. Yes, it's true, on some bikes, Harleys mostly, I literally have an orgasm. The whole machine is like one big power penis. I love it."


Photos (except top) by J. Joshua Placa/joshua1@npgcable.com