As a little person, sex educator Marylou Naccarato knows better than most that when sex and disability are part of your daily equation, thinking outside the box becomes essential — especially the sex-toy box. "Accessories — often those designed for BDSM activity — can have alternative uses," she explains. "People think straps and swings are just for bondage, but for those with limited mobility, it's great to have a strap around your ankle or arm, something that can help you or your partner position your body where you need it, to get leverage."

Years of experience culling together such products, along with a little accidental fortune borne of carnal curiosity, sparked an inspiration to move into the realm of product design. It started with a pretty, little Japanese-style table in her boyfriend's home.

"I looked at it and started thinking, she stresses. "They just happen to come with features that really serve the added needs of many groups of people." Here are five such products with some input from the vibrator aggregator herself:

California Exotics Gerbil Stimulator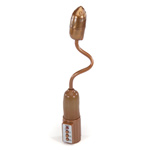 The name might invoke SouthParkian imagery (or, perhaps even cheekier: that of a certain handsome movie star plagued by related rumors), but what manufacturers of this Star Trek-level sexual exploration tool didn't know was that its flexibility affords those with shorter arms greater access to their traditional pleasure zones, as well. "This is a phenomenal stimulator," says Naccarato, "not to mention the longest flexible vibe on the market. Size can matter!"

Doc Johnson Flex-a-Pleasure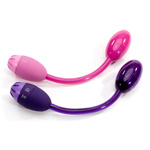 Bend me, shape me, any way you want me. This one's another winner for those who need added reach. The flexible shaft of this vibrating-egg toy bends at any angle or direction and lends itself to use in just about any position. "It's not as long as the Gerbil, but just as fun!"

Sportsheets Sex In The Shower Series — The Handle — The Footrest — The Suction Cup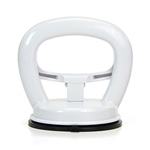 Marylou recommends a good stability test of these locking suction handles before using with gusto, but once you clear the safety standards these portable, removable accessories for shower sex afford those with limited mobility a helping hand or lift in compromising positions. "I've played around with these and they're really cool!" she says. "And they're not just for use in the tub. You can put them on anything with a smooth surface – marble, mirrors, glass doors – even the washer and dryer!"

Sportsheets Super Sex Sling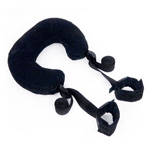 "What's nice about this is that it can hold your legs in suspension where you want them without having to depend on your own muscles or strength," says Naccarato. "The padding makes it really comfortable and if your partner is compromised, as well, this takes the pressure off if he or she can't always pick up the slack." Straps are adjustable and there's neck support, as well.

Axis Hitachi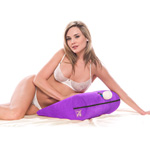 The thing about this product, says Naccarato, "is that you can lie or sit on it without having to hold on." The wedge is great for missionary or doggie "and it's great for anyone who has a hard time holding on to a vibrator – those with arms that tire easily or need extra reach. ]Dang, I wonder if we could fuck on that thing?" she laughs. "Reason being is because it can be hard for me — as it is for many people — to be on top." On a flat mattress, she explains, it's often hard for little people to bend their knees. Thanks to hip-replacement surgery she had about ten years back, straddling is a non-issue. "But being on top is another challenge. And many of us want to be on top," she laughs, "for various, wonderful reasons."

Having this table, this narrow bench, she realized, she could stand with her legs on either side, "Like I was going to sit on a horse – and he could lie on it." They gave it a try. "And it was magical," she says. "And we used it. A lot."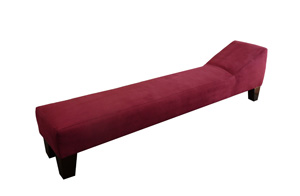 Personal Activity Lounge
Naccarato improved their new accessory with cushioning (a folded towel). "What I found was that in sitting on it like a horse, there was no pressure on my arms or knees. I could bounce up and down as I pleased. And even more importantly, he wasn't uncomfortable because I wasn't simply sitting on him. My weight was redistributed to my feet and hips… And of course, it freed his hands up to touch me where he liked while I controlled the penetration. We made up all kinds of positions!"
But in the end, it was still a table.
"It was good, but not perfect," she says, "because it wasn't really designed for that."
Sex by Design
Naccarato contacted Tracy Steele, whose New York-based company, Little People, Big Designs, makes custom furniture for the LP community. "She was delighted to collaborate on the project that became the Personal Activity Lounge (or PA Lounge, for short)." Based on Marylou's measurements ("I'm pretty much your average LP," she says), the piece — which has multiple uses despite its erotic inception — is padded and raised at one end. Its measurements also take into account the fact that some little people have partners of average height. Its legs are removable — and its fabric is washable.

"Yeah, we thought that would probably be important," she chuckles.



The PA Lounger is designed to make many activities easier.

It's also customizable. Steele can make each piece (which retails for $325) to the height and width specifications of the customer.

At the 2011 LPA convention, Naccarato had enthusiastic test subjects climbing all over it. "Couples were lying on it, trying it out, and getting into different positions. It was really well received and exciting to see people's faces lighting up with possibility."
Leaving Normal
The PA Lounge may permit couples to experience intercourse on a level previously unparalleled, but Naccarato still stresses that sex shouldn't be viewed as something that's penetration-mandatory. "There's so much performance anxiety around the function of sex and having an orgasm," she says. "There are people who can't achieve orgasm in what most people would call a 'normal,' way."

"Normal" is another word she prefers not to use.

"The focus shouldn't be the climax," she says. "Many people with lower spinal problems or other physical disabilities may not be able to feel as much sensation as they would like. Through erotic massage, touching other erogenous zones, developing Tantric skills – you can achieve an incredible mental and physical high and ecstatic sexual pleasure. But you have to be open to it."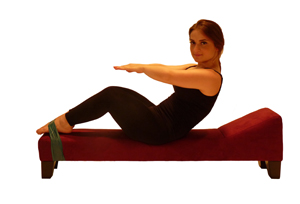 The PA Lounger can be used for many activities, not just the erotic.

Anyone who doubts that openness to new things counts should note that in her previous career — before she was conducting explicit and entertaining sex/relationship workshops, or educating teens and adults in private and group sessions, or researching vibrators, or building sex furniture — Naccarato spent 23 years as an auditor for the IRS.

These days, she's within striking distance of her Doctorate in human sexuality and looks forward to researching, at least at first, issues of sexuality in people of short stature, whose medical challenges range from mild to severe.

Longtime fan, not to mention renown sex educator, artist and author of the groundbreaking Sex for One, among other titles, Betty Dodson doesn't doubt she'll do that and more, remembering fondly how Naccarato – with beau, Michael, in tow on the back of her scooter – showed up at a party. "I marveled at their obvious enjoyment of life," she says. "Maybe when I'm in my 90s, I'll get a purple one and Marylou and I can have a race through at least one airport."

As Naccarato's self-professed Zen quote — "Life is short and so am I" — would indicate, she'll probably give Dodson a run for her money when race day comes.