California Exotic Silicone ballgag - Mouth gag from California Exotic

Product Details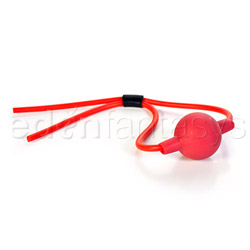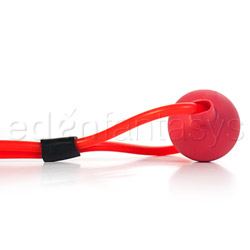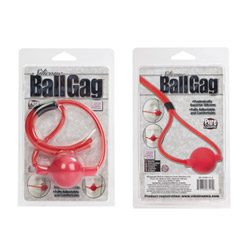 Summary:
This is the best ball gag I have ever owned, hands down. I'd give it more than five stars if I could.
Pros:
Comfortable, high quality, easily adjustable, effective
Cons:
Comes only in one size ball
Best use:
Thank you, Eden, for sending me this for review - not only is it something I've been needing (Lacking a ball gag, unfortunately!) it's a design I've been curious about.

The 1.5" silicone ball is slipped into the mouth and held in place by long silicone tubing straps which are tightened by a ring made of the same. Gags are a staple for many fetish/BDSM scenes and this one performs admirably - it is comfortable to wear, comfortable to use, easy to adjust and, best of all, STAYS IN PLACE.

This gag, unlike many other ball gags I've used, will NOT slip out of my mouth if I open my mouth too wide - in fact, it slips FARTHER BACK IN, owing to the nature of the stretchy tubing upon which it is held. Major points for such a simple design feature that gets the job done.
Design / Craftsmanship / Material / Size / Fit:

Made of 100% silicone, with no noticeable seams or imperfections, no taste, and no icky sticky feeling. It is heavy duty, bite down as hard as you want and it'll just give, but not TOO much.

The 11 inches or so of tubing that secures the gag firmly in your (or your willing volunteer's) mouth is plenty to put around even the largest of heads because it STREEEEETCHES. The silicone/rubber ring that adjusts the length grips the tubing well and does not slip even during heavy play.

It is incredibly well crafted from what I can tell, having played HEAVILY with it several times since it arrived! We can just wash it when we wash our dishes and put it away, so it is a breeze to care for. I love the minimalist design - no bells and whistles, just a very effective ball gag.

The only downside I can imagine is that it only comes in one ball-size, 1.5" diameter. This may be too small or too large for some people's preferences but I think that it will work fine for most.

Material:

Silicone

Material safety

Length:

11"

Width:

1 1/2"

Weight:

2.5 oz

Performance:

This is, hands down, the best ball gag I've ever been privileged to use. The problem I've had with others is that they are too easy to spit out - not this one. As I've mentioned, opening your mouth wider and wider does nothing but allow the rubber tubing that runs through the ball to contract, effectively pulling it BACK instead of letting it come out. It is also difficult to SPIT out.

And it is COMFORTABLE. I wore this for over an hour the day I got it, during a rather heavy scene that involved a bit of pain play, and not only did it stay put, it quite effectively muffled my yelping and screaming - I'm sure the neighbors would be here posting a glowing review if they knew!

I did not once have to stop and readjust the position, put it back in my mouth or, frankly, try and make it function as a gag should - it just worked.

Special Features:

Adjustable
Premium
Waterproof

Care and Maintenance:

This gag is constructed from silicone and is incredibly easy to care for. Wash it with soap and water, boil it, sanitize with toy cleaner or wipes, or sanitize in a 10% bleach solution if you want. I wash it with soap, in the sink, but if you had a dishwasher, you could throw it in there on the top rack.

This is just about the most low-maintenance bondage toy I've ever owned.

Packaging:

Came in very minimal packaging - a plastic clamshell/blister pack with "SILICONE BALL GAG" emblazoned on the front. Hilarious for my partner and I, but definitely not discreet! The packaging included a few infographics depicting how to wear it and a goofy picture of it being used on a closed-mouth mannequin, which was also giggle-inducing for my partner. We threw the packaging away because it was unnecessary — it is recyclable, so do your part!

Personal comments:

I and my partner have both tried wearing this - he has a considerably larger head and mouth than I, and we both agree — it fits like a charm, is totally comfortable and you can satisfyingly bite into it.

Experience:

BDSM note: It does not completely restrict your mouth-breathing, but pinch someone's nose closed while they are wearing it and they will be compelled to breathe through/around the gag, which is not difficult. Use common sense, of course - breath play can be dangerous (and scary for many people) stuff, so trust your partner, have a signal for "too much", that sort of thing. And of course, don't do this if you're not into it! But if you are, it's a fun game to play given that you can open wide with this gag and the ball won't fall right out.

We have been enjoying finding inventive ways to incorporate this into some of our more kinky scenes.

Other

Size:

One size fits most

Safety features:

Food-grade material / Hypo-allergenic / Latex free / Non-porous / Phthalates free

Circumference:

5 1/2"

Diameter:

1 1/2"