Spartacus Silicone removable large ball gag - Mouth gag from Spartacus

Silicone removable large ball gag videos
Product Details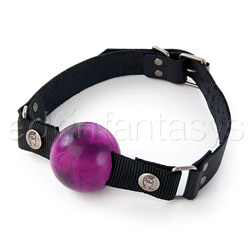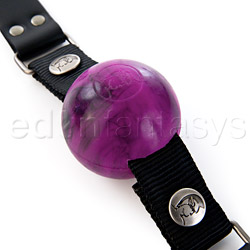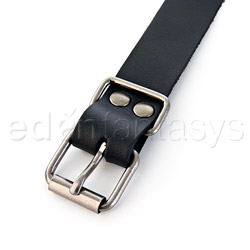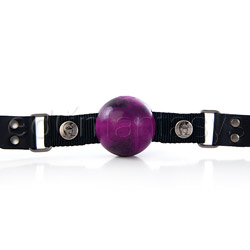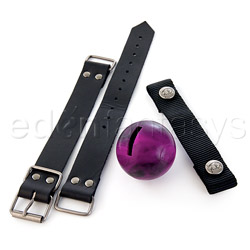 Summary:
This ball gag is a great toy for those looking to shut a partner up and get into some domination play. It's soft, easy to clean, and made of good quality materials. However, it may be a bit big for beginners, and the strap edges next to the ball can scratch the skin a little. But, a little discomfort might be just the thing you're looking for!
Pros:
Easy to clean, silicone, hypo-allergenic.
Cons:
A bit large, strap edges hurt.
Best use:
The
Silicone removable large ball gag
by
Spartacus Enterprise
is a big ball gag for those into bondage play. This quality gag is best for some real good bondage, and might be better for those that have some experience with ball gags. However, this line of ball gags is very good quality, so if this gag seems a big big, I'd stick with the brand and find a smaller sized gag.
Design / Craftsmanship / Material / Size / Fit:

Spartacus Enterprise really put some thought into this gag. It's very well made, with soft leather, sturdy straps, a pure silicone ball, and they thought to put in snaps to free the ball for sterilizing.

Material:

Leather

/

Metal

/

Silicone

Material safety

Length:

21"

Closure:

Buckle

Weight:

0.5 lb

Performance:

Using this ball gag is pretty simple. Long hair should be moved out of the way, or risk being tucked into the belt-like closure of the gag. Before play, my boyfriend tightened it and fastened it, but we had not discussed signals to stop or whatnot, so in the middle of our session, I managed to close my lips behind the ball and mumble some words. With the ball in my mouth, I couldn't manage to say anything recognizable, though; this may be a big plus for some. Because it does have a belt like fastener, it may not fit perfectly on everyone. Overall, though, it performed well; for the most part, it kept me limited to moans and unintelligible mumble.

Care and Maintenance:

Cleaning this ball gag is pretty simple. The two straps on either side of ball easily snap open, allowing you to free the ball. Because the ball is all silicone, you can boil it for 3 minutes or through it in the dishwasher to sterilize it.

For the leather straps, if they get dirty, you can clean them with a damp cloth and mild soap.

Care and cleaning:

Boilable / Dishwasher safe

Packaging:

The ball gag comes in a pretty plain, clear package. It's not subtle at all.. you can clearly tell that it's a ball gag. As a gift, this package would be a little annoying to wrap, and maybe not something you would want the receiver to open in front of family or anyone that doesn't know about their dangerous side. Other than the gift issue, the package was simple to open, didn't waste a lot of empty space, and came with one paper showing the name and such.

Personal comments:

The ball was a little big for me to feel comfortable. I felt a little like I was at the dentist- opening my mouth a bit too wide for comfort and holding it there. However, some people into bondage might like that slight discomfort. The straps next to the ball were sealed with something stiff, and scratched the sides of my mouth. I might try using it backwards to see if it helps.

Other

Size:

One size fits most

Safety features:

Food-grade material / Hypo-allergenic / Latex free / Non-porous / Phthalates free

Circumference:

6"

Diameter:

1 7/8"