Spartacus Silicone removable small ball gag - Mouth gag from Spartacus

Product Details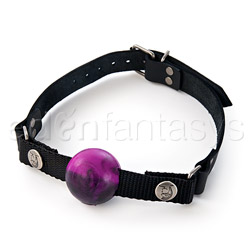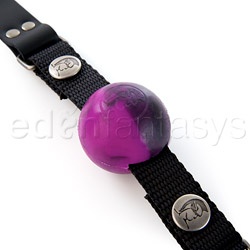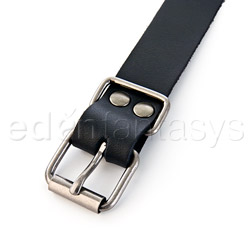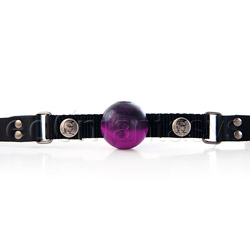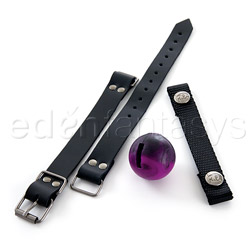 Summary:
The Spartacus silicone removable ball gag allows you to explore your fantasy in a safe way, due to the use of body safe materials such as silicone and nickel free metal clasps. The small gag is comfortable once the middle piece is fixed so the sharp corners no longer dig into the lips It's a great product for beginners and connoisseurs who have smaller mouths and thinner lips.
Pros:
Great materials, black/red, cute logo, nickel free, removable ball.
Cons:
Doesn't lock, sharp corners to center piece, small ball.
Design / Craftsmanship / Material / Size / Fit:

This product is made with quality materials.

The 1 1/2 inch ball is made of body safe silicone, the straps that attach behind the head are made of leather and the detachable piece going through the ball is made of a thick synthetic material, like polyester. It looks like straps you find on school bags.

The silicone ball is very nice and squishy. The Spartacus logo is found embossed on the front of the ball. The texture is very nice and so far no bite marks. There probably never will be bite marks do to the high quality. The leather is very smooth on the outside however the inside of the leather strap sheds quite a bit. It gets all over the ball and it must be rinsed every time it is used.

The metal found on the straps are nickel free therefore no allergic reactions should occur for the most part. The company logo is also on the snaps.

The middle piece can be unsnapped from the inside. Many who enjoy gags will be pleased with this seeing as it is harder for a sub to remove the gag if it unsnaps from the inside. The ball is easily removable. The center piece is very hard. The ends were cut then melted to make sure the strands in the material would not become undone. However this makes the edges of this piece very pointy, sharp and extremely uncomfortable for the lips.

The leather straps are not lockable. So some may not like this but it is not an issue for others.

Material:

Leather

/

Metal

/

Silicone

Material safety

Length:

21"

Closure:

Buckle

Weight:

0.3 lb

Performance:

Sadly, this gag does not work well for someone with a wide mouth.

The ball gag fits very well inside my mouth. The straps tie right behind my neck, under my occipital. The ball can practically go all the way in and I can close my mouth around it almost completely. Since my mouth is very wide the product does not really gag me that well. It is deep within but it can be dislodged by pushing with the tongue. The tighter it is, the harder it is to dislodge the gag. It gets harder but it is still possible. I was really hoping that my mouth would be stretched really wide with my lips etched out on the ball.

When putting it on it is important to pull back your lips away from your teeth so that you don't bite down on your lips when the gag is on. I have ample lips and I bit them a few times. Perhaps people with tighter thinner lips may not have this issue.

Drooling is minimal but can be exceeding if one is not consciously aware of it and continuously swallowing.

Care and Maintenance:

The ball gag can be removed in order to be cleaned. Since it is made of silicone it can be boiled for 3 minutes, washed with anti-bacterial toy cleaner or 10% bleach solution, or put in your dishwasher (top rack, no soap).

The leather can be cleaned using a gentle soap and a damp washcloth. Make sure to dry the leather off completely.

Personal comments:

This product would benefit from having the edges of the inner piece rounded off so that the corners do not dig into the lips of the wearer. It gets very uncomfortable over time.

We cut off the corners with a nail clipper and melt the material with a match a bit so the threads don't separate. We also tried to file the straight ends of the center piece off a bit because they are very sharp.

Also since you cannot use verbal speech to communicate you must come up with a way of communicating to your partner. You can come up with physical things to do that mean stop or slow down. I decided that I would knock on the wall to shock him into stopping (so one of my hands was always near the wall in case) and to slow down I just restrained my partner with my hands and widen my eyes when he is looking into them and he knows it means "slow down it hurts" or "you've gone to far".

I have never asked him to stop but its good to have a safety measure so he knows when to slow down just by reading my physical communication. There are different ways of coming through. Some are better than others but whatever works for you use it.

Experience:

Personally, I was very disappointed. This product is made with great materials and it is very well constructed (apart from the middle piece). However, it doesn't fit my mouth that well. The middle piece can always be fixed with things you have at home. So if you are worried about it don't once it is smoothed out it doesn't poke painfully into the lips.

It is hard for me to relax my lips while wearing it because as soon as I relax my lips they slip between my incisors and the ball and "tada" painful biting instantly occurs. That might be good for some who might like this kind of pain but it isn't my thing at all.

Because the ball is too small for my mouth doesn't mean it is not a great product, I just need a bigger ball gag. So I definitely recommend this product but mostly for people with small mouths whether you are a beginner or veteran.

Other

Safety features:

Food-grade material / Hypo-allergenic / Latex free / Non-porous / Phthalates free

Circumference:

4 3/4"

Diameter:

1 1/2"

Texture:

Smooth