Sportsheets Simply sexy leather strap-on - G-string harness from Sportsheets

Product Details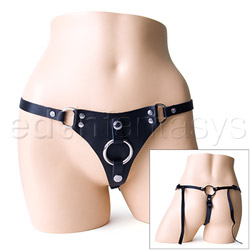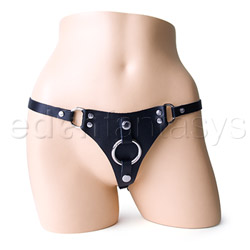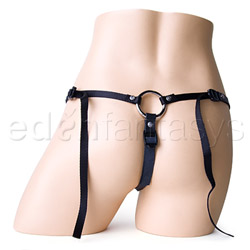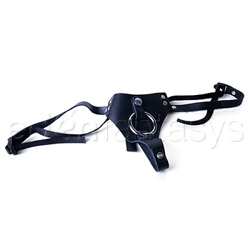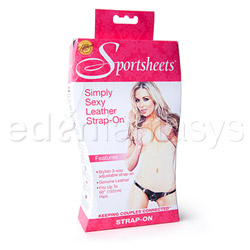 Summary:
This is a pretty good harness: it looks sexy on, it's stable, it's not a nightmare to put on, and it will generally get the job of a harness done without ruining the experience for you or your partner. With its low price and sexy, gender neutral design, it's the perfect harness for those just experimenting with strap on play.
Pros:
Stable, cheap, smells of leather, relatively effective, can be comfortable if worn right.
Cons:
Raw back of leather chafes, slide buckles are irritating, interior cannot be cleaned.
Best use:
This is pretty much as basic as a harness gets. It's an adjustable, gender neutral, single strap model. Its O-ring straps are not adjustable, but it could probably work with a slightly larger or slightly smaller O-ring. I would say it's appropriate for couples relatively new to strap-on play. It's a nice first harness. It's cheap enough that if you find you don't like the experience you won't be out too much money, but it's well made enough that it won't turn you off of the experience with technical difficulties. That said, it certainly doesn't live up to the beauty, comfort, stability and ease of more expensive harnesses (such as those made by Aslan Leather).
Material:

The front portion of this harness is made of leather, with leather straps in the front. It's thinner than the leather of other harnesses I've used, and it's a single layer, rather than two layers of leather stitched together "front" side out. The back features nylon straps. The buckles where one can adjust the straps are made of plastic. The hardware is silver metal, and I believe it to be made of nickel. The O-ring is also made of metal (I believe it to be nickel as well) and quite sturdy. It also smells nicely of leather, which if you are a leather fetishist could definitely be a big plus.

Material:

Leather

/

Metal

Material safety

Design / Craftsmanship:

This is a very basic single strap harness. The front is a basic triangular piece of leather with two leather loops with snaps connecting a metal O-ring. The front piece attaches to the side straps with D-rings held in place with two metal rivets. The side straps each go back to a plastic buckle held in place with another rivet, on the other side of the buckle adjustable nylon straps that go through the buckle allowing the harness to be loosened or tightened depending upon the needs of the wearer. The side straps both connect to a metal O-ring at the back of the harness where the leather back strap (the "thong" bit if you will) connects to the O-ring (as well as to another plastic buckle) via another rivet. This harness should be fairly sturdy, considering there is no stitching and all the pieces are held in place by metal. My only quibble with the sturdiness of this harness is the plastic buckles.

However, despite being relatively sturdy, the rough unfinished backside of the leather parts gives me pause. The unfinished rough backing is the part that goes against one's "sensitive bits" and personally, I don't know about you, I find abrasive surfaces against my nether regions uncomfortable. I would recommend wearing underwear with this harness to avoid having the leather come in direct contact with your bits.

The O-ring can be exchanged for another one, but only within a certain range as the straps that hold the O-ring are not adjustable. The O-ring itself is metal, and although of a fairly standard size, the inflexibility of the material means that thicker toys don't fit without a change of O-ring.

Size / Fit:

This adjusts from very small (smaller than my very slim-hipped girlfriend) to very large (April Flores could wear this with ease), so I would say that this should work well for a wide variety of vaginas. I would say that the fit is relatively comfortable for most users.

Maximum hip size:

60"

Maximum waist size:

60"

Dildo holder diameter:

1 1/2"

Weight:

8.5 oz

Performance:

This works fine. It holds toys of the correct size quite securely, and fits well without slippage. I prefer four snaps for O-ring attachment, this works quite admirably with two. It works well with our Fun Factory Magnum dildo. The Tantus vamp is slightly too large. The friction of the raw back of the leather actually helps this stay in place particularly well. The stiff metal ring makes up for the fact that there are only two snaps. The snaps are also quite firm and hold things in place well (though they are finicky to open, I nearly broke a nail). The slide buckles are my least favorite part, although I didn't experience any slippage, they're a little difficult to adjust and I didn't feel they were as secure as a belt style buckle would have been better. It's slightly easier to get on than it is to get off due to the slide buckles. The leather gets a bit chafe-y with extended wear/use, so again I really do recommend underwear under this harness.

It's fairly stable in most positions, not as stable as my Aslan harnesses, but enough to get the job done.

Special Features:

Interchangeable ring
Kinky

Care and Maintenance:

The front of the leather can be cleaned like all leather (damp cloth, promptly dried, leather conditioner if it starts to dry out) the raw leather back however isn't really cleanable, which is yet another reason I strongly recommend wearing underwear under this harness. I store it on a hanging rack with my other harnesses.

Other

Texture:

Smooth

Safety features:

Food-grade material / Latex free / Non-porous / Phthalates free