Wolwin GmbH SinFive Emigi - Vaginal exerciser from Wolwin GmbH

Product Details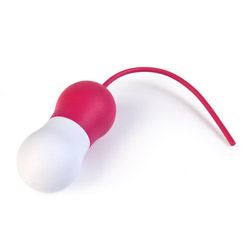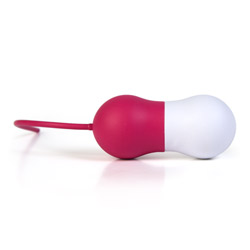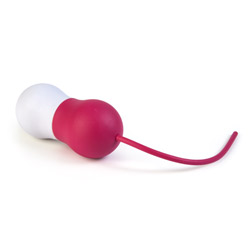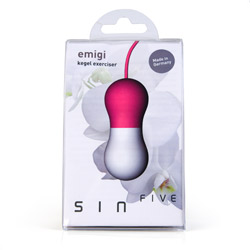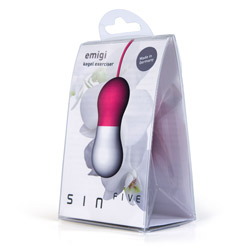 Summary:
The Emigi is a very affordable kegel exerciser or high quality construction and materials. The design makes it easy to use and comfortable to wear for long periods of time. If you want to strengthen your vaginal muscles, the Emigi is a great choice for any woman.
Pros:
Discreet, easy to use, comfortable, self cleaning material, solid painless design, effective, $
Cons:
May not be large enough for some, cord a bit too long (can be cut down though)
Best use:
SinFive has a high end collection of toys made of superior materials. But not all of them come at an equally high end price tag. The Emigi is a very affordable kegel exerciser being priced at less than $25. Similar products from other companies are more. The Emigi is easy to use, comfortable to wear, and effective. The special material even cleans itself! The size of the Emigi is smaller than similar vaginal balls. Some users of the larger products felt they were not small enough to be enjoyable for them or that their muscles could not contain the balls. This set is perfect for those individuals, for women wanting to continue to strengthen their muscles further, those with spinal nerve damage, or weakened muscles after child birth. They can be worn in public because of its discreet design. They can also be worn during anal sex for a unique double penetration experience. However, if you are looking for an anal toy, please look elsewhere.
Material / Texture:

The Emigi is made of WTP which is a specially formulated thermo plastic. This same material is used to make children's toys, so you know it goes under close inspection where it is manufactured in Europe. It is super safe for the body because it is hypo-allergenic, non-porous, odorless, phthalate and latex free. The material even cleans itself! Let me explain...

The Emigi is the world's first sex toy with this material. The anti-microbial layer that is added to the material during production keeps it safe from bacteria. When micro-organisms come in contact with it, their metabolism is destroyed, effectively preventing their survival. This process is 99.9% effective and safe for humans!

The WTP is smooth, yet has a slight matte texture making it easier to hold inside the body. It has absolutely no smell or taste. Since the inside is hollow, there is a slight give if pressure is applied. You can use any kind of lubricant except oil.

Material:

WTP

Material safety

Texture:

Smooth

Safety features:

Anti-bacterial property / Hypo-allergenic / Latex free / Non-porous / Phthalates free

Design / Shape / Size:

The Emigi is shaped like a perfect 2 1/2" long peanut. The largest circumference is 3 3/4" (1 1/4" in diameter) making it a very comfortable size. Inside the hollow peanut shape are two weighted solid masses that roll around inside. This causes a vibration sensation. The weights are 3.4 ounces making them a modest amount to be held in the vaginal canal. The size and weight are suitable for beginners to advanced. No warm up is needed.

Attached to the peanut shape is the retrieval cord. It is 1/8" thick but strong and 4" long. The length is a bit much but can be cut down about an inch to be more suitable. The long cord can poke areas of the vulva or clitoris if you are not careful. This toy is fairly discreet. It kind of looks and seems to act like a cat toy. I have both the fuchsia and pink colors, and both are gorgeous! The size makes them suitable for travel as well.

NOTE: There are a few seams running laterally along the bulbs, but they cannot be felt internally.

Color:

Fuchsia / White

Length:

6 1/4"

Insertable length:

2 1/2"

Circumference:

3 3/4"

Diameter:

1 1/4"

Weight:

3.4 oz

Performance:

To insert, use your fingers to hold the end bulb firmly and guide in the vagina like a tampon. I had no problems inserting it without lubricant, but it may be required by some. I had no pain doing so either. With other similar models, I have pinched my skin with my nails because of weak connectors between the balls. The design on this set makes sure this doesn't happen. You know you have inserted them correctly when the body seems to quickly swallow them and they are noticeable but not uncomfortable.

Emigi was very comfortable to wear. I wore them out and about without being afraid they would slip out. My muscles kept them in without any difficulty. They caused a lot of lubrication, so with time they were harder to keep in, but this is where I worked extra hard to do kegel exercises. At times, I forgot I was even wearing them! I went out for a drive to get some groceries and I came to a stop sign. The rock of my car rocked the balls inside me and created a wonderful vibration. It then became my goal to stop as much as possible! These would be great amusement for a long drive downtown or in traffic on the way home from work! The sound could not be heard at all.

The vibration was not always felt, but was felt maybe 40% of the time if I was walking. The vibration offers a low amount of added stimulation, which makes use more fun. I worked out with these in while on a gazelle machine and to my surprise felt the vibration even less of the time. I also used these during anal sex, but I didn't feel as full as I had hoped. The cord got in the way a bit. My partner said that he could feel them and it made they applied a little pressure to his head which felt great.

Taking the device out was super easy! Much easier than other types I have used. The cord felt secure and didn't require tugging to remove the balls.

Care and Maintenance:

The material cleans itself, but these should still be rinsed with mild soap and water before and after use. Then, place them in an area where they can dry before returning them to their packaging or storing. The material can be used with anything except oil lubricants.

Packaging:

The packaging for this product is small, which is nice. The plastic packaging is shaped like a paper lunch bag. The front has a picture of the toy and its name as well as a circle that says it is made in Germany. The back has a little information about the toy in three different languages. If you open the package you can remove this and it unfolds to show care, use, and cleaning instructions. It works well for storage.

Personal comments:

If you are looking for something larger check out these versions by FunFactory. Be willing to spend more though!

1. Teneo Duo

2. Smartballs

Here is a comparison picture of all three, side by side.