NS Novelties SINFUL collar - Collar from NS Novelties

Product Details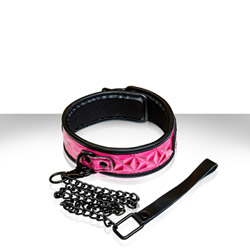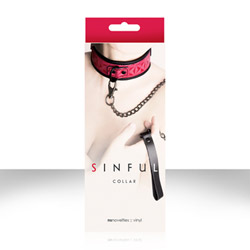 Summary:
I can't get enough of this collar. I personally find it more comfortable then many leather collars and would buy it again in a heart beat, I just wish it was about a half an inch more narrow. I would recommend anybody looking to get into leash or collar play or anyone who would like a collar with a little more of a focus on comfort. They really hit the nail on the head there.
Pros:
Comfortable
Cute
Not too heavy
Leash included
Cons:
A bit thick
Limited colors
Best use:
The SINFUL collar by NS Novelties is meant to be used in any type of bondage or role playing situation that would benefit from having a little more control over your subject via a collar and leash. The pink pyramid like pattern on the collar adds a touch of femininity for those looking for something a little more on the girly side. A little thick to be worn as an every day piece but cute none the less. Being that it is a collar it is more travel friendly then some other bondage toys but as a collar in general it is a little on the bulky side.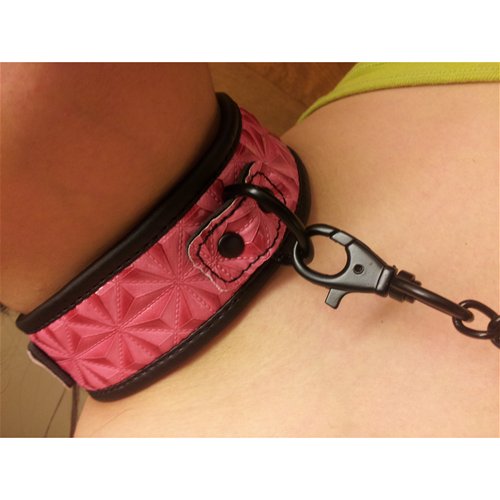 There wasn't anything too intimidating about this collar however I can't recommended it for those who do not like thick banded collars. It's 2 inch width can cause some restriction in movement for some people and the buckle is pretty secure so there isn't much give. Regardless of this I think the collar is a good fit for beginners, intermediate users, and advanced users alike. It will fit most yanking, choking and tying needs.
Design / Craftsmanship / Material / Size / Fit:

Made of vinyl, neoprene, and nickel-free hardware, this collar feels very sturdy and surprisingly soft.

I was a little sad when I first saw the stock picture of this collar as I imagined the pyramid looking pattern on the front would stick out a little bit and maybe be hard but I was pleasantly surprised to find that it wasn't the case.



The pattern actually has a very low profile and is a bit on the plush (squishy) side. There are absolutely no sharp edges on the front material of this collar at all. There is a slight smell that I think probably comes from the pink vinyl part of the collar but it was not terribly noticeable to me.



The black neoprene lining on the inside of the collar is very comfortable. I found it to be very soft in both plushness and also with the surface texture of the lining itself. It does have a tendency to hold sweat a bit if there is particular vigorous activity going on but it isn't seeming to retain to much of an odor.

As far as size is concerned the collar is right on in it's adjustable length but a little on the thick side for my taste. The 2 inch girth on the band of the collar made it difficult to hold my head any way but up, but considering we were using it for more of a doggy style enhancer that wasn't really much of a problem. If you want mobility of your head and do not have the neck of a super model this may give you a little bit of trouble though.



To give an example of the width it's roughly the same width as my television remote.



With 5 holes positioned 3/4 of an inch apart from each other on the collar it is adjustable from slightly under 13 inches around at its smallest to roughly 17 inches around at it's widest. My neck is a little under 15 inches and I found the 3rd hole to be a perfect fit.



We did find that if we didn't lift one side of the collar up a little when adjusting the buckle it would tend to stick around the first hole.



Black nickel-free accents dress this collar up. Aside from the 5 eyelets for the buckle there are two black accents on either side of the buckle and one on either side of the D ring on the front of the collar.



Included with the collar is a black metal leash, also nickel free, with a 22 inch chain. From tip to tip the leash measures a little over 29 inches. All together the two weigh around 7 1/2 ounces. Not discreet by any means this leash collar duo will make a statement if you're looking to.

Material:

Neoprene

/

Vinyl

Material safety

Color:

Black / Pink

Length:

19"

Width:

2"

Closure:

Buckle

Weight:

7.5 oz

Performance:

All and all we are really pleased with this collar. After using it multiple times there was no chaffing or rubbing and during sex it didn't feel too heavy. It was definitely easy for my partner to communicate where he wanted me with the lightest tug.



On the other hand it held up pretty well when some pressure was put on it. I like to be choked, really and truly choked. Like grab my hair and my leash and pull them hard choked and the collar proved not only could it handle that but it could do it without leaving a mark. YES PLEASE! Even if it is a little on the thick side, it's hard for me not to love this collar.

Care and Maintenance:

Very easy to clean maintenance ranges from wiping down with a damp rag to wiping down with a damper soapy rag and patting dry. Pretty easy as far as cleaning goes.

Packaging:

The SINFUL collar comes in a red and white box that measures roughly 2 inches by 3 inches by 7 inches.

On the front is a picture of the collar and leash in use with the SINFUL name the word COLLAR and nsnovelties::vinyl



On the right side is the very simple nsnovelties on the top and SINFUL COLLAR on the middle in white letters on a red background.



On the back is the company's promotion of the product it reads:

"Add a spark of excitement to your play time. Adjustable collar and leash. Designed for extended wear. Made of vinyl, neoprene, and nickel-free hardware."

This is repeated four more times in four other languages. At the bottom is the copyright information and warning that advises against use on swollen, inflamed or lacerated skin.



The left side of the box has another view of the collar from the back as well as the handle of the leash. Care instructions can also be found on the lower part of this side.



The whole box has a glossy finish to it and as far as packaging goes it's not luxury but it's not ugly to look at either.

There weren't any care or use instructions aside from the ones written on the side of the box. The packaging isn't discreet but it is good for storing the collar in my toy box where it is out of sight.

Personal comments:

I really appreciate the nickel-free metal. I have terrible allergies when it comes to some metals and am glad to report this on has given me no problems even where the leash was wrapped around my wrist for a bit of time.

Experience:

We found the build of this collar to be really nice for prolonged periods of play. With the combination of sturdiness and softness it really is good for whatever mood you may be in. Whether it's a quick romp or a sexcapade this collar will keep up with you.

Other