NS Novelties SINFUL wrist cuffs - Wrist cuffs from NS Novelties

Product Details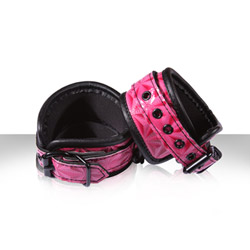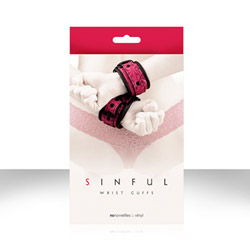 Summary:
If you've been curious about bondage and are looking to test the waters, these are a great start. They are strong and straight forward. There's lot's of naughty fun to be had with these.
Pros:
great restraints, good for beginners, lots of options
Cons:
bulky, may have fitting issues for some
Best use:
This is absolutely a couple's toy through and through. These "sinful wrist cuffs" are really for the couple that desires a step up from cheaper novelty cuffs.

It's best used as pictured on the box, binding the wrists behind the back. This is the highest intensity the toy has to offer as far as restraints go. You can bind in front or over the head, but it's not nearly as effective if you intend on rendering your partner immobile. Even simple restraint with the wrists over the head is enough to illicit a proper response, and especially so if you are new to mild bondage.

It's pretty simple to use and the box didn't really come along with instructions. I'm guessing it's supposed to be pretty self explanatory. You just fasten each wrist with the buckles and attach them together with the chain. Something this simple can more than bring intensity to the bedroom.
Design / Craftsmanship / Material / Size / Fit:

The design is rather chunky and clunky for my liking. They are my first official restraints, but even I can tell you that they aren't the best thing out there. The materials are pretty strong and certainly too strong for your average lady to break. The materials stated on the box are vinyl, neoprene, and nickel-free hardware. While I really couldn't tell what metal is being used, seeing as it's been painted, it's obviously stronger than the fabric.

The chaining mechanism looks flimsy from its unfortunate paint job, but it's pretty damn sturdy. However it doesn't take Houdini to escape these things. The metal chain is easily removed if you're focused enough on finding the clasp. My only problem is the fit. I had no issues with finding a setting that fit, but it really lacks any in between sizes. I had to choose between a setting that was too loose to feel comfortable and a more snug fit that I wasn't immediately ready to try. My fear is that those with wrists not nearly as small as mine, may have issues being comfortable during intercourse.

Material:

Neoprene

/

Vinyl

Material safety

Color:

Pink

Length:

10"

Closure:

Buckle

Weight:

9 oz

Performance:

For my boyfriend and I, these babies worked like a charm. There were a variety of ways to chain the cuffs and we enjoyed using our imaginations. I learned that I really like that sort of thing and it may end up being a go-to kink of ours now. We had no real problems aside from comfort in the face up position when my wrists were restrained behind me. My weight bearing down on it added some red marks on my wrists, but other than that we were completely fine.

Care and Maintenance:

The box suggests washing with soap and water after every use, but this doesn't really make sense for the toy. Odds are every box has this on the side, seeing as it also suggests using lubricant. Vinyl doesn't get dirty as easily and usually wipes clean. The neoprene inside will likely take to spot cleaning and air-drying in the case of major soiling.

Packaging:

The packaging is actually quite beautiful. The font choices, use of color, and photography, points to them having spent some money to hire a good graphic designer. It's a clean design, tasteful, and discreet. The only issue I might have is that the packaging didn't really have instructions inside, and the cuffs were kind of just in the box, without any internal structure to keep it from moving about inside.

Experience:

These cuffs have expanded what I know about myself sexually and have added a nice bit of excitement to our holidays. They likely doubled my arousal during intercourse and added to my overall sensitivity. I think my boyfriend also enjoyed being in control and watching me writhe in pleasure. Thanks to this, we'll likely buy other restraints and couple's toys in the future.