Sportsheets Star impressions paddle - Paddle from Sportsheets

Star impressions paddle videos
Product Details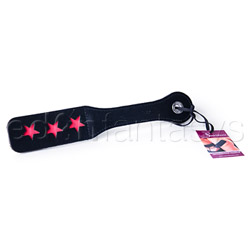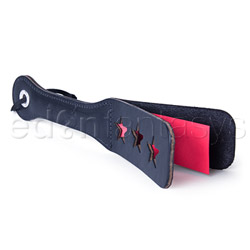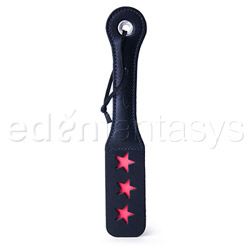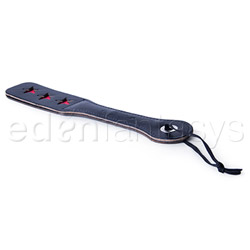 Summary:
A sturdily made leather slapper, the Star Impressions Paddle provides pain with an artistic twist - every hard hit comes with its very own star pattern! The two layers of provide mild to moderate stingy pain, so this toy will be great for those folks experimenting with this type of pain or with lower to moderate pain tolerance.
Pros:
Leaves cool star prints, very well constructed.
Cons:
Only leaves star marks if you hit reasonably hard, so it's not for the faint of heart.
Best use:
The Star Impressions Paddle allows you to make a real art of getting your partner off. As you would expect from the name, the two-panel slapper has stars cut out of one layer such that, if you paddle your partner sufficiently hard, you'll make the skin generally red but leave a set of lovely white stars outlined in that lovely red welt. Now, to be totally clear, we're not talking about perfectly painted on stars, or at least not at the level of intensity that I was willing to hit myself. We're talking about vaguely outlined stars, though they were certainly obvious in their shape - it wasn't just a general lack of red in the middle of my bright red leg, it was a five point star.

To some extent, this toy can be used as a more or less intense toy, according to your and your partner's pleasure. A certain level of intensity is necessary to make those stars appear, and that's certainly fun, but it functions as a good slapper even without that level of pain. For those folks who distinguish between thuddy and stingy pain, it's definitely a stingy kind of pain. With something this light, you won't get a good thud no matter how hard you swing it.
Design / Craftsmanship / Size / Material / Features:

The Star Impressions paddle is almost entirely made of leather and seems to be very high quality. The stitching is tight and well done, and I believe will hold together for quite a long time. The only piece that isn't leather is the red paper insert in the slapper itself. It looks pretty but has no function, so I won't be too upset when it wears down and I have to pull it out. All in all, this slapper seems sturdy, functional and likely will survive what you can throw at it.

Material:

Leather

Material safety

Color:

Black

Length:

12"

Width:

2 1/4"

Weight:

3 oz

Performance:

After establishing that the slapper did, indeed, deliver a nice sting, my main interest was in discovering whether or not I really could create stars on my body. Now, the truth is, I went in with somewhat unrealistic expectations - I wanted to see crisp, distinct stars dotting my thighs. Instead, for a few slaps, I got nothing but red. Turns out I simply wasn't hitting myself hard enough, since I'm a little bit of a wimp when it comes to stingy pain. Once I tried to be brave and started hitting harder, it worked! I began to see the outlines of stars appear after the initial redness had popped up everywhere else. These marks stayed for a couple minutes and then faded, along with the redness. Pain that leaves a mark but goes away - the kinky professional's dream!

Care and Maintenance:

The paddle is leather so you can wipe it down with a wet cloth to keep it generally clean.

Packaging:

The paddle was minimally packaged, coming with just a tag. Although no instructions were included, I would hope people would figure out how to use it pretty easily.

Other

Special Features:

Safety features:

Phthalates free