SpareParts Theo harness large - G-string harness from SpareParts

Product Details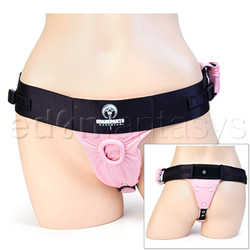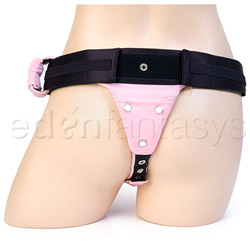 Summary:
The first thong-style harness from Spareparts, Theo, brings comfort and stability to a style of harness which is characterized by the opposite. With a variety of adjustable parts, it's good for solo play, partner play with a single dildo, or partner play with a double dildo. Since it's made out of swim suit material, it's also entirely machine washable and waterproof!
Pros:
Comfort, stability, waterproof.
Cons:
Using snaps for adjustments can be a hassle.
Best use:
Theo is a great harness for those folks who are looking for stability and comfort in a thong model. For people who don't know too much about harnesses, the thong style has a single strap that runs down between the legs and connects to a band that goes all the way around the waist. It's like suspenders, but for your ass! It stands in contrast to the jock strap style of harnesses, which includes two straps, each of which goes around a leg and rests under the cheek of your cutie patootie.

I apologize for the boring details, but they were necessary because this harness is great precisely because it breaks all the rules. Traditionally, thong style harnesses get slammed in reviews for being unstable and uncomfortable. Not this one! Theo is extremely stable due to an incredibly exhaustive set of easy-as-pie size and fit adjustment options. You can adjust how long the thong part is, how big the waist is, how low the cock pocket (that's a phrase I'll have to use more often...) sits and even whether you have a sliding ring around the extra straps.

So, it's stable. It's also comfortable. Theo is my third harness (I know, I'm a lucky man) and, while my Commando harness (by Aslan leather) beats Theo in snazziness, and my Harness the Pleasure (by Rachel's Pleasures) beats Theo in price, neither holds a candle to Theo when it comes to comfort. After getting Theo in the mail, I put it on and did some studying. I folded my laundry and answered emails, all while admiring my picture perfect cock (in this case, I'm referring to Tex, by Vixen Creations) and its new, shiny pink packaging. I also used Theo to pack a soft cock, while at home, though the harness is a little too bulky to really use under clothes for public packing. Alas.
Material:

Theo is made of a material similar to that of swimsuits. It's entirely waterproof and, indeed, can be thrown with your clothing into the washing machine. The straps are stretchy spandex, making them comfortable but firm.

Material:

Nylon

/

Spandex

Design / Craftsmanship:

Theo is made out of comfortable, wide straps, of a similar material as swimsuits. Parts are adjusted with either snaps or velcro. Theo comes with a built in o-ring which accommodates dildos from about 1.5 inches diameter to 2 inch diameters.

Size / Fit:

Theo is made for people of all sizes - it expands to a quite large waist, or can tighten to a much smaller one. I have the large, which suggests to me that other sizes are available, but that's just a guess.

Maximum hip size:

65"

Maximum waist size:

65"

Dildo holder diameter:

1 1/2"

Weight:

0.3 lb

Performance:

I get it; you want to hear about Theo in action. I was entirely pleased, in a variety of contexts. In solo play, Theo allowed me to both jerk off a cock and be penetrated. This was possible because I used the cock pouch to actually hold two cocks, one which went through the ring and out the front, and the other which simply rested inside the pouch. Not super secure, but it meant that every time I jerked my cock, the inner dil also moved. Pretty great.

With my partner, who's got bio female bits, Theo also held up to my standards. As I said in the description, Theo was stable and allowed me to direct my thrusts without having to hold the base of the cock. Go team hands free! It was also extremely comfortable - the wide straps meant that even a long fucking session didn't leave me wishing I could take Theo off.

Finally, when we tried Theo with a double headed dildo (in this case, the Share, by Fun Factory), it particularly shined. The positioning of the built in o-ring perfectly positioned the Share for ideal penetration of both my hole and my partner's.

Care and Maintenance:

Just throw Theo into the wash with the rest of your clothes and hit the on button! I recommend letting it air dry, though, since as I recall, bathing suit material lasts longer that way.

Packaging:

Theo comes in a satiny pink pouch which matches the harness itself. I plan to display it right next to my Pretty Pretty Princess game. It's that pretty.

Other