Spartacus Tweezer clamps - Nipple clamps from Spartacus

Product Details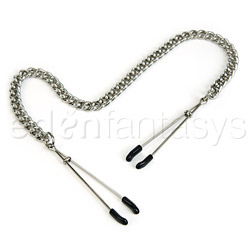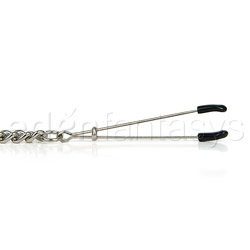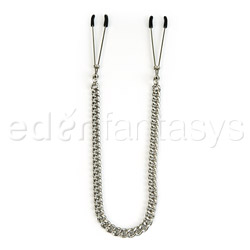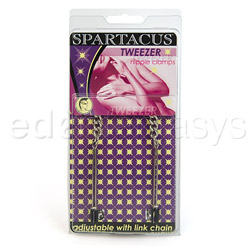 Summary:
Spartacus Tweezer Nipple Clamps are wonderful for the beginner, or advanced BSDM lover. They can be adjusted from barely noticeable to fairly painful, just by sliding the ring closer to the tips. They are extremely well made, very sharp looking and quite sturdy. They are very easy to use and can be worn by most women or men.
Pros:
Easy to use, well made, can be used by beginners or advanced alike
Cons:
Can be a bit weighty, can fall off.
Best use:
The Spartacus Tweezer Nipple Clamps work wonderfully either by having each nipple clamped with the chain hanging low, in which case the weight of the chain on the nipples is noticeable. Or you can also thread them through the O-ring on a collar, then clamp each tweezer to a nipple, which looks great and has the added benefit of tugging when the head is moved. These work well for beginners or advanced users, it all depends on how tight you make the clamps.
Material / Texture:

These are made almost completely of metal. I would say by the substantial weight of the chain that it's probably steel. They also have small black rubber tips on the end of each prong of the tweezers, which helps keep the tweezers from scratching you. The rubber tips aid in comfort, but can also cause the clamps to slip off your nipples if they're not applied correctly or pulled on too hard. Also the rubber tips are not secured to the metal so care needs to be taken to not lose them.

Material:

Metal

Material safety

Safety features:

Food-grade material / Latex free / Non-porous / Phthalates free

Shape / Design / Size / Fit:

The clamps on these truly look like tweezers with a small metal ring that you slide up to the desired tightness. Each clamp is attached to a fairly weighty link chain. All together it weighs 0.2 lb, which may not sound like much but is noticeable when hanging from your nipples. The weight causes a definite pull which for some, can be quite enjoyable. The total length is 18 inches.

These should fit anyone who even has the slightest pronounced nipples, because the tweezers are fairly slender. It is also easier to put these on and keep them on if you pull the nipples out a bit, and slide the tweezer just behind them before sliding the ring up. It also helps if the nipples are at least a bit hard.

Color:

Silver

Length:

18"

Weight:

0.2 lb

Functions / Performance / Controls:

Personal comments:

I really like nipple clamps of all kinds, but these types are my favorite. Especially the ones that are attached by some type of a chain. As I said before, I like to thread them through a collar. They're less likely to fall off that way and just the slightest head movement causes them to tug. This pair is especially sharp looking, when threaded through a nice black leather collar that has some metal hardware of it's own.

I also like that these nipple clamps don't really cause me so much pain but make me acutely aware of my nipples, and enhance the sensations of them, especially when they're touched.

I did have a bit of a problem with them falling off when tugged or played with, when they weren't attached to a collar. Though I have found that to be a common problem with these types of clamps. I just re-attach them and keep going.

Care should be taken not to wear them for too long. If you find you're losing sensation, you should remove them. I have worn them for up to half an hour with no problems though.