Dorcel Twinny balls - Vaginal balls from Dorcel

Product Details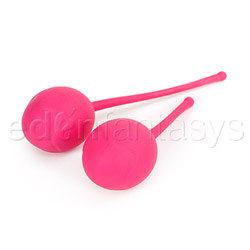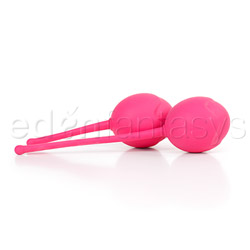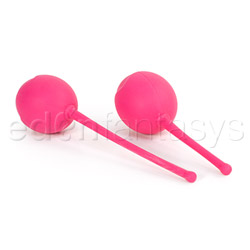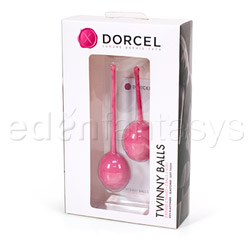 Summary:
Pelvic floor exercises and products that help strengthen the PC muscles have become more mainstream with the introduction of the 50 Shades of Grey series. This particular set provides up to 70 grams of resistance training to help tone and strengthen the pelvic floor muscles, and also help prevent urinary incontinence. The easy retrieval cord allows the user to confidently wear these without worrying about them getting lost.
Pros:
Two weighted balls, retrieval cord, easy to use.
Cons:
Elastomer is a semi-porous material that can't be sterilized.
Best use:
Twinny balls by Dorcel are geisha balls with a retrieval cord, designed as vaginal exercisers used to strengthen women's pelvic floor muscles. They come in two weight sizes that can be used alone or together. The weights are 30 grams and 40 grams, with the potential of 70 grams of weighted resistance if worn together. The weights roll around inside the outer casing, but cannot be heard while moving. They are great for tightening the vaginal muscles, which can help increase vaginal elasticity and bladder control. These can be used daily to subtly stimulate and tease while increasing your PC muscles. These can also be worn during foreplay and intercourse. To use, insert into the vagina and hold them in place by squeezing your pelvic floor muscles.

These are not meant to be used anally.


Material / Texture:

This set is made from elastomer and has a faint smell to it that is not overwhelming. They do have a seam along the outside separating the sphere in half, but it cannot be felt while inserted. It has a wavy design toward the bottom of the sphere, but it feels smooth to the touch and does not provide any extra stimulation. The Twinny balls are weighted, but do not feel heavy in my hand. The balls are soft, firm, and do not offer any flexibility.

Material:

Elastomer

Material safety

Texture:

Smooth

Safety features:

Hypo-allergenic / Latex free / Phthalates free

Design / Shape / Size:

These are pink in color and spherical in shape, with a little thin retrieval cord sticking out similar to a walkie talkie antenna. The top of the retrieval cord has a rounded end to help aid with easier removal. The heaviest weight has the shortest retrieval cord. They are similar in size to plastic Easter eggs.





They were very easy to insert, but are larger than some other designs of kegel exercisers, so those who prefer smaller designs won't appreciate the largeness of these.

These did not come with a storage bag, so if traveling you will need to find your own bag to store these in. However, they are discreet and can easily fit them in your purse, pocket, or bag.



Color:

Fuchsia

Length:

4" / 5 3/4"

Insertable length:

1 3/4"

Circumference:

4 3/4"

Diameter:

1 1/4"

Weight:

0.3 lb

Performance:

They are very easy to use; all you need to do is decide which weight you want to start with first if you're only using one ball. Then simply slide the ball into your vagina and contract your pelvic floor muscles. If using both balls, keep in mind to leave the retrieval cord within easy reach. To remove, just grab your retrieval cord and pull out. If your retrieval cord is not within easy reach just give a little push with your kegel muscles and it should appear. They are comfortable and can be worn all day if you wish, without worrying about them coming out. They do not rattle or make any sounds while moving around and do not produce any special sensation while worn.

Care and Maintenance:

It is best to clean these before and after every use. You can use antibacterial soap and water to clean these. Dorcel recommends not using alcohol, acetone, or petrol based cleaning products with these. If you have a toy cleaner or wipe that does not have these ingredients, then it would be safe to use. Elastomer cannot be boiled and is not dishwasher safe. Do not share these with a partner that you are not fluid bonded with, because they are semi-porous in nature. If you need to use lubricant, water based lubricant is best with these.

Care and cleaning:

Soap and water

Packaging:

These came in a box with the balls displayed through the front packaging. The side shows a woman's backside and the back has information regarding the product. It has an included instruction manual inside the package.






Experience:

These are much easier to keep inside the vagina than other smaller vaginal balls I have tried. I like that these are weighted, but I cannot hear the weights while I am moving around. I do not feel any extra stimulation while I am using these, but I can easily insert them in the morning and wear them throughout the day with no discomfort. I do not have to set a time aside to do my kegel exercises, because once inserted I'm automatically strengthening my pelvic floor by keeping these properly inserted. My only complaint is the material is semi-porous, so I'm deducting 1 star for the material. Other than that, they do what they are supposed to do, and I am satisfied with my product.