Sportsheets Vanilla bondage kit - BDSM kit from Sportsheets

Product Details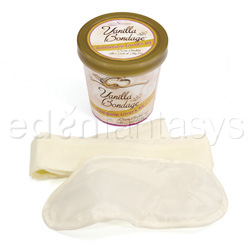 For those out there who are just stepping into the realms of bondage, or even those who like a little bit of kink but prefer it to be more vanilla, Sportsheets has heard your call and come up with the Vanilla Bondage Kit.
Included in the hopelessly adorable packaging, which looks exactly like a pint of ice cream, are 2 long silky ties and a blindfold, all in a delicious cream color.
This kit is absolutely perfect for people who are interested in restraint, but aren't into the whole rough and tumble of regular bondage. It's perfect for a sexy surprise for your lover and a sensual night.
Design / Craftsmanship / Material / Size / Fit:

Material:

Nylon

Color:

Creamy white

Weight:

0.1 lb

Performance: