Aslan Leather Vegan silicone ball gag 2 - Mouth gag from Aslan Leather

Product Details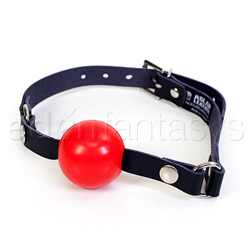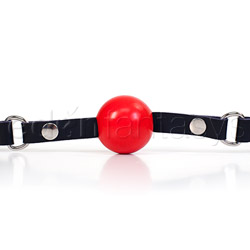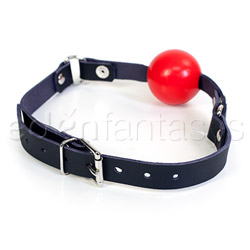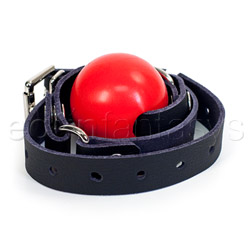 Summary:
The Vegan ball gag is a great accessory for gag play. Made of faux leather, it is attractive and matches other pieces from Aslan's Vegan line. The ball is completely removable from the straps, which makes this piece easy to clean. While it doesn't totally silence, it does a good job of muffling and muting cries of pain and pleasure.
Pros:
Removable ball, made of faux leather, lovely red color, adjustable, easy to clean.
Best use:
The Vegan Silicone Ball Gag from Aslan Leather is a well-crafted piece. It completes the bondage set with the Vegan cuffs and collar, and is stunning and arousing.

It is best used when you need your partner's volume to be lessened, without entirely silencing them. They certainly won't be able to protest, so be sure to have a hand signal or other safeword method. The ball works well for most mouth sizes, as does the adjustable head strap. Unlike the other pieces in the Vegan Red line, the gag is not a locking piece.
Design / Craftsmanship / Material / Size / Fit:

The design of this gag is nice. It comes in two color choices, black or red faux leather, each with a red ball. I chose the red to complete my set.

The red straps are made from the same faux leather that the cuffs and collar are, with a light graining for a truly coordinating look. The back of the strap is unfinished and smooth like suede, with a black Aslan tag. Overall, the strap is a 26" long and 3/4" wide. It is actually composed of 3 pieces: 2 side straps and a center strap. The center strap is 7" long, and attaches to the side straps by snapping through a small D-ring on each. It is easy to snap and unsnap.

The gag is highly adjustable, with 10 bucking holes spaced 3/4" apart.

The center strap fits through the red ball, which is 2" in diameter. The ball is silicone, and can be slid entirely off of the center strap for cleaning. It is not difficult to reattach the ball – simply bend and flex the center strap to feed it through the 1/2" hole.



Material:

Nylon

/

Silicone

Material safety

Color:

Black / Red

Length:

26"

Width:

3/4"

Closure:

Buckle / Snaps

Weight:

0.2 lb

Performance:

This gag worked quite well. This was actually my first gag in this style. I was thrilled that Aslan had this to match the other Vegan pieces of theirs that I have. Although the gag doesn't lock, we found that it worked better that way, as the gag could be removed and reapplied easier than having to worry about locking and unlocking it.

The straps were long enough to fit comfortably around my head, while forcing my mouth open for the ball. The ball held up to some biting without noticeable damage. It did cause some drooling, but it was not excessive.

The gag doesn't completely silence the wearer, but it muffles wearer's sounds effectively, whether they are screams of pain or cries of pleasure.



Care and Maintenance:

This gag is easy to clean. The straps can be cleaned with soap or leather cleaner, using a toothbrush if necessary. They should not be soaked, but rather wiped with a moist cloth and patted dry. The straps can be reconditioned with leather cleaner if necessary.

The ball is made of silicone, which is non-porous, phthalates-free, latex free, and hypo-allergenic. It can be removed from the straps and boiled or run through the dishwasher. You can also clean it with soap and water.

The gag can also be disinfected with a 70% rubbing alcohol solution.

This should be stored away from sunlight and heat. It can be stored flat or gently rolled, with or without the ball attached.



Packaging:

This gag comes in a small press-close plastic bag with a barcode sticker on the outside. The gag is lightly rolled inside. A small information sheet is attached with a plastic tie through one of the holes on the strap, and an 800 number and website address are included for questions or comments.



Personal comments:

This gag is guaranteed for life. If it breaks during normal wear or is defective, Aslan leather can be contacted for repair or replacement of the gag.

Experience:

I was excited to get this to complete my Aslan set of red faux leather cuffs and collar. I brought it out and gave it to my husband, who was more than happy to put it on me. It looked fantastic, especially when paired with the rest of the set.

The gag was comfortable to wear, and stayed in place no matter how much I tossed. While it didn't completely silence me, it worked well to muffle noises and cries. The ball wasn't damaged by teethmarks whatsoever, and drooling wasn't excessive.

Other

Size:

One size fits most

Safety features:

Food-grade material / Hypo-allergenic / Latex free / Non-porous / Phthalates free

Circumference:

5 1/2"

Diameter:

1 1/2"