Aslan Leather Vegan silicone ball gag - Mouth gag from Aslan Leather

Product Details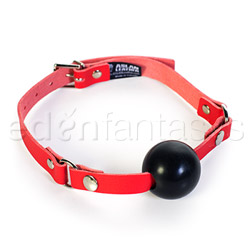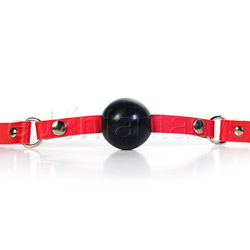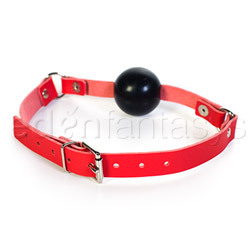 Summary:
Aslan Leather provides a vegan-friendly, completely comfortable, very adjustable gag! Made from very safe, phthalates free, easy to clean materials, there is nothing not to love about this product!
Pros:
Vegan, easy to put on/remove, easy to clean, very comfortable
Best use:
Different types of
headgear
, including ball gags, have many purposes. The most common
reasons
to introduce a gag into your play time are for BDSM, to keep yourself or your partner more quiet during sex or foreplay, certain fetishes, and so much more!
A good, strong gag is always very important for both beginners and advanced users alike, and the
Vegan Silicone Ball Gag
is certainly one of the better quality gags that EdenFantasys has to offer.
Aslan Leather
did not skimp on their product with this one, and provides comfort, quality and a life-long toy,
guaranteed
.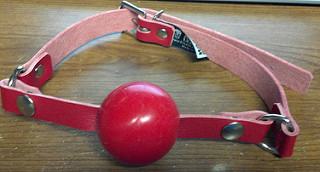 Design / Craftsmanship / Material / Size / Fit:

This gag is designed for the squishy ball to fit in your mouth while the straps wrap around your head and latch in the back. The latch is not uncomfortable to lay on and the ball is not hard so it will not hurt your teeth. That makes this gag great for those with soft teeth who have trouble with the harder materials, great for beginners because it is easy to use, fine for advanced users because it holds up and is good quality and what a connoisseur would come to expect. It is great for light play but won't come undone or apart during heavy bondage.

The product is not very discreet, because it would be obvious to most people that this is a bondage toy. You have your ball with a round hole in the sides. The strap moves through the silicone ball and connects to two rings which allow for flexibility. Then the strap continues and is connected at the rings all the way to the buckle. It looks like a simple belt buckle - 7 holes for adjustment. This makes it great for a variety of head sizes! It should fit the average person's head with no problems and allow for different preferences of tightness.



The quality of the gag is fantastic. The company assures the customer that this gag should last a life-time and even places a guarantee on that!

The ball is made of silicone, which gives it the nice squishy texture. This also makes it easy to sterilize your gag after each use, so you will not have to worry about sharing, either! The straps are made of faux leather, making this excellent for vegans who still love that nice leather feel and look!



The gag comes in 3 color options: red on red, black on black, and red on black. Each gag provides you with a ball that is 5.5" around. The strap is 23.5" in total length, and the holes allow for an adjustment of a total of 4.5"! That is a pretty big allowance for sizes!

Material:

Faux-leather

/

Silicone

Material safety

Length:

26"

Width:

3/4"

Closure:

Buckle / Snaps

Weight:

0.2 lb

Performance:

This gag is quite comfortable for longer use, as long as the ball fits into your mouth. Those with smaller mouths may not find this as comfortable. The ball is slightly wider than the opening of a typical shot glass, so if you are able to comfortably fit a standard shot glass completely in your mouth, this should fit just fine. The straps should not cut into the corners of your mouth, and the faux leather gives it some flexibility as well. The buckles are easy to connect and easy to remove on your own, and this is great for adding a blindfold for extra sensory play! Even for rougher play, this gag should hold up to everything you throw at it!

Here is a photo of the gag inside of a standard sized shot glass. You can see the edges of the glass due to the angle, but can see that they are about the same size.



Care and Maintenance:

The company provides a small instruction sheet for cleaning and keeping the product looking as new as possible. They recommend using a moist cloth (not dripping wet) and a little dish soap or leather cleaner to wipe it off. They recommend that you dry it immediately. A great suggestion the company gives to keep the metal portion of the toy from tarnishing is to place some clear nail polish on the areas!



For the silicone ball, you may use a 10% bleach solution, isopropyl alcohol, boil it for a few minutes or use regular toy cleaner or soap and water.

To store the gag, you will want to try and lay the straps down as flat as possible. This will prevent any crinkling in the "leather" and keep it looking like new for as long as possible! You may want to store the straps and ball separately, to keep it extra flat, and the snaps can be undone to store the sections of the straps.



Packaging:

The gag comes originally packaged in a simple, clear Ziploc-like plastic bag. It is nothing fancy, but does protect the gag from water, dust, or anything else it may have been packaged with. Because the gag can not fit in the bag and lay flat, this isn't the best packaging for the gag indefinitely and you may want to invest in some sort of pouch or toy box where this can lay flat. Because the packaging shows the gag, it is also not discreet; so, if you plan to leave this laying out and about, a pouch might be your best option. You may also want to just lay this flat in a drawer as well, as long as it does not become bent or folded in the drawer somehow.

Experience:

I like this gag a lot. It is very comfortable to wear. I have very sensitive teeth, so the silicone ball makes it safe and pain free for me! This is one of my favorite gags as well, because it is so easy to clean! No matter how hard I bite down on the ball, it bounced right back to its original shape! Because of the way it fastens, it does not come undone during use! Unless you just have a very small mouth, there is nothing not to love about this gag. Also, the fact that it is vegan means more people can use it! It looks, feels, and even smells like real leather!

You can see here how well it fit me. I wasn't able to talk, but had no issues with drooling. It was not uncomfortable even after 45 minutes of constant wear! It also did not present any breathing issues, which is important for a girl with asthma!



Other

Size:

One size fits most

Safety features:

Food-grade material / Hypo-allergenic / Latex free / Non-porous / Phthalates free

Circumference:

5 1/2"

Diameter:

1 1/2"