Icon Brands Velvet plush kegel kit - Vaginal balls from Icon Brands

Velvet plush kegel kit videos
Product Details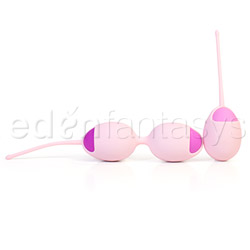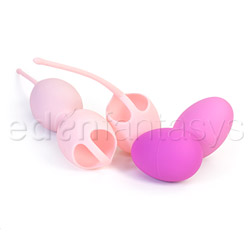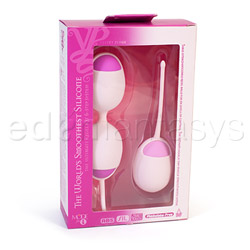 Summary:
If you're looking for a great way to work out your kegal muscles, these really help. There is a six-step, six-week workout to use these eggs. The instructions are simple, and easy to follow. You can also use these internally with clit stimulation for some exciting stimulation.
Pros:
Multiple uses, Easy to clean, Easy six-step work out
Cons:
Eggs can't be sterilized like the harnesses
Best use:
This is a nice little kegal exercising kit. It comes with two sets of silicone harnesses, and three egg shaped balls of different weights. One of the harnesses holds one egg, and the other harness holds two eggs. The lightest colored egg is the lightest in weight. The next two darker colors get slightly heavier. The directions on the box give you a six week period to use these balls. First you use the lightest ball in the single harness. Then you gradually move to the next two balls in the single harness. When you've masted that, you use the lightest ball, and the medium ball in the two-egg harness. Then the lightest ball and the heavy ball, and eventually the medium ball and the heavy ball. After the six steps in six weeks, you should be able to have much more control of your kegal muscles.

I also like to use these without doing any kegal exercises. It's nice to keep one of the eggs in the single-egg harness and use it internally while stimulating the clit. My husband also likes it when I use it internally, and he pulls on the "string" that hangs down from the harness.

These are great for couples, or just for solo use. They should not be used anally, because there is no kind of flared base on this toy to protect you.
Material / Texture:

The egg harnesses are made of silicone. The material is very soft and flexible, so you can easily pop the weighted eggs into and out of it depending on which one you want to use. The bottom of the harness has a long string like piece of silicone that you can grab onto to pull the eggs out of your vagina. This is also pretty smooth.

The eggs are made of plastic. They're pretty smooth, but there is a crease that goes down the middle. This is about the only texture on the eggs.

This could be for beginners or advanced users, but the size might be a bit large for some beginners.

Material:

Plastic

/

Silicone

Material safety

Texture:

Smooth / Velvety

Safety features:

Food-grade material / Hypo-allergenic / Latex free / Non-porous / Phthalates free

Design / Shape / Size:

This set comes with two harnesses made of silicone and three egg shaped balls. They honestly kind of look like sperm. The single-egg harness holds one egg. When you have the egg in, you can see little half-circle shapes of the egg color from the top of the harness. The two egg harness looks the same, but it has a small separator of silicone between the two harnesses.

The eggs are about an inch tall each, and have a circumference of a little over 4" each. They might be a bit large for some beginners, but more advanced users should be fine using these.

Harnesses with the eggs in them...


Single harness with egg outside of it...


Length:

5" / 7 1/4"

Insertable length:

2 1/4" / 4 1/4"

Circumference:

4 1/2"

Diameter:

2"

Weight:

6 oz

Performance:

I enjoy using these. I've really never used anything for my kegals before, but even just using the lightest egg, I could notice some minor differences. I've been able to identify my kegal muscles finally while using these.

I also like to use the single harness with one of the eggs internally while I stimulate my clit. It definitely adds some nice stimulation. I also like when I have one of the eggs in and my husband pulls on the string attached. It's a nice feeling.

These are pretty comfortable when using them. It's almost hard to know they're in there. It's nice though, because each egg has a small weight in it, which you can feel bumping against the egg. It's fantastic feeling, but also a little strange.

Care and Maintenance:

These are definitely easy to take care of. You can wash them off with soap and water or with toy cleaner. You can wash off the harnesses in boiling water, or in the top shelf of a dishwasher. The silicone can be sterilized but the plastic can't.

You can store these in the box it came in. I keep mine stored in a plastic baggie and in a toy box. They're not exactly discreet so I suggest keeping them stored away somewhere.

You can use water-based lube with this toy.

Care and cleaning:

Soap and water