California Exotic Bound By Diamonds diamond lover - Bullet from California Exotic

Bound By Diamonds diamond lover videos
Product Details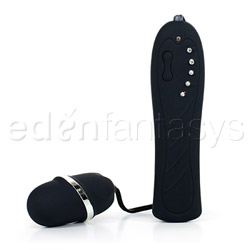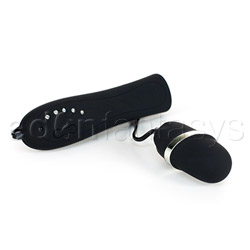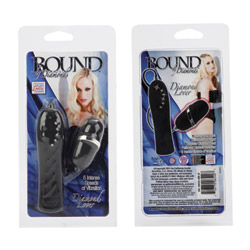 Summary:
The Diamond Lover Bullet, made by Cal Exotics, is the type of bullet that I wouldn't have expected to have such power. It is very well made. I was never a "bullet" type of girl, but this has changed my mind completely. I really love the style of this bullet, because it sparkles and shines. I love all things that are girly, so this bullet really worked for me. I enjoy using this externally instead of internally, but that is completely up to your preference.
Pros:
Strong vibrations, multiple settings, easy to use.
Cons:
Makes my hand kind of tingly.
Best use:
The Bound By Diamonds Bullet by Cal Exotics is one of those bullets that makes you wonder how they got so much power into such a tiny thing. I wondered that exact same thing when I tried this bullet out. I have only owned three bullets in my life, and they were nowhere close to the pleasure I received from this one. It is beautiful, with sparkly diamonds all around it, and it feels just lovely both inserted and in your hand. I was a bit intimidated by such a small object giving me such strong amounts of pleasure, but now that I have accepted it, I have a whole new outlook on bullets.

This bullet can be used internally or externally. It can be inserted into the vaginal area to give you high vibrations of pleasure, or it can be more clitorally focused. I personally like to insert this baby, get myself right on the edge, take it out, and go to town on my clitoris. I'm one of those girls.

It can be used for solo masturbation play, or with a lover. You can tease yourself or have your partner tease you with this little bullet of lust on your genital area or nipples. It will be sure to make both areas erect with tingling pleasure.
Material / Texture:

The material of this beautiful bullet is PU coated plastic. It is not flexible in any way and is extremely hard. It is sturdy and doesn't have any give. If you are the kind of person that likes some flexibility with your product, I wouldn't get this one. This is straight up the kind of the product that can take a beating, but in a really sturdy way.

There was absolutely no smell or taste to this product, which is how I like my products to be. I think you would obviously recommend the same.

It has only two textures, in my opinion. It is velvety, and it has a ribbed middle that gives a very nice feeling when pulled in and out of the genital area. It also feels nice on the clitoris, because of the texture added to this lovely product. It adds a lot to the appeal of this bullet, in my opinion.

The texture can be for anyone; I don't see a reason why it would be a problem. It is velvety for those people who like just seamless materials that are smooth, and there is a ribbed middle that doesn't cause much of a fuss.

Material:

PU coated plastic

Material safety

Texture:

Smooth

Safety features:

Food-grade material / Hypo-allergenic / Latex free / Phthalates free

Design / Shape / Size:

I honestly love the design of this bullet. I am not usually a bullet fan, but this has really changed my mind on a lot of my ideas regarding bullets. It is beautiful and small. The control case is small as well, so this is definitely travel friendly and can be easily hidden.

The shape worked for me just magnificently. It is the perfect size and shape for some true pleasure. It isn't too big and it isn't too small. I am not some size queen; well.. maybe a little bit, but the size was absolutely just right. If it were any bigger, I don't think I would have liked it as much.

I think that the size is great for everyone because it isn't as big as you would expect.

Color:

Black

Length:

2 1/4"

Insertable length:

2 1/4"

Circumference:

3 1/2"

Diameter:

1"

Weight:

0.2 lb

Functions / Performance / Controls:

There are five settings. Each setting is pretty unique but I will tell you about them. I've noticed that with this bullet, it is different in sound with each setting. I know that sounds like any normal vibrator or bullet, but this is dramatically different in sound.

The first 2-3 settings feel very nice. They are the lower settings and the medium settings. They feel very pleasurable, and they are the quieter settings. After you turn up the settings to 4-5, it will become dramatically more pleasurable and also very noisy. We never like toys that are dramatically noisy and will be heard. I know that the first three settings cannot be heard behind a closed door, but the other two... I can hear them in my kitchen, which is across the house. That is one of the downfalls of this product, but there isn't many of them. I just don't like toys that are loud.

The vibrations are located in the bullet, obviously. If you hold the bullet in your hand too long, your hand may feel tingly and numb. It doesn't feel very amazing. The controller is nice to hold since it doesn't vibrate at all, and just allows you to control the pleasure that you are receiving.

My favorite function is number three. It is a very lovable setting that is on the medium side, but quiet. You cannot hear this behind a closed door. The other two higher settings are divine, but I only use them when no one is home. I wish I could use them all the time, but alas, they are too loud.

The controls are very easy to use. This toy is not waterproof and I highly recommend never submerging this bullet. Do not do it, it will break. It has a cord.

Functions:

Vibrating

Special Features:

Light indicators
Multispeed
Powerful

Control type:

Control pack

Powered By:

Aaa-3

Care and Maintenance:

This bullet is made out of plastic. It is very easy to clean. Personally, I wipe down this product with an antibacterial wipe and put it in a plastic baggie for safe keeping in my toy box. You can clean this with warm water and some mild soap as well.

You can use any type of lubricant that you desire on this toy. I use all water-based lubricants on all my toys because it feels nice to me. You can use whatever you want. I just recommend water-based lubricants because they are compatible with everything.

Care and cleaning:

Soap and water