California Exotic Extreme butterfly frenzy bullet - Bullet from California Exotic

Extreme butterfly frenzy bullet videos
Product Details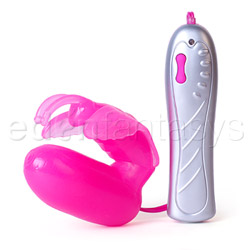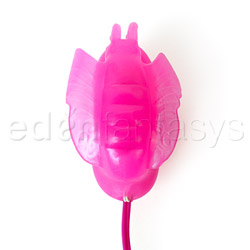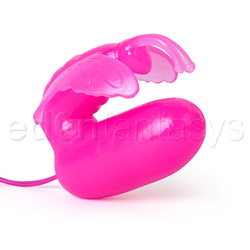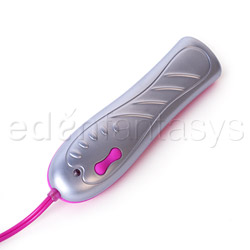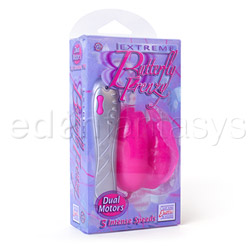 Summary:
If you're not fond of the large size of rabbit vibrators but you crave the feeling of dual stimulation, the Extreme Butterfly Frenzy may be just what you need. That is, of course, unless you are the type of woman who prefers to use a different level of vibrations vaginally than clitorally.
Pros:
Two motors, five speeds, strong vibrations.
Cons:
One controller for both motors, somewhat loud on the higher settings.
Best use:
The Extreme Butterfly Frenzy is a corded vibrator that is designed for women to insert the rounded bullet portion while having the butterfly stimulate her clitoris. It only penetrates a short way into the body, and the design allows the toy to stimulate all of those sensitive nerve endings from the opening of the vagina right on up to the clit. Women with shallow G-spots will undoubtedly get some extra joy out of it there as well.
Material / Texture:

The pink portion is made of a synthetic rubber (TPR) that contains no latex or phthalates and is very pliable. It provides enough cushioning over the hard insertable bullet to keep things comfortable, and allows one to press the butterfly against the clit without any discomfort either. It's odorless, but slightly sticky, so when it's rubbed across the skin there is quite a bit of "drag" to the surface until lube is applied.

The controller is made of ABS plastic, which is also odorless, and the back half has a polyurethane coating on it that makes it feel soft to the touch.

Material:

TPR

Material safety

Texture:

Ribbed / Smooth

Safety features:

Hypo-allergenic / Latex free / Phthalates free

Design / Shape / Size:

This is palm-sized toy, with the bullet having an average width and only around 2" of insertable length, so it would be non-intimidating for users of any experience level. It also wouldn't be difficult to gather up the cord and tuck everything into a Ziploc bag for travel.

The controller is very slim both in width and thickness so it's easy to hold even for smaller hands, and there's a slide-off panel on the back where you insert 3 AAA batteries (not included). A 27" cord, which is reinforced at both ends, attaches it to the bottom of the bullet portion of the vibrating unit. The butterfly is attached to the side of the bullet near the bottom via a thick section of TPR that allows it to flex outward as far as you need it to go.

Length:

2 1/4"

Insertable length:

1 3/4"

Circumference:

3 1/4"

Diameter:

1"

Clitoral attachment shape:

Butterfly

Weight:

3.7 oz

Functions / Performance / Controls:

The Extreme Butterfly Frenzy sports two motors; one inside the bullet and one in the butterfly's body, so there aren't any "dead spots" on the toy that lack vibrations. They are, however, controlled simultaneously so this may not be the ideal vibrator for anyone who needs stronger vibrations internally than externally (or vice versa).

There are two buttons on the controller; up and down. With audible clicking sounds, one button turns the toy on and increases the speed, and the other decreases them and turns it off. There are 5 levels of steady vibrations, ranging from average intensity to very strong, and the vibrations are rather "tappy" feeling compared to the bumblebee buzzing of so many others. The toy makes a grumbling sound that's somewhat loud, particularly on the last 3 speeds. It can't be heard through a closed door, but some users may find the sound level to be a bit distracting.

Functions:

Vibrating

Special Features:

Light indicators
Multispeed
Powerful
Travel
Two motors

Control type:

Control pack

Powered By:

Aaa-3

Care and Maintenance:

TPR material is easily cleaned with antibacterial soap and water, but you have to be careful with this toy because no part of it should be submerged. There is an opening at the base of the bullet where the cord attaches that could potentially allow water inside and damage the toy, so it would be best to do any rinsing with the bullet facing upward. The controller can be wiped clean with a damp cloth or toy cleaner towelette.

This toy cannot be sanitized by boiling, bleaching, or other means so it would be best not to share it.

It's compatible only with water-based lubricants.

Experience:

Michele says:
As soon as I realized that this toy ran both motors at the same speed I knew it wasn't going to work quite right for me. For a toy to get me off I generally need strong vibrations on my clit, but vibes of the same strength used internally have always been uncomfortable for me. Needless to say, although the Butterfly Frenzy did hit my clitoris when inserted, it was an exercise in frustration for me until Alan got creative with it. Since the connection between the butterfly and the bullet is so flexible, he basically spread it out and cupped it against me so the toy lay in my crotch, and that's when I started to like it. The vibrations were strong enough to tease everything from my clit to my anus, which was *very* nice!

Alan says:
It's a decent foreplay toy, but as the guy who has to control it I'm not all that fond of it. First off, there is an LED light right above the control buttons that's brighter than any I've seen on a toy so far, and it hurts my eyes to look toward it. Using two buttons without looking at them is no difficult feat, but there is a line of raised plastic marks of the same height right next to them that can really throw a guy off in the dark. I'm not even going to tell you how many times I poked those marks thinking "Why isn't this damned thing working?" Other than that, the fact that I have to hold it apart and that my wife tends to prefer this thing running at top speed means I have a numb hand in a very short time.

I'm sure it would be great for people who use the toy as it's meant to be used, which is why we're giving it four stars, but it just isn't the best choice for us.