Shots media Touche Ice small - Egg from Shots media

Product Details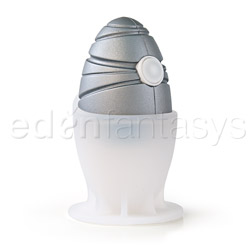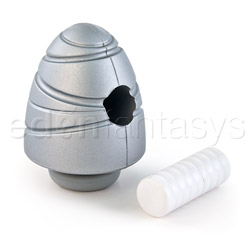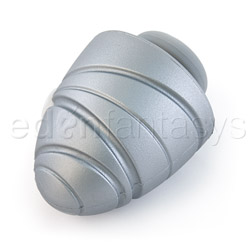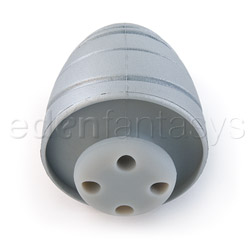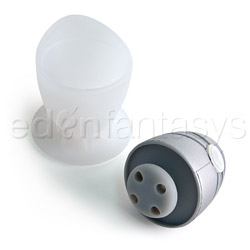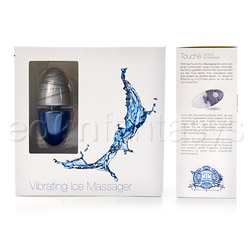 Summary:
This product is the only one of its kind. The Touché ice is a vibrating ice massager intended to be used on any part of the body that needs to be cooled down. It is made of a durable material therefore should last a lifetime. The great design allows you to stimulate your partner without freezing your own fingers which is a blessing if you enjoy playing with ice.
Pros:
Silicone, easy maintenance, ingenious, temp play.
Cons:
Easier way to remove the bullet.
Best use:
This is a vibrating ice massager. It has a vibrator bullet inside but I think the main purpose of this product is its funnest feature, the possibility to have it "iced" for temperature play.

This product can stimulate any part of the body except for most obviously not the eyeballs, hair or nails. But anywhere else is "Burrr-fect". In all honesty, this toy is one that should probably be in everyone's toy collection seeing as everyone will at least once try to fool around with an ice cube to play with cold temperature.

This toy might be used more in places or circumstances involving a lot of heat. Such as living in a hot climate, playing around in a sauna or making love in front of the fireplace. The difference of the heat around the body and the coolness of the ice can provide an electrifying type of stimulation.
Material / Texture:

According to Touché, the product is made of the highest medical grade silicone. The pink part is most likely made of silicone, However, the milky white part may not be since silicone reacts to silicone. So if both were silicone they would react to each other.

The toy doesn't smell plastic-y but it smells like a new toy. Both the pink part and milky white cup are extremely soft. The cup is more supple than the pink part. The silicone doesn't taste like anything. The ice tastes like ice and no undesirable flavor is picked up by the process of making ice.

The texture on the pink part is very helpful. The grooves helps one to hold onto the product.

Material:

Silicone

Material safety

Texture:

Ribbed

Safety features:

Food-grade material / Hypo-allergenic / Latex free / Non-porous / Phthalates free

Design / Shape / Size:

The design is original!

No one has ever made a toy quite like this one. It is made in such a way that one can stimulate an other with ice without numbing there own fingers from the coldness of the ice itself due to the awesome pink egg-like grip. It has worked very well for me and probably would for anyone. I might suggest the larger one for those who have larger hands and larger fingers.

This is a "for everyone" kind of toy. You don't have to be a beginner or advanced user to be able to enjoy this toy. You simply have to love trying new things, such as temp play with ice. That's it!

The sound of the vibe is quite low. It runs on miniature watch batteries (I never knew they came this small) that are included with the toy, thank goodness for Touché! This is actually quite easy to hide; the bullet itself even more. The toy in totality may be enjoyable for travel if you are staying at a hotel with a good fridge that has a good freezer. It probably wouldn't be the first toy at the top of your list if you're going away on a vacation. Although, if you are traveling from one destination in order to live at another, then you should definitely bring this one along.

Length:

3 1/2"

Circumference:

5"

Diameter:

1 1/2"

Weight:

0.3 lb

Functions / Performance / Controls:

In terms of the toy's vibration, it takes much more than watch batteries to stun my clit; but when used to massage the back it is quite nice. The vibes are light and tingly. The vibes are more concentrated in the middle part of the pink grip, and the ice carries the vibrations - they aren't as strong as they are in the silicone grip. The bullet has one level of vibration, and it's turned on and off by pushing the little button at the end.

The toy's best function is really its primary function. The pink grip makes it easy and comfortable to glide the ice across someones back, leg, or chest.

The one little hick is that the bullet is slightly difficult to take out of its hole in the pink grip. A bullet key is included with the toy. The directions demonstrate with pictures and writing how to use the key. The larger version doesn't require a key, so it may or may not be easier to remove it from the larger version as the bullet is placed differently inside the toy (90 degree instead of 45 degree angle in the small one).

It is fairly easy to make the ice. You simply fill the white cup with water, sit the pink part into it, and put it in the freezer. The white part has a sort of lip, so that you can flip it to facilitate removing the ice. The ice takes roughly 4 hours to form. Be patient and let it sit for the whole time. I tried to take it out after two hours which resulted in the ice remaining intact, but the ice wasn't securely attached so it slide on the pink gripper like a door knob.

If not enough water is added a gap can form between the ice and the holder.

Functions:

Vibrating

Special Features:

Control type:

Push button

Powered By:

2 watch batteries

Care and Maintenance:

This toy is very easy to care for. You can pop it in the top rack of your dish washer (with no soap), you can boil it for 3 minutes, or use antibacterial sex toy cleaner. I wouldn't be too worried about the bacteria associated with genitalia, seeing as it will come in contact with virtually only fingers.

It can be stored in it's shell casing or in a plastic bag. It is best to let it air dry since the texture of the silicone tends to catch dust and fuzz. I would recommend washing it before and after every use to make sure it is always in tip top condition.

It is only compatible with a water-based lube. It may be compatible with some high grade silicone lubes, you just do a patch test.

Care and cleaning:

Bleachable / Boilable / Dishwasher safe

Packaging:

The toy comes in a nice little white box with a window which allows you to see the product within its shell casing. The box has a nice little passage boasting the innovation of the product and its quality, this is translated in 5 other languages.

The instructions are very simple. They provide a nice little step by step drawing of how to use the product. There is an instructional manual included in the box that reiterates the same info found on the box itself. The other side of the manual demonstrates 13 other products that are made by Touché.

This box can be used to store the toy itself but it is pretty bulky if you have an average toy box. I tend to store my toys outside of the shell casing they came in for easy access. If I don't really like a toy I generally put it back in its shell and store it far from my eyes but it is unlikely this will happen with this product.

It could be easily wrapped up, if it were purchased to be given as a gift. It is possible that those who are new to sex toys find this product non-intimidating and overall pretty alluring. It will last a long time due to the high quality materials used to produce it. It is not sexual looking at all.

Experience:

We don't really use the vibration feature of the product.

My favorite way to use it, is to start by dragging it along his back slowly and watch it form a line of water; and lick it up slowly with my warm tongue. It's also wonderful to use on the nipple to make them erect and then to suck on the nipples to make them warm again.

I don't really enjoy the direct contact of ice but I love it when my partner sucks on the ice and then kisses my erogenous zones. He usually keeps a glass of warm water to switch from a cool mouth to a warm mouth and back again. It makes cunnilingus a new kind of adventure. His cold tongue against my warm nether lips was so delicious.

I haven't used it in the shower yet but I plan too. Just the feel of the cold tiles when making love in the shower is wonderful, adding a nice little Touche Ice could only make it even better.

It was nice to discover a new way of stimulating each other and finding new places on my body that are sensitive to new sensations.