NMC Ltd Angelic dreams - Realistic vibrator from NMC Ltd

Product Details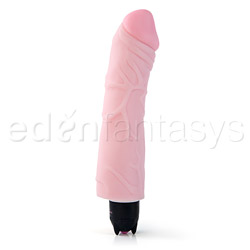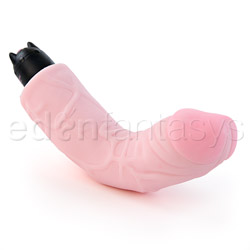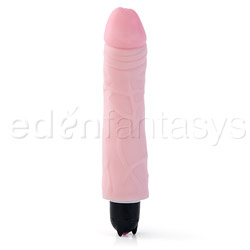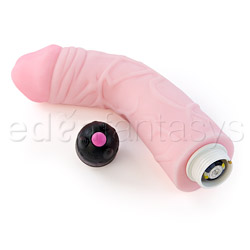 Summary:
If you don't like rock-hard vibrators with enough power to chip a tooth, then this gentle lover will be perfect for you. It has a soft cushiony feel with two levels of vibration, and can be bent to multiple angles for new sensations. Best of all, it's absolutely waterproof!
Pros:
Soft skin-like texture. Bendable. Waterproof.
Cons:
May be too gentle for some.
Best use:
The Angelic Dreams is a two-speed realistic vibrator that is ideal for women who prefer a gentler ride, or for those who are just starting out and may be feeling a bit timid about trying a vibrator. It has a super soft skin-like texture that feels great, both on the clitoris and when used vaginally, and you can bend the shaft to find that perfect angle to suit your needs. It's also waterproof for bath and shower play.

Since this toy does not have a flared base and it is possible to remove the shaft sleeve from the inner core, it would definitely not be the safest choice for anal use though.
Material / Texture:

The Angelic Dreams vibrator has an ABS plastic base and inner core that supports a shaft made of Loveclone RX, which is a patented type of TPR that is made to mimic real skin. It has a slight rubbery scent, but only if you put your nose right up to it, and a dense cushiony feel with a luxuriously soft smooth texture.

It's stronger than many of the other realistic skin-type materials though, so it isn't something you'll have to handle with kid gloves.

Material:

TPR

Material safety

Texture:

Textured head / Veined / Velvety

Safety features:

Hypo-allergenic / Latex free / Phthalates free

Design / Shape / Size:

The Angelic Dreams features a wonderfully realistic head shape that is just firm enough to be easy to insert, but cushiony enough that you don't have to worry about bruising yourself with deep thrusting. The shaft has a network of veins that are a little too pronounced to be realistic, but do add subtle pleasant sensations during use.

The plastic inner core has a joint in the center that lets you bend and click the shaft into four different angles, ranging from a mild curve that can help in finding the G-spot to a near ninety degree angle that allows you to stimulate the clitoris and labia without having to put your hand in any awkward positions. If you've been very diligent about doing your Kegels and have strong vaginal muscles, it might be possible to un-bend the toy if you clamped down on it while it was inside, but this isn't something that would happen very easily at all.

With only a 7-1/2" overall length and 1-1/2" width, the Angelic Dreams is not only sized to be comfortable for most users but is also not too large to tuck away in a drawer or a travel bag.

Color:

Pink

Length:

7 3/4"

Insertable length:

6 1/2"

Circumference:

5"

Diameter:

1 1/2"

Weight:

10 oz

Functions / Performance / Controls:

One AA sized battery (not included) is all it takes to power this vibrator, and the plastic end cap unscrews to reveal the battery compartment. Two things are impressive as soon as you open the cap; one is that there are a lot more threads on the cap than the average vibrator has, so it really screws down tight, and the other is that the battery fits firmly inside and does not rattle around at all.

There is a single push button on the bottom of the cap to click through the two vibration levels, and it is nearly impossible to accidentally hit that button during use.

The first speed gives you gentle buzzy vibrations similar to a cell phone's, and the second produces medium-level vibrations, both of which are nearly silent and can barely be heard outside of the covers. However, if you bend the toy to the side more than two clicks, the vibrations get a bit louder so that they would be heard through the covers but not through a closed door. The vibrations travel wonderfully along the entire shaft of the toy, and can be felt a little more strongly right at the tip.

The Angelic Dreams is a waterproof vibrator, and submerging it in the tub for long periods of time does it no harm.

Functions:

Vibrating

Special Features:

Control type:

Built in control pad

Powered By:

Aa-1

Care and Maintenance:

Unlike some other "skin like" materials, Loveclone RX is easy to care for and doesn't require any powder to maintain its satiny feel. Just wash it with soap and water, or use your favorite toy cleaner, and then be sure it's dry before storing. Only water-based lubes are compatible with this toy.

Since the material is semi-porous and there is no way to really sterilize it, you may want to put a condom on it before use.

Packaging:

This toy comes in a simple clear plastic clam shell-style package that is easy to pull apart from the top. It has a cardboard insert with descriptions of the vibrator's features on it, and a paper inside that gives instructions for inserting the battery. The package is strong enough to be used for storage if need be, and would be easy to wrap for gift giving.

Experience:

Michele says:
I like toys that are softer and have gentle vibes for internal use, so this one was right up my... alley. It's probably the most comfortable vibrator I've ever used, and while the curve feature somehow manages to miss my G-spot directly, it still feels good enough in general that I can build up to one of those deep satisfying orgasms with it. The vibes aren't strong enough to do it for me when used on my clitoris, but it totally makes up for that once its inside.

Alan says:
Unfortunately I couldn't play with this toy at all because when I did the sniff test something about it set off my allergies. I left Michele to it and then tried again the next day with the same result, so I wasn't willing to mess with it for any more. I doubt that very many other people would have the same reaction though, because my system can be really weird sometimes.