NMC Ltd Gentle play - Realistic vibrator from NMC Ltd

Product Details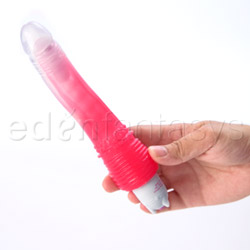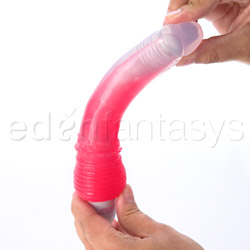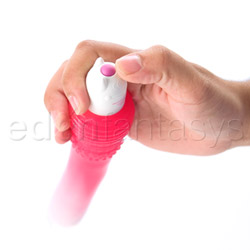 Summary:
If your looking for a first vibe the Gentle play 7" is perfect. Not overly large, and the vibe won't shake you off the bed. As experienced toy users Di and I still found this vibe a pleasure to play with, despite some of its short cummings.
Pros:
Beginner friendly, Easy to clean, Great for anal play
Cons:
Flexible shaft weak, Vibe weak, could be longer
Best use:
As the title implies Gentle play 7" is the ideal toy for beginners, whether for vaginal or anal play. If you've never used a sex toy before this little vibe will get you started. It's small size, and slender shape make it very easy to insert anywhere. Being an excellent toy for beginners does in no way detract from being fun for the experienced toy user. Di and I had a wonderful time playing with the Gentle play vibe.
Material / Texture:

Being made of plastic and non porous silicone the Gentle play 7" is very easy to care for. A good washing in hot water with an anti-bacterial soap will keep it clean enough for the next use. Being made of silicone be sure to use non-silicone based lubes. It has absolutely no smell and is soft to the touch yet firm enough for good penetration. Having mostly a smooth shaft even the most inexperienced beginner should find it easy to insert and comfortable to use.

Material:

Silicone

Material safety

Texture:

Nubbed / Ribbed / Smooth

Safety features:

Food-grade material / Hypo-allergenic / Latex free / Non-porous / Phthalates free

Design / Shape / Size:

The shape and basic design are very good. The 5 inch shaft is smooth and shaped like a slender cock complete with head and very small ridges. The pointy cock head make it very easy to insert anally or vaginally. The vibe for me was very nice for anal play size wise but, Di said she wished it was longer when she used it on her pussy. The info on the Gentle play 7 says it has seven inches which are insertable. Bye the time Di got seven inches in her pussy all that was sticking out was the control button. The info also says it's 1 5/8 inches in Dia., but the only part thats that large is the last inch 0f the silicone cover. I'll explain in our experience below how this helped make Di very tingly and excited. In a way the one inch thick shaft with the 1 5/8 inch thick base make this vibe very beginner and experienced user friendly and very good for anal play. I have to agree with Di, the clear and pink color is very pretty.

Color:

Red

Length:

8 1/4"

Insertable length:

7"

Circumference:

5 1/2"

Diameter:

1 5/8"

Weight:

7 oz

Functions / Performance / Controls:

As an experienced toy users I have to admit Di and I were slightly disappointed in the function of the Gentle play. It's suppose to be bendable which is a function we enjoy in toys. It's nice to bend them so we can do G-spot or prostate stimulation but, unfortunately when the Gentle play is bent it doesn't hold it's shape, especially in a pussy or butt that are flexing during sex. We were also not impressed with the viberator which is rather weak and has only two speeds. As far as noise goes it is very quite, hence the lack of power. The button for the vibe is located in the bottom of the base and very easy to use. When it comes to being waterproof, Di gave it a wonderful test. She erupted in a huge gushing, squirting orgasm and completely drenched the Gentle play 7 and it stayed nice and dry inside the battery compartment.

Functions:

Vibrating

Special Features:

Bendable
Multispeed
Waterproof

Control type:

Push button

Powered By:

Aa-1

Care and Maintenance:

As I said before, the Gentle play 7 is made of silicone and plastic which are both non-porous materials. This means cleaning with a good anti-bacterial soap and hot water should be all it needs. If your using it anally and sharing the Gentle play I would still recommend using a condom on it, better safe than sorry. And again a reminder to not use silicone based lube or you may destroy this pretty, little vibe.

Experience:

Even though the Gentle play 7" was a little smaller then Di and I like and had a weaker then normal vibe and didn't hold its shape when bent we still had a wonderful time with it.
On the day the Gentle play arrived my wife Di and I went to bed that night and as usual as our naked bodies rubbed together under the covers we both became aroused. As I kissed her and moved down and started sucking her ample breasts and rubbing her now swollen clit she whispered in my ear, " Can I try the new toy ?". Not one to deny Di anything I pulled it out of the cabinet and handed it to her while I went back to her beautiful tits and hard nipples. As my fingers brushed over her hard clit she slipped the vibe into her wet pussy and began slow in and out stroking. I could see her working the vibe in and out but, after turning the vibe on and putting it on high she pushed the Gentle play almost all the way into her soaking pussy and started rubbing her clit while I sucked and nibbled her nipples. As soon as the vibe was all the way in her pussy; nothing but the control button sticking out, Di let out a very loud moan and her body was trembling. With the Gentle play buried in her pussy, her fingers flying over her hard clit, and my teeth biting her hard nipples, Di exploded in a huge gushing orgasm with at least five huge squirts of cum.
After she calmed down and had enjoyed her pleasures I asked her how much the vibe added to her orgasm and she said that when she finally got it inserted all the way and the bulging end right above the control button was pressing against her G-spot it made her very tingly and felt great.
I personally tried the Gentle play myself this morning and have to say that I enjoyed it allot. After slipping a condom on it and lubing it well the Gentle play slipped easily into my ass and I found by pointing the end with the control button in it toward my back the pointy cock head end with the vibe in it rubbed my prostate very nicely and coupled with my other hand stroking my hard cock produced quite a few nice orgasms.