California Exotic Glow in the dark vibrating emperor - Realistic vibrator from California Exotic

Glow in the dark vibrating emperor videos
Product Details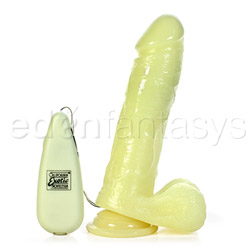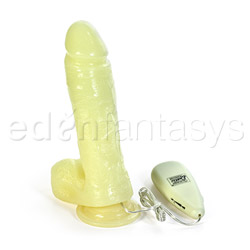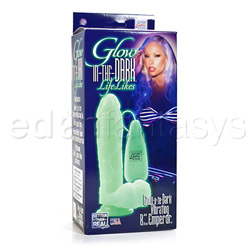 Summary:
This toy is a great way to break into larger toys. I love the bigger toys personally. The girth is what does it for me. If that does it for you too, this is a great start. This toy is definitely worth the buy; it's something you can use over and over without getting tired of the same feeling.
Pros:
The girth is a great intro to larger toys. The material holds heat well. It's easy to clean.
Cons:
The suction cup was the worse possible feature; it did not work at all.
Best use:
If you are just starting to use larger toys this one can be a bit scary. You look at it in the package and think "Oh, my god, this is a large toy!" I bought this toy because I was looking for a toy that was larger than normal. It was just that: a good alternative to the smaller penis shaped toys. It has a nice girth without being crazy large.

The material gives a little without being flimsy. It's soft and holds your body heat well. I like the feel of heat while using a toy.

It has a decent vibrator. The vibrator could be stronger because I personally like it when a toy has super powerful vibration. There is a large bullet located high up in the shaft closer to the head of the toy, which is a good location because you can easily move it in and out to where it feels best. The bullet in mine got a short in the wire shortly after using it, so the vibrations go in and out at random times, but it is still usable. It also adds a nice surprise burst of vibration.

The suction cup on the toy is worthless. It pulls out of the shaft after 2 or 3 uses and does not stay suctioned no matter what you may stick it to.

The toy is easily taken apart once the suction cup comes out. I tried gluing it back in, but it does not stay no matter what I have tried using. The outer shaft makes a good sleeve if you want to give another toy added thickness.

Although it is not waterproof, it is super easy to clean and is something that can get a little wet. If you are just using it without the bullet you can put it down in water.

I've really not paid attention to the glow-in-the-dark feature since I only have the toy out when using it. The glow-in-the-dark factor was not a selling point for me. I would have bought the toy whether it glowed or not.
Material / Texture:

When opening the package there was a plastic smell that went away with time and washing with soap and water. It is a softer material, but not limp. It keeps shape if you pull the bullet out of it. The balls are stiff; I use them as a handle. I wouldn't bend it too much because you will break the wire like I did, but it can be flexed some. I would also try to keep it dry to prevent the spotting that some toys get after having them for a while.

Material:

Better-Than-Real®

Material safety

Texture:

Textured head / Veined

Safety features:

Food-grade material / Hypo-allergenic / Latex free / Phthalates free

Design / Shape / Size:

The shape of this toy is realistic. It looks like a penis. The balls are the right size: not too big or too small. They are kinda funny looking when you first look at the toy, but they make a great handle while using it.

The vibrator is easy to work with a simple spin dial to turn it on and adjust its strenght. It does turn on by itself if it hits something, so I would remove batteries when not in use.

The suction cup could be better designed. You can, however, replace the bullet by pulling it out.

The size is something that I would recommend to people who want to try a larger toy or someone who likes larger toys in the first place. This is not the biggest thing out there, but it isn't a toy I would recommend for first time vibrator users.

You can't hide the toy so it is not a travel toy. Rather, it is a stay at home toy you pull out when you have some time to play.

Color:

Green

Length:

8"

Insertable length:

6 3/4"

Circumference:

6 1/2"

Diameter:

1 3/4"

Weight:

1.5 lb

Functions / Performance / Controls:

The toy is not waterproof, but it can get a little wet during cleaning of it.

It has a bullet located in the shaft inside of a sleeve. The bullet works with a dial. There is no locked off position on the switch, so that is a downfall of the toy. The vibrator is very easy to turn on and can waste batteries by accidently turning on while not being used.

The vibrator itself is very quiet. You can hear it, but it is not what you focus on when playing. I have had some toys that sound like car engines and that is all you can notice while playing. The vibrator is muffled when inserted and is hardly heard.

The actual vibrations could be stronger, but the bullet puts out a decent amount.

Functions:

Vibrating

Special Features:

Flared base
Glow in the dark
Glowing in the dark controls
Multispeed
Phthalates free
Realistic design
Suction cup

Control type:

Control pack

Powered By:

Aa-2

Care and Maintenance:

This toy is super easy to care for. You pretty much just wash it after each use, making sure to not get the remote wet.

You must keep the toy as dry as you can. It does develop purple spots on it, which are impossible to remove. You can fit a condom over it if you want during use.

I keep mine is a dark, dry space. I would keep it away from extremely hot spaces because I am not sure how well the fleshy material will hold up in the heat.

Experience:

I loved using this toy, until the vibrator got a short. It isn't used as often now, but I still love pulling it out and using it even though the vibrator doesn't work 100%. I am still looking for a bullet to replace the one came with it because the shape and feel of it is something I do not want to get rid of.