NMC Ltd Remedy rider - Realistic vibrator from NMC Ltd

Product Details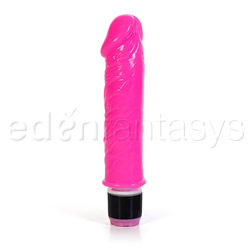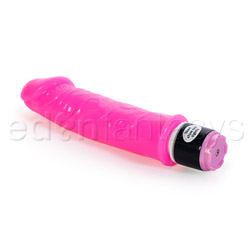 Summary:
The Remedy has an excellent shape that defines its head beautifully. Paired with the pliable silicone material and veined texture, the Remedy is an excellent toy for thrusting and teasing the g-spot. It's also super easy to use and only requires a single battery!
Pros:
Shape, ease of use, material is plush, flexes, petite, quiet.
Cons:
Petite, vibrations are moderate (for some).
Best use:
The Remedy Rider is a soft, realistic, and flexible petite vibrator with great texture and steady vibrations. You can take her hot pinkness to the shower or tub, and it's also roommate approved with a quiet motor. Remedy Rider also has a lot of flex. It can bend in any direction, but still has enough firmness to apply pressure to the g-spot. It has an easy to control power dial, and only runs on a single AA battery! Remedy is made of 100% silicone and is extremely durable. With its petite size, Remedy is also easy to travel with or hide.

Remedy is not suitable for anal use due to the lack of an adequate base.
Material / Texture:

Remedy is made of 100% silicone. It's a softer silicone, so it does have considerable drag, but it has a wonderful plushness and give to it. The softer silicone material flexes nicely and makes its texture feel more realistic. The vibrator is able to bend in any direction. Silicone is an excellent material. It's nonporous and hypoallergenic, as well as free of both latex and phthalates. It's completely safe for those with allergies. The bright hot pink color is a lot of fun! It has a very slight odor right out of the package, but it decreases quickly.

Material:

Silicone

Material safety

Texture:

Ribbed / Veined

Safety features:

Food-grade material / Hypo-allergenic / Latex free / Non-porous / Phthalates free

Design / Shape / Size:

Other than being bright pink, the Remedy has a realistic design. Its shape is perfectly proportioned so that there is a wonderful head that protrudes from the shaft. There is a short varicose vein underneath the head, but it does not travel the entire length of the underside of the shaft. The top side of the shaft also has heavier veining than the bottom. Right underneath the head is a band of vertical ripples.



Remedy is a moderate sized vibrator that is probably considered petite by most women. It does not have a whole lot of length or girth, but it's sized just about right to get the correct areas, and it won't feel cumbersome to maneuver and handle. The total length is 6 3/8". The insertable length is 5 1/4". There is a small lip at the base of the insertable portion, but it is not really large enough to make the toy very safe for anal insertion.

The head is 1 1 /4" long. At the widest point, it is 1 3/8" at the base of the head. The rest of the shaft is about 1 1/8" wide. This varies because of the veining texture. It is about 3 3/4" around. This thickness might not be enough for everyone. About half way down the vibrator is where it has the ability to bend about 45 degrees in any direction.



The base has a twist dial for power control. It unscrews so that a single AA battery can be inserted. There won't be tons of money spent on batteries for this vibrator!



It's clearly not discreet due to the color and phallic design. It is small enough to be suitable for suitcase type travel, but is too large for most purses.



Color:

Black / Hot pink

Length:

6 1/2"

Insertable length:

5"

Circumference:

3 1/4"

Diameter:

1 1/4"

Weight:

0.2 lb

Functions / Performance / Controls:

Remedy has a simple twisting dial for the power control. As the dial is gradually turned, the steady level of vibration also slowly increases. The vibrations feel pretty even through the shaft of the vibrator, but are slightly higher in the top third of the toy. When you turn the toy all the way up, it takes a large jump to a higher level of vibration when the need for a quick or intense orgasm is there. Just crank it up! The noise level is very low and totally appropriate for use when roommates are in the next room or possibly even just sleeping.

Functions:

Vibrating

Special Features:

Multispeed
Realistic design
Waterproof

Control type:

Dial-base

Powered By:

Aa-1

Care and Maintenance:

Remedy is very easy to care for. The vibrator is waterproof, so it can be rinsed with warm water and soap. A soft bristled brush may need to be used on the various textures. Since the material is silicone, it can not be used with silicone lubricant. That type of lubricant could gum up the material. A water based lubricant works well. To store, you can place the vibrator in its original packaging after it dries. Remove the battery before doing so.

Care and cleaning:

Soap and water

Packaging:

The Remedy comes in a plastic clam shell case. It has a cardboard insert with plenty of information about the toy. The front explains the toy and highlights its features while the back goes into more technical detail. The front of the package has a sample piece of the material sticking through. It works well for storage, but is larger than it needs to be. It can be recycled.

Personal comments:

Here is my subjective part of the review: The Remedy has some awesome texture and the head is great! I wasn't expecting to like this toy much, but the shorter length is actually good for fast thrusting. I like the thrust the head right over the g-spot.

In regards to the material, I was skeptical that it was 100% silicone. I say this because I had a similar feeling/looking toy and it was not. It looks like it is even from the same mother company due to the packaging. However, I put this to the flame test. It did turn black, but wiped off. It did not melt, though. It's funny because the back of the package basically tells you how to test for 100% silicone and one of the things it says is that if it has any odor it doesn't pass the test. I don't agree with that. I have 100% silicone products that do have a slight odor. That aside, I'd say this is 100% silicone.

The waterproofness...this is up for grabs. While the battery compartment is totally waterproof, I'm not sure that water is unable to damage this toy. The pink portion is actually a sleeve, but I was able to roll it half way up the toy before I met resistance. I was unable to see if there is some sort of gluing past that to protect the bullet which is a little further up. That said, just be cautious when submerging this and always let it dry before storing.

Again, I was surprised by this vibrator. The cheaper looking packaging made me think this wouldn't be as great. I was sorely mistaken. If you like realistic shaped toys and don't require big vibes, this toy is awesome. The vibrations are buzzy, but not cheap or rattly. The silicone material help buffer them. They are enough for me externally, but I'd like more internally. Luckily the luscious head makes up for it! I rather like my Remedy.