Doc Johnson The vibro realistic cock - Realistic vibrator from Doc Johnson

Product Details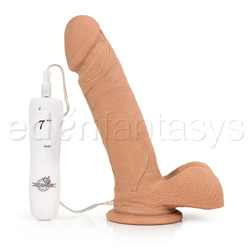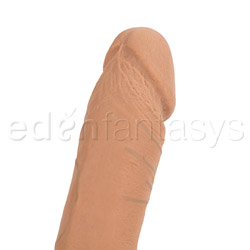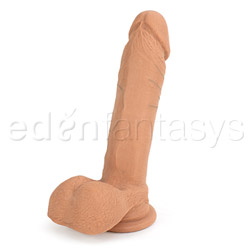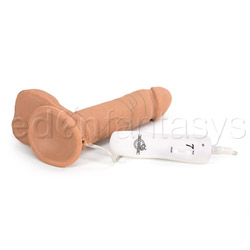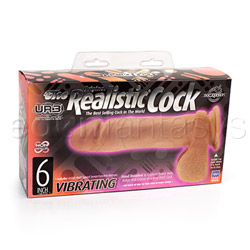 Summary:
If you like realistic vibrators, this one might be perfect for you! It's a little on the thick side, but if you like girthy toys this one would work quite well. It has a suction cup on the end that sticks to just about anything, too!
Pros:
Realistic, strong, multi-function, multi-speed, suction cup, comes with storage bag.
Cons:
Girthy, not discreet.
Best use:
This is a very realistic vibrator with a lot of perks. It's multi-function and multi-speed. It's also girthy for those of you who like a little thickness in your toys. It might be too thick for beginners though, so you might want to stay away if you're still a beginner.

This toy is great for internal use and g-spot stimulation. Since it's so realistic, it even has balls, which create a flared base so you can use this toy anally. It also has a suction cup on the end that really sticks to just about anything. This isn't waterproof though, so I wouldn't bring it into the shower.

You can use this toy by yourself or with a partner.


Material / Texture:

This toy is made from UR3, or Ultra Realistic 3.0. It really is very realistic feeling. It's as close to skin as I've felt on any toy. It's a very soft material, and flexible. If you put lube on it and act like you're masturbating it, it even has almost the same loose skin feeling as a real penis would.

This toy has some texture as well, but not much of it is really felt internally. The only thing you'd really feel internally is the texture around the head; because the head is slightly more bulbous than the rest of the toy, you can feel that difference.

The rest of the texture consists of the veins that cover the shaft in a very life-like manner. There are some slight wrinkles around the head, and the balls are also very wrinkly. There is even a little notch on the tip that looks like a pee hole.

The texture could be for either beginners or advanced users, though some people may be disturbed by just how realistic it is. Others may love it!

The UR3 does also have a slight odor. It's almost a light floral smell. It does kind of linger on your hands, but fades away when you wash them. The smell takes longer to fade from the actual toy, though.

Material:

Ultra realistic 3.0 (UR3)

Material safety

Texture:

Veined

Safety features:

Anti-bacterial property / Latex free / Phthalates free

Design / Shape / Size:

This is an extremely realistic vibrator. The shaft looks exactly like a penis, and it even has wrinkly balls hanging down from the end. The tip of the shaft has a head that is slightly more bulbous than the rest of the toy. You can really feel that internally. The tip of the penis even has a little notch that looks like a pee hole. Then there are veins along the top of the shaft that look very realistic.

The balls are a bit smaller than normal balls would be, but they're still nice looking. They don't flop around or anything, though. They do make a great flared base. On the back of the balls is a suction cup that sticks to most surfaces, including my hand. You can use this in various ways.

The cord for the remote comes from the top of the toy above the balls. The cord is about 2' long. The remote is slim and easy to use and hold.

This toy is pretty big. It's got about 6 1/2" of insertable length and 5 1/4" of circumference. It's quite girthy, and I wouldn't recommend this to beginners. If you like thicker toys, though, this would be perfect.

This is also not a very discreet toy at all. It does come with a nice little cloth bag to hide it in.

The suction cup sticking to my headboard...


The balls...


This shows the girth, and the pee hole...


This is the remote. Upside-down...



Length:

7 3/4"

Insertable length:

6 1/2"

Circumference:

5 1/4"

Diameter:

1 3/4"

Weight:

0.5 lb

Functions / Performance / Controls:

This toy takes 3 AAA batteries. They just go right into the remote. There are two buttons on the remote. One says "on/off" and the other says "mode". The "on/off" button turns the toy on and off, and the "mode" button cycles through the functions. There are 7 functions. There are escalating speeds and various pulsing patterns.

The toy is a little loud, but it's nothing that a blanket or a closed door wouldn't hide. It's just a light buzzing sound that gets slightly louder as the speeds increase. The vibrations are located at the base of the toy, but they can be felt in the entire thing. They get pretty strong, too. The weakest function is still a little strong, but most people should be able to handle it. The strongest function is pretty powerful.

The suction cup on this toy also works well. It even sticks to my hand. To un-stick it, you just lift one of the sides of the suction cup and it falls right off.

Functions:

Escalating / Pulsating / Vibrating

Special Features:

Multifunction
Realistic design
Suction cup

Control type:

Control pack

Powered By:

Aaa-3

Care and Maintenance:

This toy is pretty easy to take care of. UR3 is extremely porous, however, so you should use condoms with this toy if you plan on sharing it. You can clean it with toy cleaner or with warm soap and water.

You can use water-based lube with this toy.

Storage isn't too hard, because this toy comes with a little cloth bag to store it in.

Care and cleaning:

Soap and water

Personal comments:

This toy was a bit too big for me to really enjoy, but it's really well made. If someone likes really girthy toys, this would be perfect. I just couldn't handle it.

I've never had an extremely realistic vibrator before, but this one is definitely interesting.