Kinklab Wartenberg pinwheel with leather sheath - BDSM kit from Kinklab

Product Details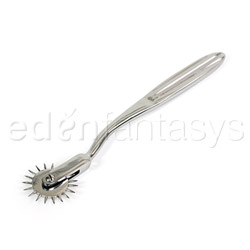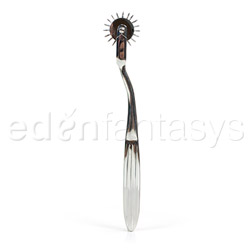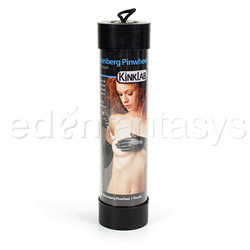 Summary:
The Wartenberg wheel was designed to test the neurological sensitivity but it does wonders and a sexual tool for heightening arousal. It can be used by anyone solo or with a couple and can have a wide range of uses and intensity.
Pros:
Easy to use, lots of different ways to use
Cons:
Have to be careful around sensitive areas - can hurt if you are not careful (but you may want this!)
Best use:
The Wartenberg wheel is a medical device created by Robert Wartenberg to test neurological impulses and reactions. They aren't used that much anymore in the medical field but are amazing as a sexual device to add new sensations. It can be used by anyone and pretty much anywhere. Varying the speed and pressure, the Wartenberg wheel can be used for mild to extreme sensation and is a good tool for those into BDSM, but this device does not have to used in a rough way. This particular one comes with a very nice pouch to store it in discreetly.

Design / Craftsmanship / Material / Size / Fit:

This device is made out of metal. It's heavy and cold to the touch when it is first used. The surface is smooth and nicely finished with no pitting. This kind of material can be sanitized for sharing.

Typically Wartenberg wheels all have similar dimensions and shape. This particular one is 6 7/8" in length. The handle is 1/2" wide at the largest point. Either side has three grooves in it for better grip and control. The wheel is an inch across with 1/4" spikes. The wheel rotates freely and there is a little space between the piece that secures it so it can move side to side slightly as well. The spikes are sharp and can leave marks or scrapes if you want it to or you are not careful.



It's size makes it good for travel since it is thin. It has some weight to it but it not cumbersome by any means. Many people do not know that this item has anything to do with sex play, but some do so in that regard it's only somewhat discreet. It's incredibly easy to hide and travel with, however.

Material:

Metal

Material safety

Length:

6 3/4"

Weight:

0.2 lb

Performance:

The Wartenberg wheel can be used by anyone pretty much anywhere. Some may choose to use it in a medical fetish scene, but it does not have to accompany this at all. It also doesn't require a partner to use it. It can be enjoyed just as much during solo use. It's easiest to use the wheel with the curve side up on the handle. The pointer finger can be rested here for easy guiding around the various areas around the body.

Used lightly, the spikes feel sort of like a nail being dragged along the skin. It heightens the sensations of that area with ease and doesn't hurt a bit, although it may tickle. The spikes do not leave marks unless pressure is applied and the pain associated with this is only momentarily felt. The wheel can be turned sideways and dragged on the skin surface as well. Use it on areas like the underside of the penis, labia, and nipples, for an incredibly heightened sensation, but be careful!

Care and Maintenance:

To care for this item, wipe it down after each use so that rust does not form. Wash it with antibacterial soap if you so desire. Store it in the pouch that is included in the package so that it does not harm any of your other items that it is stored alongside.

Packaging:

This product comes in a plastic tube. There is a paper insert of a woman using the item covering a bare breast, so the package is not discreet. The text does explain a bit about the toy in various languages. Inside is also a sheath, faux leather holder. It works well for storage and the outer plastic tube is not needed.

Experience:

This is such a simple tool yet it produces such interesting sensations. I love varying the intensity and pressure. The spines of the wheel give me goosebumps which heightens sensations everywhere not just on the area that it is being used. I really enjoy using it on my nipples, but I find it a bit hard to control on my clit. I prefer to use it on the surrounding sensitive skin. My partner does not like this used anywhere near his jewels, but does like it on his lower back and upper part of the back of his thighs. I highly recommend trying this tool for just about anyone!

Other

Safety features:

Food-grade material / Latex free / Non-porous / Phthalates free