Kinklab Wartenberg pinwheel - BDSM kit from Kinklab

Wartenberg pinwheel videos
Product Details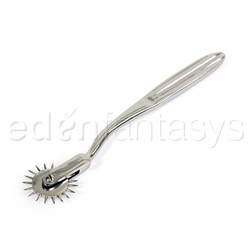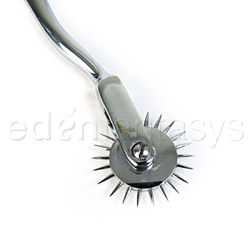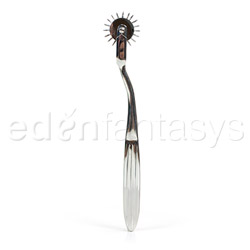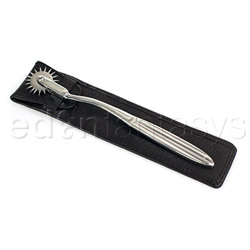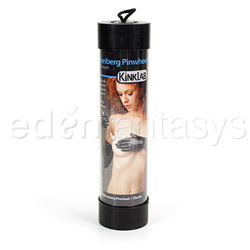 Summary:
This shiny chrome device looks like a medieval torture device or some bizarre medical tool best avoided, but looks aside this beauty with bite can bring some exquisite sensory stimulation. It's business end provides a sensation akin to that of a sharp blade without the hassle of broken skin, and all on an easy to grip, comfortable handle.
Pros:
Sleek and shiny, light weight, delicious sensation.
Cons:
It's scary looking (is that a con?)
Best use:
The Whartenberg wheel is must have for anyone needing to flesh out their kinky arsenal. Use it to tease and titillate, across the arms or outer leg it's a slightly painful tickle, on the soft inner thighs or nipples it has more of a bite. Run gently across the skin it will give a sensation similar to being cut with a very sharp scalpel or being tattooed. The pain is quick, intense, sharp, and then gone without a trace. It's also a relatively safe "pain" toy as it's extremely difficult to break the skin with the pinwheel.

This toy would also benefit someone just getting into S&M, who is intimidated by paddles or vampire gloves, and wants something that won't leave a mark. It's especially effective when paired with temperature play or sensory deprivation. Despite the blunt end of the pins it shouldn't be used with excessive force, it's hard to break the skin, but not impossible, and as with anything that depresses the skin bruising can potentially occur, so play nice.

On a non kinky note, whartenberg wheels have been used by "cutters" as an alternative to self mutilation, since the sensation is similar the brain release the same chemicals it would release with a cut without the broken skin or risk of infection.
Design / Craftsmanship / Material / Size / Fit:

The Wheel is solidly constructed of shiny chrome over stainless steel. The handle is slim and shaped to fit comfortably in almost any sized hand and the grooves provide a good grip, even if your wearing lubed up latex gloves! The wheel spins smoothly and makes very little noise. The "pins" are actually tapered spikes which, while very pointy, have rounded ends. These blunt ends paired with the small points are what provide the sharp "bite" without breaking the skin. Being metal it's great for temperature play, stashing it in the refrigerator gives the bite a chilly edge that is particularly beguiling, and warmed in hot water the wheel's kiss takes on an entirely different sensation, something akin to being branded.

It's slim stature makes it easy to hide in a purse, or drawer, it's the perfect size to fit in a long bracelet box from a jewelry store. The chrome finish is gleaming and mirror like, just as chrome should be. Another benefit from the chrome finish is it wipes clean easily.

Material:

Metal

Material safety

Color:

Metallic

Length:

6 3/4"

Weight:

0.1 lb

Performance:

The wheel works very well and turns smoothly. The handle is comfortable and provides a good base for grip. The sensations this toy evokes are stimulating and intense. It cleans easily with soap and water, but you MUST towel dry right away to prevent rust. It can be sterilized in an autoclave or sanitized with alcohol or bleach solution. If overtime, the wheel doesn't turn as freely a little squirt of WD-40 sets that to rights. The only "soil" my wheel has ever acquired was some candle wax, which was peeled right off without harming the finish, and some lube clinging to it, and the washed off easily.

The vinyl sleeve it comes with makes it very portable, since the sleeve will keep the points from poking anything that shouldn't be poked when you toss it into your purse/bag/briefcase/whatever.

It really is a fantastic addition to the toy bags of novice and experienced kinksters alike.

Other

Safety features:

Food-grade material / Latex free / Non-porous / Phthalates free