Best use:
The Wham Bam Paddle by Tantus is a new style of paddle. There's no wood, leather or cardboard in this bad boy. It's made of 100% silicone and can be used by both sexes. It's not a girly paddle, and the color is black. The size is slim in appearance, but don't let that fool you; this paddle can get down! My experience with paddles has always been at a beginner level. I've only used the girly and cutesy ones, and got a light feeling that never left any marks. I always knew that I had a thing for paddles and spanking, but I didn't quite understand why until now.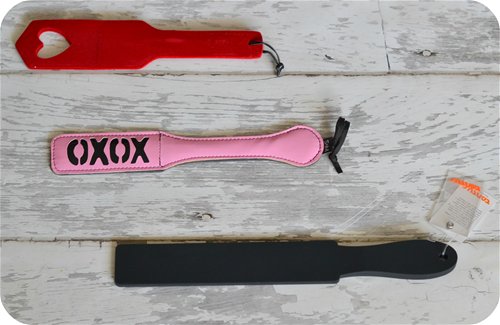 I will start off by saying that this paddle can really hit hard. Please use caution when using if you're a beginner to paddles. The Wham Bam Paddle can put a hurtin' on you!
The Wham bam paddle would be great for beginners to the world of kinky paddles, floggers, or crops. It can also work well for those who are established in the BDSM world because of the design and material. It's 100 % silicone, so what more could you ask for?
It would also be ideal for very advanced users because of the power that it packs. The farther back you hold the paddle, the harder it hits. It really makes a loud thud when you hit the bed, the floor, or the couch. It gives a good stinging and really leaves some color on the skin. If you like seeing blushing bottoms, you will definitely get that with this paddle.
If you are into pain, you just might like the Wham Bam Paddle. I had to ask my partner to spank me a little lighter on a few occasions. My poor behind just couldn't take any more smacks. I'd really be in trouble if this was one of the larger sized paddles that EdenFantasys offers.
The Wham Bam Paddle would be ideal for couples. A person could use it for solo play, to spank themselves, but what fun would that be? I've tried spanking myself just to see if it could be done, and it works. It was nice, but it always feels nice when my partner warms me up with a few light spankings from his hand first, and then moves on to the Wham Bam Paddle. No other paddle that I've used can top this one. It can really do some damage to my behind. The thuds are hard and deep, and they give me cold chills when I'm spanked in a sequence.
This paddle feels heavier than your everyday cardboard paddle, but it's not heavy in my hand. I can hold it for a long time, and my hand doesn't get tired. This paddle can really bring some pain to the game.
The best place to use the paddle is someplace where no one will mind the smacks or the loud thud from the paddle. I had thought about taking this to the hotel one night when we were out of town, but then I reconsidered. I'm positive that no one would want to hear my spanking session.
Design / Craftsmanship / Size / Material / Features:

The design of the Wham Bam Paddle is simple. There is only the word 'Tantus' on the handle of the paddle. The lettering is raised and has a nice texture. I tried to get it to leave the word on my skin, but the lettering was so far up on the handle that it didn't work. No other writing or designs are on the paddle. It's basic, black, and to the point. The silicone isn't glossy or shiny. It's like most silicone toys. It's muted and lusterless.

I do like the shape of the paddle. It's longer, and the width isn't very wide. It's able to reach a longer area of skin, instead of spanking one small area. I like that it hits right across the middle of my cheeks. It's not too short and not too long. It's just right, for my size.

The shape is long and rectangular. The handle has a good grip. It also feels heavier than the thinner paddles that I own. It's almost as if two thinner paddles were put together to form one thicker paddle. You can tell by the seam that runs all the way around it that it's well made. This really helps with the force it has when swinging the paddle. The heavier it is, the harder it will hit.

We've used the paddle on several occasions, and it has never showed any signs of coming apart or breaking. It appears to be well made. I think it will last a very long time, even with extended periods of play. It seems heavy duty and durable. I can only assume that it will be around quite a while to give me some good spankings.

The silicone is velvety and smooth. There is very little drag on the surface. The full paddle is all silicone. There are no other materials used in making this paddle. The handle tapers down until it reaches the actual paddle part. The full paddle portion is the same size and thickness. The handle is thicker than the rest of the paddle. I have smaller hands, and I can hold the paddle well. My partner has very long fingers, and this seems to feel better in his hands. He can completely wrap his hands around the handle and get a good grip.

There was a smell that was on the paddle when it first arrived. Once I opened the package, it hit me in the face. It smelled like a melted plastic, or a chemical smell. Once I cleaned the paddle really well, the smell went away.

The paddle material is thick, but it's not completely firm. When I hold it in my hands, it curves down to where it's facing the floor at an angle. I've included a photo to show what I'm referring to. This is not an issue for my partner or myself. My partner tends to hold the paddle towards the back of his shoulder, and the paddles hangs down towards his back. The hanging paddle gives him more 'torque', as he says, in his own words. He likes to twist the paddle and deliver the first spanking with a little force.

The paddle is almost 14 7/8" long. The paddle portion is 9 3/4", and the handle portion is 5" long. The paddle is 1 7/8" wide, and the circumference is 4 1/2". The diameter of the flat portion of the paddle is 2", and the diameter of the handle is 1 1/4". The paddle portion is rectangle-shaped, and the handle has a rounded shape. The paddle is a little over 3/8" thick, and the handle is almost 1/2" thick.

Material:

Silicone

Material safety

Color:

Black

Length:

15"

Width:

2"

Weight:

1.7 oz

Performance:

The Wham Bam Paddle performed well for my first time using a paddle of this kind. It literally made a big impression on me. Don't let the size of the paddle fool you. Even though it's a little more narrow than most paddles, it can still do the job and do it well.

I really like the paddle, and I'm interested in getting the Pelt paddle and the other ones in the new Tantus paddle line.

Even though I like the style of this paddle a lot, I would really like to try the circular one. With my rounded butt cheeks, I feel like it would fit my behind a little better. I also wish it was just a bit more rigid and firm. It is able to give a very hard spanking as is, but it could be even better if the paddle had a little more firmness to it.

My partner and I were new to paddles that offer a bit more of the heavy duty spanking. Overall, I'm pleased and nicely surprised with the Wham Bam Paddle. I hope to see Tantus bring out more of these in cuter and fun designs. I would love to see these arrive in bright colors. I would totally buy a hot pink paddle.

Care and Maintenance:

The What Bam Paddle is 100% silicone. This allows for a top rating of 10 on the Eden material safety scale. Silicone is buttery soft, smooth, and velvety. It is hypoallergenic, phthalate free, and hypoallergenic. Silicone warms up quickly to body temperatures. It's also totally non-porous and is a breeze to clean with things like mild soap and water, or it can be boiled for a few minutes for sanitization purposes. You can also use a 10% bleach solution to sanitize the paddle, or place it in a dishwasher with no soap, on the top rack.

To make a 1:10 or 10% bleach solution, you will need 1 part bleach for every 9 parts water. You can start with 1/2 cup bleach and 2 1/4 cups water. Pour the bleach into the spray bottle, then add the water. You just need to make sure that all parts are equal. It's fairly simple to make, and one bottle can sanitize lots of items in the household.

You can read up on the silicone material here. With silicone, you'll want to be careful how you store the product and which lubricants can be used. For normal silicones that aren't medical grade, you'll need to keep them away from silicone lubricants and other silicone toys, as they can damage the paddle/toy. Keep the paddle out of direct sunlight and away from toys with cheaper materials. If you have a silicone toy that is medical grade, this wouldn't be an issue. I would only use with a silicone lube if I knew 100% that it was medical grade silicone and I had watched someone test it. You could always do a spot test on an inconspicuous area to test it to make sure, but I'll stick to my guns and keep the silicone lubricant away from my paddle. Water and oil based lubricants are welcomed for use with this toy.

When I first received the paddle, I used antibacterial wipes from EdenFantasys and then washed it with some antibacterial toy cleaner. I placed the paddle in my sink, and then covered it by warm water. I poured some of my toy cleaner in the water and gave it a deep cleaning. I rinsed it in cold water and then dried with a microfiber cloth. It was ready for play afterwards.

When my paddle seems to grab a fair amount of dust and pet hair, I just rinse it off with warm water or clean with a wipe. This takes care of the problem quickly.

I usually like to store my paddles on the highest shelf in my closet. No one can get up there, and no one is going to look up there, except my partner. Storage for this paddle has had a change of plans with me. I now keep the Wham Bam Paddle under my mattress, near the edge. No one except my partner and myself knows that it's there. It's hidden and out of sight, and it's easily accessible. The paddle doesn't quite bend in half, so I don't suggest storing it where it would be bent that way. This seems like it would be best stored on a flat surface. With its ability to be almost completely flat, you can get creative with storage for this paddle.

The paddle can also be hung up in a closet or on a wall. I have the perfect hook in the back of my closet, behind my clothing. No one is ever in there except me. It's the right size for my paddle. I think it would look pretty darn sexy, hanging up with a few other paddles.

Please keep the paddle away from sharp objects, such as knives or scissors. These can cut into the silicone and damage the paddle. If you need to hang it by a hook or on a nail, make sure there is a string or rope that will be touching those items. We wouldn't want to damage our precious paddle, would we?

Packaging:

The Wham Bam Paddle arrived in a clear, thin plastic packaging that looks like a basic bag. It was sealed at both ends, and I used scissors to open it up. This bag would have protected it from the elements well. The bag seemed like it would also have been waterproof. I'm keeping the bag for the video review, but afterwards I'm just going to stick it in my recycling container. You may want to keep the bag to help keep the lint, dust, and hair off of the paddle. It will work if you are wanting to store it under a bed or another place that can collect those pesky things mentioned above.

The paddle arrived with two tags in the hole in the handle. These were tied on by a clear plastic cord. You can leave the cord on to hang up the paddle, but it's too small to put over your arm or wrist. The cord is a little stretchy. One tag feels like vinyl, and the other is paper. Both have the metal grommets around the holes. The paper tag is white and tells a little about the paddle. I've included the message below:

Deliver a broad range of sensations with Tantus paddles - from a playful snap to an attention getting smack! Made from Tantus' own unique blend of ultra-premium silicone, this toy is hypoallergenic, nontoxic, phthalates free, odorless, bleachable, boilable, and even dishwasher safe. With proper care, a Tantus toy can last a lifetime.

The second tag is clear and has raised lettering on orange that reads 'Tantus'.

Both of these tags are 3" X 1 3/4"

There were no instructions with the paddle.

Personal comments:

* Update- I've found that I really like when my partner takes the paddle and lightly spanks my nipples. My nipples are extremely sensitive, and the feeling that the paddle gives is amazing. One tip is to put some hot massage oil or lotion on your breasts and nipples first. I get two different sensations, with and without using oils or lotions. I like the feeling more when lotion is on my nipples. He smacks me lightly across the front of my breast, and then he moves the paddle in a downward motion and smacks down on the nipple. This is insanely sexy! If you haven't tried that yet, try it!

Experience:

The first 'warm up' whack that I received left a red mark on my bare bottom. My partner didn't even hit me that hard. I just about jumped off the bed with the first smack. It hasn't broken the skin, but I'm not saying that it won't. It'll all depend on the degree of spanking and how hard you like to be spanked. I've tried to use this on my partner, but he wasn't into being spanked. He's just too manly for it. He wants to be the one in charge with this thuddy whacker!

I haven't had the paddle used on any body part except my buttocks. You can use it anywhere that you please, but the most stimulation that I receive comes from my behind being spanked.

My partner likes to change it up and use his hand a few times, and then use the paddle a few times. One thing that he likes to do is start at the nape of my neck, while I'm on all fours, and lightly run the paddle down to my behind. Once he gets down to the rounded portion of my cheeks, I know that he is going to give me a spanking that I won't forget. Sometimes, he teases me and doesn't spank me. He waits until I beg for it. Then, he gives me one hard whack.

We mainly use the Wham Bam Paddle for foreplay. We've never only used it during intercourse. He has mentioned that I get really wet after my first spanking from the paddle. I guess I've always had a thing for being spanked, and I never realized it until I got this paddle. We don't always use it for hard spanking. Most of the time it's used for lighter play. It works just as good for that. I do use my Black Rose Spank and Soothe Cream before and after my spankings. It helps to soothe the skin a little.

Other

Texture:

Smooth

Special Features:

Flexible
Kinky
Waterproof

Safety features:

Food-grade material / Hypo-allergenic / Latex free / Non-porous / Phthalates free